January marks the time of our annual first wine tasting in Washington DC. The first wine event of the year is sponsored by APVSA – Association pour la Promotion des Vins et Spiritueux en Amérique du Nord (the Association for the Promotion of Wine and Spirits in North America). The team at APVSA is led by Pascal Fernand, who helps client wineries and distilleries find distributors in North America. The three-week tour, if producers attend all the events, covers the United States, Mexico and Canada.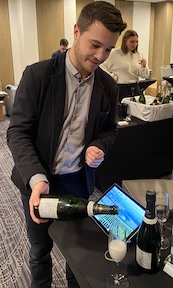 I tend to visit champagne producers at this event. My first stop was Champagne Jacques Copin where I met Mathieu Copin who previously answered several questions via email.
WTT: What are your most enjoyable aspects of winemaking/vineyard?Mathieu Copin: Harvest because it's the result of a year of work .
WTT: How many hectares/acres of grapes are you growing? Which varieties are you growing?
Mathieu Copin: 10 ha (27.4 acres), only in Marne Valley region. 3 grapes varieties: Pinot meunier (70%) Pinot noir and Chardonnay (15% each).
WTT: To what do you contribute the success of your champagne house?Mathieu Copin: Four reasons:
1. Family and independent estate in all the production process from grapes to champagne making.
2. Recognized for our Cuvée Tradition Brut (non vintage champagne) with 3 years of aging and not a common blend of (90% meunier…).
3. Constant evolution of our estate. 40 000 bottles in 2010. Nearly 80 000 in 2019.
4. The vineyard.
WTT: How will your champagne house change and grow in the next five years? Mathieu Copin: Always buying more dry matter locally same if its more expensive for example, we already buy our empty bottles, labels, cases in a 30km area from estate to have less CO2 impact on environment and more social "contract" with our local terroir.

No more chemical treatment. This is already the case for herbicides and insecticides, but we will never be with an "organic certification" Champagne.
Test of agroforestry to help to increase biodiversity and reduce erosion.
WTT: What would you like the public to know about your champagne and champagne house?
Mathieu Copin: We use only our 100% grapes coming from our own land. We do not buy grapes, juice or even more terrible finished bottles produced by another winemaker or cooperative as do some of the big brands in the middle. Each year our wines are regular in taste, balance and aromas and always reflect our terroir with passion and festivity as should be a beautiful and good true champagne from the Champagne region of France.
Champagne Tasting
I tasted four of the houses champagnes. The Blanc de Blancs, Extra Brut was crafted from 100% Chardonnay from a single plot. Multiple columns of tiny bottles rose to the surface of this light yellow colored champagne with 3 g/L of residual sugar. The wine was aged for three years and offered apple, citrus and a bit of freshly baked bread. The champagne was refreshing and retails for around $70.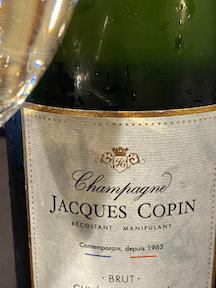 The Tradition, Brut was made with 90% Pinot Meunier and 10% Pinot Noir. With 6 g/L residual sugar this light gold colored champagne had multiple columns of tiny bubbles. Red berry fruits were noticed on the aroma and taste and there was a creamy mouthfeel. This delicious champagne retails for about $50.
The third wine was a Rosé Brut made with 60% Pinot Noir, 25% Pinot Meunier and 15% Chardonnay. The wine had a salmon color with a red hue, and multiple columns of tiny bubbles forming a circumferential mousse on the wine's surface. The wine was the sweetest with 8 g/L of residual sugar. The champagne was festive offering red berry fruits and green apple accompanied by a creamy mouthfeel. The champagne retails for around $70.
The last champagne tasted was the 2006 Ployphénols Brut. With 6 g/L of residual sugar, this yellow colored champagne had multiple columns of tiny bubbles forming a circumferential mousse on the wine's surface. The equal blend of Pinot Noir and Chardonnay offered red berry fruits, green apple and freshly baked bread. The wine had a creamy mouthfeel. This is a celebratory champagne with a retail price around $120.
Champagne Jacques Copin is looking for distributors along the east coast of the United States.
Cheers,
Terry