Another wine tasting brought a glimpse of what Croatian wines can offer the world at the 2013 International Wine Tourism Conference. The informal wine tasting at the 2012 IWINETC allowed for tasting what you had a fancy for. In my case, varietal grapes previously not tasted. Once again, my notes will be haikus.
Graševina, Kutjevo
Straw colored vina
Graševina fruity wine
Sunshine colored vines
Traminac, Ilo?ki podrumi
Yellow light spices
Simple mist covers vineyard
Girls are meaner, no!
Terre Bianche cuvee blanc, Degrassi,
Straw colored stoney
Peaches, nectarines sunchine
Clean fruity finish
Malvazija, Alba barrique, Matoševi?,
Flowers golden hue
Malvazija fruit salad
Chewey on finish
Pošip, Zlatan otok,
Pošip light yellow
Very fragrant nice in mouth
Wonderful vina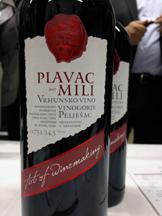 Plavac Mili, Istravino,
Earth wine dark ruby
Plavac Mili kissing wine
Bold tannins wakeup!
Babi?, Gracin
Earth, smoke and fire
Barbequed hamburger now
Babi? grape wants food
Cheers
Terry