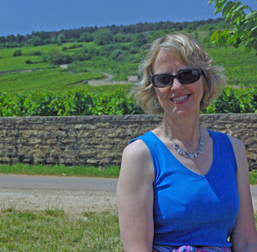 There are many stories about how people begin their wine journey. I have been writing about our fellow travelers on the WSU trip to wine regions in France. Julie Richards was a wine consumer. One day she read an article in the Wall Street Journal about a sensory evaluation seminar offered by UC Davis. Julie decided to attend the seminar and that turned out to be a tipping point for her wine journey. She learned, from three UC Davis professors, how to sell and taste wines. After the seminar, Julie wanted to get back into academia with a concentration on wine.
Julie searched for programs and decided to take the Washington State University Viticulture and Enology Certificate Program. During her time at WSU, Julie volunteered at Fletcher Bay Winery on Bainbridge Island in Washington. After a time in the tasting room, Julie began working in the cellar. Julie recalled the constant cleaning that she had to do, and discovered that winery work will take every moment you have. For three years, Julie completed her coursework and worked at Fletcher Bay. This was an important time of her life, "You are taking part in something that has gone on for centuries."
Later on, Julie volunteered to work for wine charity events. She learned about the WSU wine region educational trips and attended the trip to Italy earlier this year and the trip to France. Many roads lead to wine knowledge. An article in the Wall Street Journal turned out to be an avenue for Julie Richards.
Cheers,
Terry