One of the wine discovery sessions at the 2015 Wine Bloggers Conference was titled The Spectrum of Dry Riesling. I attended this session, in part because I enjoy dry Rieslings and this session was featuring Rieslings from Alsace in France. Louise Jordan DWS talked about the region and conducted a tasting of three Rieslings from different producers.
During the presentation, I learned that Alsace produces 10% of the world's Riesling, and Riesling accounts for 22% of vineyards in the region. This land in the northeast of France has 13 soil types, making it the most diverse range of soils in the country. The majority of grapes grown are white, Pinot Noir is the only red grape grown in Alsace accounting for 10% of vineyard plantings. Because of the Vosges Mountains separating Lorraine from Alsace, Alsace enjoys sunny days and dry weather. The weather is ideal for aromatic white grapes. Other white grape varieties planted in Alsace include Pinot Blanc, Gewürztraminer, Pinot Gris, Sylvaner and Muscat. The region has 53 AOCs and unlike many other French wine regions, producers often place the name of the grape on the label.
Grapes in Alsace were planted in the 900s and by the 1600s the region was as important as Bordeaux. Over the centuries, there was a tug-of-war between France and Germany for this region.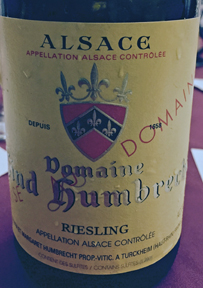 Wines
The presentation included tasting three wines from Alsace. the 2013 Zind-Humbrecht Riesling was a yellow color with 12.5% alcohol. The aroma reminded me of flowers, yellow stone fruit and a hint of petrol. The smooth taste had citrus and mineral notes. The finish was crisp and fruity.
The 2010 Schoenheitz Riesling Herrenreben, with 12% alcohol, was also a yellow color. There were floral and mineral notes on the wine's aroma, while the taste offered citrus, some yellow stone fruit and mineral. The wine had a very crisp finish.
The 2012 Barmès-Buecher Rielsling Rosenberg had 13% alcohol and also a yellow color, although slightly darker than the first two wines. The aroma and taste was fruity, notable yellow stone fruit and had mineral notes. The crisp finish had mineral yielding to fruit.
The presentation made me want to travel again to France and visit wineries in Alsace.
Cheers,
Terry