Years ago, I discovered the varietal grape Sagrantino while visiting Firelands Winery in Sandusky, Ohio. The owner of the winery, Claudio Salvador also owns an import company. His wife and brother both own wineries in Italy. When Claudio learned that I enjoy very bold tannins, he presented a Sagrantino from the Umbria region of Italy. We tasted a  2006 Sagrantino di Montefalco DOCG from Di Filippo Winery in Cannara, Italy. The wine was well worth discovering. The tannins went beyond bold to outrageous, something I cherish. Sagrantino is an Italian grape indigenous to the Umbria region of Montefalco. The soils in these vineyards are sand, limestone and clay. The aroma and tastes offer plum and cinnamon. The finish had outrageous tannins. One can feel the tannins on your teeth as your lips begin to pucker.
In 2012 Kathy and I visited several wineries in Umbria. We enjoyed visits to Arnaldo Caprai Winery, Goretti Winery and Lungarotti where we had a delicious grappa made from Sagrantino. The wine/food experience in Umbria was fantastic. Umbria as a region where chefs do not cook to impress, they cook for family.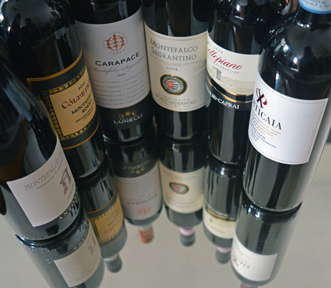 It was wonderful to receive an invitation to taste six Sagrantino wines from Umbria. On Wednesday, September 30 from 3:00 pm – 4:00 pm Eastern time, we will taste six wines from Umbria. The wines include:
Perticaia – Montefalco Rosso DOC
Còlpetrone – Montefalco Rosso DOC
Tenuta Castelbuono – 'Carapace' Montefalco Sagrantino DOCG
Antonelli – Montefalco Sagrantino DOCG
Scacciadiavoli – Montefalco Sagrantino DOCG
Arnaldo Caprai – 'Collepiano' Montefalco Sagrantino DOCG
You can follow the tweets about these wines by using the hashtag #SipMontefalco.
Cheers,
Terry