Kathy and I attended an Internet presentation of Umbrian wines. We received six samples from Umbria. Umbria an a region in Italy that borders Toscana. It is not part of Toscana.  The wine samples all included the grape Sagrantino. Sagrantino is not Sangiovese. It is a completely different grape and one of my favorite grapes.
Since 2012, I have replaced the traditional wine notes with haikus. The haiku format of five syllables. seven syllable and five syllables works very well with tweets on Twitter. I wrote the following haikus for today's wine tasting.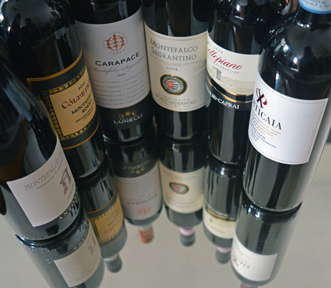 2011 Perticaia – Montefalco Rosso haiku:
Black, red berry fruits
Fruity, medium tannins
Where is the pasta?
2011 Còlpetrone – Montefalco Rosso haiku
Black cherries abound
Fruit forward and bold tannins
Crisp everyday wine
2008 Tenuta Castelbuono – 'Carapace' Montefalco Sagrantino haiku
Blackberries, cherries
Dark ruby, sienna hue
Bright kissing tannins
2009 Antonelli – Montefalco Sagrantino haiku
Translucent ruby
Sandpaper coating tannins
Needs Italian food
2008 Scacciadiavoli – Montefalco Sagrantinohaiku
Ripe black berry fruit
Perceived sweetness fruit forward
Sagrantino wine
2009 Arnaldo Caprai – 'Collepiano' Montefalco Sagrantino haiku
Sweet jam berry fruits
Sweet spot of Montefalco
Pair Umbrian foods
It is hard to select a favorite from the group. I liked the 2009 Arnaldo Caprai  and the 2009 Antonelli – Montefalco Sagrantino the best. Those two were also the most expensive wine in the United States. Sagrantino can challenge Cabernet Sauvignons. If you like Cabernet, give Sagrantino a try the next time you have an opportunity. Although it pairs well with Italian food, I could easily enjoy these wines paired with a rocking chair on a porch.