Abacela
by
Kathy and Terry Sullivan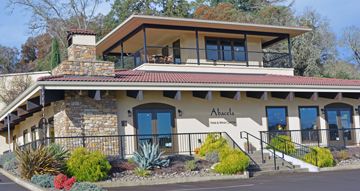 Summary: Abacela began with two highly energetic research-oriented scientists who developed a strong interest in growing and producing Tempranillo wines in the most ideal growing area of the United States. The vineyards are located in the Umpqua Valley of Southern Oregon. The delicious wines and stunning scenic views are just two of the reasons to visit Abacela in Roseberg.
Visitors to Abacela will discover the tasting room located in the Vine & Wine Center, a two-story building, set back against a hillside. The building is off-white with a red clay roof. The winery building is a short distance from the tasting room. On the day of our visit a wine club event was taking place. Excitement filled the air as people enjoyed themselves. The tasting room offers seating areas with one in a corner near a stone fireplace. The curved tasting counter is granite. The second floor of the tasting room provides additional views of the scenic vineyards spreading over the hillsides.
Wine Journey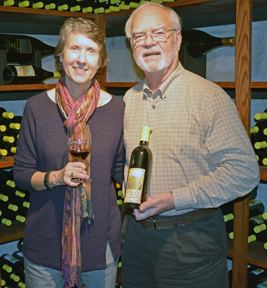 We met the enthusiastic couple Earl and Hilda Jones, owners and founders, who provided us with a delightful tour and details of their wine journey, as well as a tasting of several of their wines. Their wine journey began on the East Coast while they were involved in research and development. It was while they were on the East Coast that they discovered their love of Spanish wines. Today they are the proud owners of Abacela vineyards and winery. The winery was named Abacela based on the word "abacelar" a special word Earl discovered on a visit to Spain. "Abacelar" originally from Latin means "he/she/they plant a vine." Years later Earl and Hilda decided to name their winery and vineyard Abacela.
Earl and Hilda with their children traveled to this Southern Oregon location in 1992. Their interest in Tempranillo had begun early on, but they believed that it was possible to grow quality Tempranillo in select regions of the United States. Their science backgrounds fueled their desire to research and locate the perfect areas in the United States to grow Tempranillo. They knew in advance that they did not want to move to Rioja, Spain. In the United States, they looked at areas in New Mexico, Colorado, Idaho, and Walla Walla in Washington. Finally the couple decided upon moving to Roseburg, Oregon where they believed the region was warmer. They believe that their current area is the best location to grow Tempranillo and that the climate is similar to Spain's Rioja region.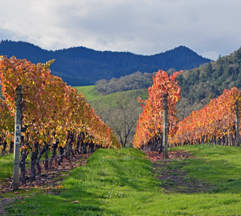 According to the couple, this area of Oregon shares the same latitude as northern Spain. They gave credit to their son, Greg Jones, who studied atmospheric science at the University of Virginia. It was Greg who helped Earl and Hilda with the climate data they needed. Earl and Hilda noted that it was by coincidence that they landed on an interesting piece of land. Their vineyard was the first commercial vineyard to plant Tempranillo in the Northwest.
Vineyards
At the time of our mid-November visit, the vineyards showcased their autumn foliage. Yellows, oranges, reds and browns gently flowed over the hillsides painting a beautiful setting. Earl and Hilda researched their soils and grape varieties that would do well on their property. They were able to match varietal grapes to the climates on the estate. The major red varietal grapes include: Tempranillo, Syrah, Garnacha, Malbec and Tannat. The major white variety is Albariño. For the port program, there are five Portuguese varieties planted including: Bastardo, Tinta Amarela, Tinta Cão, Tinta Roriz, and Touriga Nacional. The vineyards are farmed sustainably.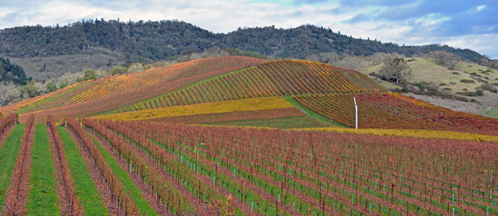 Tour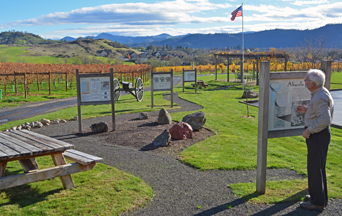 Part of our tour included the Interpretive Walk located just a short distance from the Abacela tasting room. The Interpretive Walk is near the patio where a large outdoor stove sits. A stone pathway leads from one interpretive sign to another. Nearby a small, simple gazebo provides a delightful spot to enjoy a glass of wine while enjoying the scenic views. One of the signs explained the Abacela landscape including the elevation, slope and aspect. "Abacela lies near the southern end of the Umpqua Valley and is situated on bench lands as well as steep sloping hillsides above Lookingglass Creek." Close to one of the interpretative displays was a large boulder, "Jasper (Rich in Gold Ore) Jasper Block."
Abacela Wines
After the tour we ambled through a hallway that led to a small event room for private wine tastings. The walls of this small room are lined with bottles of Abacela wines, creating a comfortable ambiance.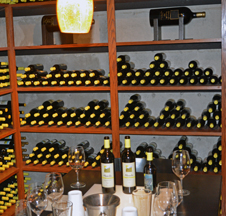 The Albariño 2015, Umpqua Valley AVA was a light gold color. The wine offered notes of citrus and flowers. It was very crisp and refreshing. This is a perfect 3P wine (porch, patio and pool).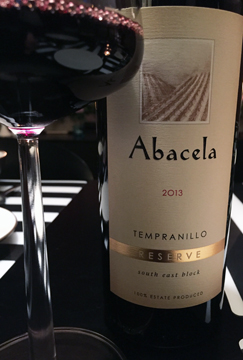 Garnacha 2014, Umpqua Valley AVA was a dark ruby translucent color. The aroma and taste were of red cherries. The mouthfeel was smooth, and the wine was medium/full-bodied with mild tannins. The finish was crisp and fruity. Barrel Select Tempranillo 2013, Umpqua Valley AVA was dark purple with a ruby hue. The wine offered notes of blackberries and black cherries. This wine was full-bodied with very bold tannins. Malbec Barrel Select 2013, Umpqua Valley AVA was a dark purple to black color with a light purple rim. The aroma was of black fruits and cedar. The taste offered blackberries, plums, spices and notes of cedar. This was a full-bodied wine with bold tannins. The finish was fruity and spicy.
Port 2007 was a dark ruby to black color and offered dried fruit notes. This port was produced with Bastardo, Tinta Amarela, Tinta Cão, Tinta Roriz, and Touriga Nacional and fortified with neutral grape spirits. It had 19% alcohol. The taste was very smooth with dried fruit notes. This Port was delicious and there was no heat on the finish.
During the holidays we enjoyed an Abacela Tempranillo Reserve 2013, Umpqua Valley AVA. The wine had a dark purple color with a dark ruby hue. The wine had a black cherry aroma. The taste was very smooth with black fruits notably cherry, blackberry and a bit of blueberry. This wine was full-bodied with bold tannins. It had a fruity finish with fruit yielding to spices. This wine was delicious.
When traveling near Roseburg, Oregon wine enthusiasts will want to include a stop at Abacela to discover the wines and enjoy the scenic views.
Abacela
12500 Lookingglass Road
Roseburg, Oregon 97471
GPS: N43º 07.538' W123º 26.895'
Article written December 2016
---
Support the following Oregon Wineries.