Hip Chicks Do Wine
by Kathy Sullivan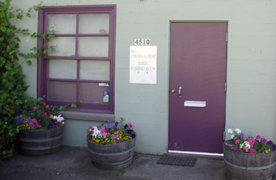 Summary: Enjoy a visit to Hip Chicks Do Wine in Portland, Oregon where you will discover a winery owned by two enthusiastic women. The winery and tasting area are located in an urban warehouse. A second tasting room is in Newberg, Oregon.
Hip Chicks Do Wine is a small urban winery located in Portland, Oregon. The winery is located in a warehouse in the city. While the outside of the warehouse is gray, the large doors and window trim are painted purple. Outside of the tasting room door, three wine barrel halves are filled with colorful summertime flowers.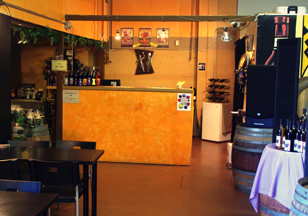 Hip Chicks Do Wine opened for business in 2001. The winery owners, Laurie Lewis and Renee Neely, fell in love with wine and wanted to make wine that is fun to drink and provide an enjoyable wine experience. Artist, Suzanne Moulton, created several wine labels. Portland artist, Nell Warren, designed the labels for the Pulp Novel Series Wines.
The tasting room is in a large corner section of the building. The tasting counter is square-shaped with a couple of bar stools on one side. Additional seating is available at two tables near the tasting counter. In addition to wines, various wine related items are available including recycled wine bottle candles, Rose City Pepper jellies and gift boxes/baskets. This small retail section is next to the tasting counter.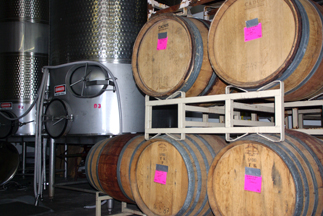 Adjacent to the tasting room is the tank area and barrel aging area.
Laurie and Renee have several goals for Hip Chicks Do Wine. They want to make wine fun and approachable to everyone, for both new wine drinkers and experienced wine drinkers who only drink one wine. Their wine styles focus on a fruit forward style; they want to taste the grape in the glass. When talking about their white wines Laurie said, "Chill it and kill it." The wines are ready to drink now and do not require cellaring. Red wines are not filtered or fined. Case production varies between 3,000 and 5,000 cases. Typically each wine vintage sells out within a year.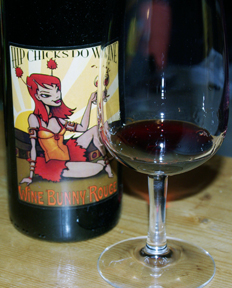 Wines
Muscat 2009 had a floral aroma with notes of orange blossoms and honeysuckle. The finish was crisp with hints of orange. The Muscat 2009 label offers the following suggestion, "Enjoy this wine with your favorite sunset, picnic or hot tub."
Sangiovese was purple with a light sienna hue. The aroma and taste had red cherries and floral nuances. The fruity finish had notes of red cherries. Drop Dead Red, one of the Pulp Novel Series Wines, was a blend of Cabernet Sauvignon, Merlot and Cabernet Franc. The result was a red wine with aroma and taste notes of plum, blackberries and black cherries. The finish was crisp and fruity. Wine Bunny Rouge was a blend of Syrah, Malbec and Cabernet Sauvignon. The aroma and taste offered nuances of blackberries and plum. There were mild tannins on the fruity finish.
The winery offers a Wine Club membership. More than 100 members are from the immediate Portland area and more than 200 more are within a 45-minute drive of the winery.
While in Portland, Oregon enjoy a visit to Hip Chicks Do Wine. In addition to the tasting area at the winery, the winery has a second tasting room in Newberg, Oregon.
Hip Chicks Do Wine
4510 Southeast 23rd Avenue
Portland, Oregon 97202-4772
GPS: N45º 29.388' W122º 38.548'
---
Support the following Oregon Wineries.