Reustle Prayer Rock Vineyards
by
Kathy Sullivan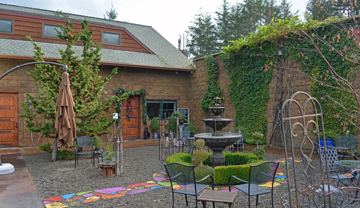 Summary: In the midst of Umpqua Valley, visitors will discover Reustle Prayer Rock Vineyards located in Roseburg, Oregon. The owners are producing only estate grown wines. Seated wine tastings with food pairings take place in small alcoves or the Grand Hall. Visitors in late fall are likely to see that Christmas is highly celebrated at the winery.
After traversing the outside patio area with a flowing fountain and seating, we met Gloria and Stephen Reustle, owners of Reustle Prayer Rock Vineyards. Stephen is also the energetic winemaker. We quickly discovered that Reustle Prayer Rock Vineyards offers a great personal experience for visitors. Guests are met and greeted at the door. Everyone is treated like a friend. Visitors are seated for wine tastings. A wine educator is assigned to the visitors and the usual tasting takes place at a table with wine and food pairings. Wine tastings take place in the Grand Hall or one of the three Catacomb Tasting Rooms.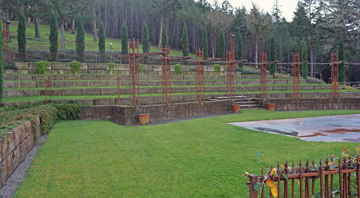 Stephen took us on a tour of the winery and tasting area. He led us outside to talk about the vineyards and see the amphitheater. The amphitheater seating capacity is 250 seats and is available for wine club members. A large water pond with a fountain is nearby. We noticed a stone bench painted with grape clusters, two wine glasses, a bottle of wine, bread and cheese. Around the edge was printed, "Drink Your wine with a happy heart, God approves of this."
During the tour, we learned that after owning a marketing company, Stephen and Gloria purchased the property for starting a winery in 2001. Stephen commented that he bought the property because it reminded him of Burgundy. Stephen was interested in growing and producing Pinot Noir wines. After an analysis of the land, the planting of vineyards was focused on matching the soil type with the specific type of grape variety. Today, Reustle Prayer Rock Vineyards consists of 200 acres that includes 40 acres of vineyards.
Vineyards
The unusual name for the Prayer Rock Vineyards came about from an incident with Stephen's four-year-old son. While planting the vineyards, Stephen would take his son early in the morning to the vineyard to turn on the irrigation blocs. Once they reached the top of the hill they would sit on a rock in the vineyard to say a daily prayer. One day when Stephen was busy, he did not stop at the rock to say a prayer. His son came running to him and said, "Daddy, we didn't pray at the rock." It seemed fitting to name the vineyard Prayer Rock.
The 40-acre vineyard planted in 2002, now has Pinot Noir, Tempranillo, Syrah, Merlot, Grenache, Malbec, Chardonnay, Viognier, Roussane, Riesling, Sauvignon Blanc, Semillon, Pinot Gris, Grüner Veltliner and Muscat. Of all these varieties, the four largest grape variety plantings are Tempranillo, Pinot Noir, Syrah and Grüner Veltliner.
At harvest time, members of Stephen's church participate in the harvest. In addition, each year the winery has a Blessing of the vineyards concert celebration.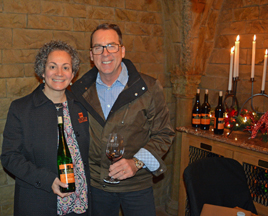 Wine Journey
Stephen grew working on a farm and always loved farming. He actually never had a glass of wine until he was in his early twenties. He was extremely fortunate that he was introduced to wine with high-end wines. As an adult, for his business he entertained people and he wanted to sound cultured when discussing wine. As some would say "the rest is history." In 2012, two Reustle Prayer Rock Vineyards' Syrahs won a global six nation competition. This generated much press for the winery. Stephen was invited to the Culinary Institute of America to pour both his Syrah and Grüner Veltliner.
Decorations in Winery and Tasting Areas
Throughout the winery and tasting room numerous adorable and religious displays of Christmas abound. The tree with elves on ladders busily decorating and the creche scene are delightful to see.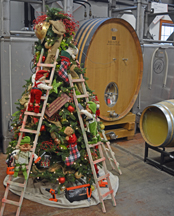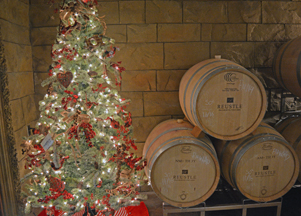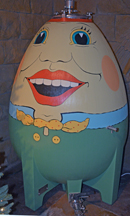 The winery has one of the most uniquely painted cement tanks we have seen. This colorful tank is painted like a huge Humpty Dumpty.
One of the back wine labels, describes the location of the vineyard and ends with a heartfelt message from Stephen and Gloria, "We hope you enjoy our wine and may God bless you! We praise Him for his blessings to us."
Reustle Prayer Rock Wines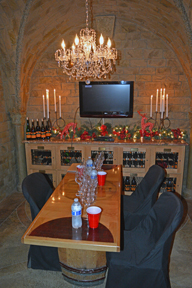 Our wine tasting took place in a small alcove that, even a few days before Thanksgiving, was decorated with Christmas cheer. An ornate crystal chandelier provided lighting along with several lit white candles.
The Grüner Veltliner 2014, Umpqua Valley AVA was a yellow color with citrus aroma notes. The taste was of citrus, tropical fruits and pineapple. The finish was very crisp and fruity. This was a yummy wine.
Pinot Reserve 2013, Umpqua Valley AVA was a translucent ruby color. The wine offered aroma and taste notes of raspberries. This medium-bodied wine had mild tannins. The finish was very fruity. Enjoy a glass of this wine on a rocking chair on the porch.
Malbec 2014, Umpqua Valley AVA was a dark opaque purple wine with a black hue. The aroma was of dark fruits. The taste had notes of black cherries and black plums. The wine was medium/full-bodied with medium tannins. The finish was very fruity.
Syrah 2013, Umpqua Valley AVA was a dark opaque ruby color. The aroma was spicy with black fruit notes. The taste offered notes of plums and blueberries. This full-bodied wine had medium to bold tannins. The finish had baking spice notes with white pepper.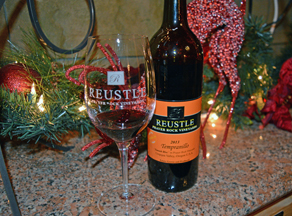 Tempranillo 2013, Umpqua Valley AVA was a dark ruby color with a purple hue. The wine offered aroma and taste notes of black cherries and blackberries. This full-bodied wine had bold tannins. The finish was fruity and spicy.
When planning your visit to Reustle Prayer Rock Vineyards, be sure to schedule enough time to include meandering the site and tasting the wines paired with appetizers.
Reustle-Prayer Rock Vineyards
960 Cal Henry Road
Roseburg, Oregon 97471
GPS: N43º 21.009' W123º 26.239'
Article written December 2016
---
Support the following Oregon Wineries.