Sokol Blosser
by K. L. Sullivan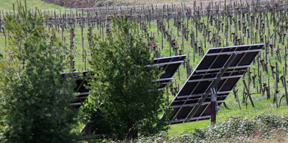 Summary: Sokol Blosser is a green winery with a sustainable vineyard. Solar panels provide one-third of the wineries total energy needs. The vineyard uses native plants to attract beneficial insects. Sokol Blosser is "good to the earth in the ways wines are produced." Grapes are handpicked and sorted. While visiting, walk to the vineyards and observe the surrounding countryside, reminiscent of the Tuscan countryside in Italy.
Rolling hills covered with vines surround the Sokol Bloser tasting room reminded us of Tuscany. Immediately outside of the tasting room, deciduous and evergreen trees rise high above. The area is landscaped with flowering shrubs, daffodils, tulips, and grape hyacinths. In late March, the grapevine buds were swelling.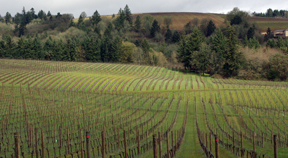 Bill Blosser and Susan Sokol Blosser planted the first vines in 1971. At that time, the Oregon wine industry was in its infancy. The first Sokol Blosser vintage was 1977. Today grapevines cover 75 acres and the winery produces 85,000 cases. Wines are exported to the Virgin Islands, England, Japan, France and the Caribbean.
Sokol Blosser is dedicated to sustainability. The estate vineyards are farmed organically and they received USDA organic certification in 2005. The vineyards have also been certified "green" by LIVE (Low Input Viticulture and Enology.) Unbleached paper products are used and include labels and wine boxes. Recycling plays a big part at the winery.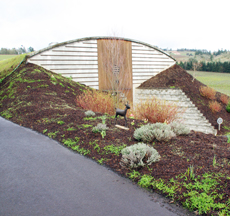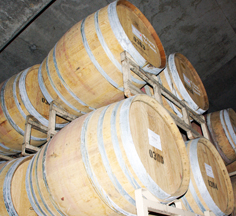 Outside of the tasting room is a sustainable cellar covered with three feet of soil and grass. This cellar can hold up to 900 barrels and is able to maintain a constant 55 degrees. French oak barrels are stacked four levels high. The cellar is LEED (Leadership in Energy and Environmental Design) certified; the first in the in the country to receive this designation. Another building houses stainless steel tanks both inside and outside. In addition to being environmentally friendly and aware, Sokol Bloser has employees participate in some aspect of the winery. In this way, all employees have a sense of what producing a bottle of wine involves.
Light fills the friendly tasting room created with light wood and large windows overlooking vineyards. A large deck is available with tables and chairs. It offers the perfect setting to relax and drink a glass of your favorite Sokol Blosser wine. The tasting bar can easily accommodate several people.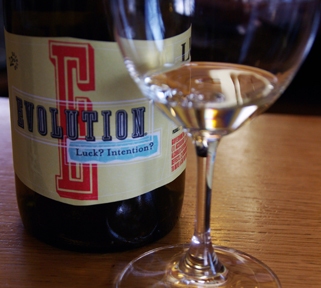 Several wines were available for tasting. We began with Evolution. This wine is a blend of nine white varietals including Pinot Gris, Muller Thurgau, White Riesling, Semillon, Muscat Canelli, Gewürztraminer, Pinot Blanc, Chardonnay and Sylvner. Visitors ask about the name and wonder if the winemaker deliberately produced it with these nine wines or if he created it from leftover wines. To help spark debate, below the name Evolution are the words: "Luck?" and "Intention?" Evolution has a floral and fruit nose with a pineapple fruit flavor.
The Rosé of Pinot Noir 2006 offers the taster a red berry nose with a strawberry taste. With residual sugar at 0.7, it seems sweeter but finishes dry. Pinot Noir 2005 gave an earthiness and mushroom nuance on the nose with a red cherry taste. Meditrina is a blend of Pinot Noir, Syrah and Zinfandel. Meditrina is the Roman goddess of wine and health. The Estate White Riesling 2006 Dessert Wine is very sweet with a crisp finish.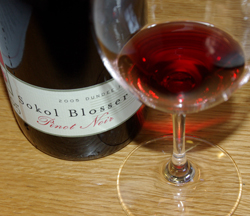 Visiting Sokol Blosser will give you the opportunity to try several red and white wines and the delightful experience of viewing acres of vineyards through large plate glass windows or from the deck. The tasting room is beautifully landscaped and the vineyard setting begs you to amble perhaps with a glass of wine.
Sokol Blosser Winery
5000 NE Sokol Blosser Lane
Dayton, OR 97114
GPS N 45°25.183' W 123°04.994'
---
Support the following Oregon Wineries.