Willamette Valley Vineyards
by K. L. Sullivan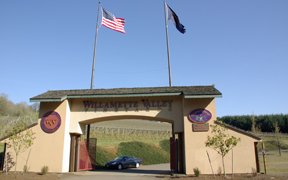 Summary: Along with Willamette Valley Vineyard's elegant buildings and tasting room comes a large winery interested in producing quality wines and protecting the environment. This winery is particularly interested in growing cool climate grapes using sustainable methods. Currently, Willamette Valley Vineyards is the only publicly traded winery in Oregon.
Shortly after arriving in the tasting room, we met Jim Bernau, Founder and President of Willamette Valley Vineyards. Jim has been involved with grapes since he was ten years old and took an interest in wine. At a young age he took Concord grape juice out of the freezer and tried to make wine. He was successful, "but it didn't taste very good." His interest in wine continued to grow. Later he became a lobbyist for small businesses. In 1981, he started to search for land and by 1983 purchased his current location on an ancient volcanic flow.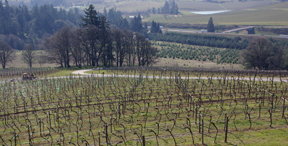 Established in 1983, today the winery has 50 acres of vineyards on site the Tualatin vineyards have 145 acres, the Hannah vineyards (next to the Tualatin vineyards) is planted with 63 acres and the Elton vineyards have 60 acres with a long term lease. The winery produces 120,000 cases. The winery is known for its Pinot Gris wines.
The tasting room uses Riedel stemware for their tastings, even going as far as a separate Riedel glass for white wines and red wines. On the back of wine bottles is another label with additional information about the wine including: grape varietal, soil type, brix at harvest, fermentation and peak drinkability. Bottles are corked with FSC Certified Cork. They are the first winery in the world to use cork certified through the Rainforest Alliance to Forest Stewardship Council standards. A large deck is attached to the tasting room and makes a quiet location to sit and drink a glass of Willamette Valley wine. A large events room is located in the building that houses the tasting room. Two smaller events rooms are also available.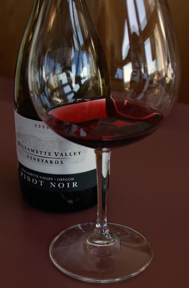 We began our tasting with the Pinot Gris 2007 that had a citrus grapefruit nose and a grapefruit taste with a soft mouth feel. This wine was crisp while a bit hot on the finish. Dijon Clone Chardonnay 2005 had an apple nose with an apple pie taste. It had a smooth mouth feel with spices. The apple lingered on the aftertaste. Tualatin Estate Chardonnay 2002 offered an apple nose and taste with a very smooth mouth feel. There was oak on the finish and a long aftertaste.
Pinot Noir 2006 had a red purple color with a red berries nose and taste. It offered a very smooth mouth feel with a burst of sweetness ending dry. Pinot Noir was from Mt Hood Vineyard and was a dark purple. This wine had a dark red cherry and licorice nose with a smooth mouth feel and red berry taste. It was very crisp with tannins on the finish.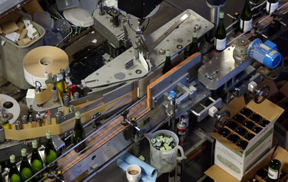 After tasting wines, we went on a tour of the wine cellar with Don Crank, one of Willamette Valley's winemakers. Several people were busy operating the bottling line. On the tour, Don pointed out that he is very gentle with the Pinot Noir grapes. He provided us with tastings from several oak barrels. The barrel room is located on an old volcanic flow, the cellar and winery are carved into the ancient flow. Our tasting ended with a Pinot Noir Port, which was simply delicious. Unlike some ports, the Pinot Noir Port had a balanced finish.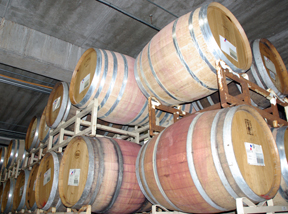 Willamette Valley Vineyards is interested in being environmentally kind. The vineyards are certified LIVE (Low Input Viticulture and Enology) and Salmon Safe. In addition, they currently pay ten cents for every bottle returned. The winery is looking at alternative sources for energy including solar and green energy. Employees and winery vehicles are encouraged to use biodiesel fuel.

When you visit Willamette Valley Vineyards, look for elegance, quality wine and recognize that Jim Bernau is working hard to protect our environment.
Willamette Valley Vineyards
8800 Enchanted Way SE
Turner, OR 97392
GPS N 44°82.403 W 123°00.614
---
Support the following Oregon Wineries.