Garden Vineyards
by
Kathy and Terry Sullivan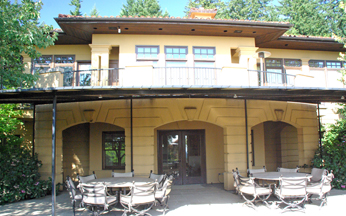 Summary: Wine enthusiasts along with flower and music lovers enjoy visiting Garden Vineyards, one of the closest full featured wineries to Portland, Oregon.
We visited Garden Vineyards with a group from the 2012 Wine Bloggers Conference. Near the winery location, the bus began to wind its way along a narrow paved driveway that circled its way up a hill to reach the delightful Garden Vineyards. The landscaping can put other gardeners to shame or perhaps inspire some to increase their gardening skills.
We discovered Garden Vineyards to offer many delightful aspects for travelers and wine lovers. One of the closest wineries with vineyards located near Portland, Oregon, it makes a wonderful visit for those living in or visiting the area.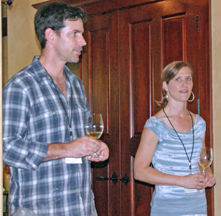 Stuart and Melina Wilson, owners and winemaker, of Garden Vineyards, bought the property because they wanted to be farmers. After planting hundreds of rose bushes, they decided to plant vineyards since they were in wine country. Besides roses and other decorative plants, the Garden Vineyards has a vegetable garden. Produce is used in the available picnic baskets, preserved and sold to visitors.
Upon our arrival at the winery, we met in a lovely and comfortable room where one could relax and taste wine. The room reminded one of a very large living room with a decor that was inviting one to sit and relax. Lovely paintings adorned the Tuscan yellow walls.
Eventually, we were guided to a multi-level terraced garden. One level of the terrace has chairs and tables just outside of the tasting room. Picnic baskets filled with fresh baked bread, artisan cheese, fruit compote, vegetable salad and dessert are available for purchase. Music evenings take place at this location.
A lower level of the terrace provides more tables and chairs for special events. This additional location is more secluded and filled with flowering plants.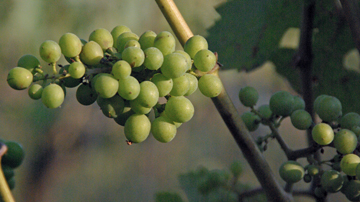 Vineyards
The first grapevines were planted in 1992. Grape varieties include Pinot Noir, Chardonnay and Pinot Gris. Fifteen acres of grapes are close to the winery and another 15 acres are at an adjacent vineyard. Only these grapes are used for producing the Garden Vineyard wines. Late afternoon sunshine showcased some of the Pinot Noir berries as our group made a vineyard stroll.
Events
In addition to live music evenings, the winery offers outdoor movie nights and philanthropy nights. Private and business events can take place at Garden Vineyards. Space is available inside and outside.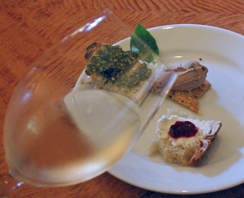 Wines
The white table wine was a blend of Pinot Noir, Chardonnay and Pinot Gris. The wine was invigorating on a day when Portland reached the 100º mark. The wine offered citrus on the aroma and taste with a lemony aftertaste. The 2009 Garden Vineyard Pinot Noir was ruby and purple. The aroma and taste was of mineral and cherry with a satin mouthfeel. Berry fruit was on the finish.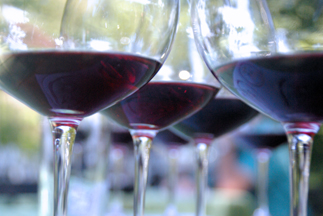 WBC12 Visit
Our group included bloggers and writers attending the 2012 Wine Bloggers Conference. In addition to their own wines, Garden Vineyards also served wines from other Northern Willamette Valley vineyards. Apolloni, Elk Cove, J. Albin Winery, Montinore and Tualitin Estates also served wine. As expected a visit to the Williamette Valley would include Pinot Noir. To make the tasting special, four Pinot Noirs were served including Garden Vineyards, J. Albin Winery, Montinore and Tualatin Estate. The winemaker or representative from the winery discussed some of the characteristics of their wine. The wine bloggers then tasted the wines and attempted to match the Pinot with the descriptions.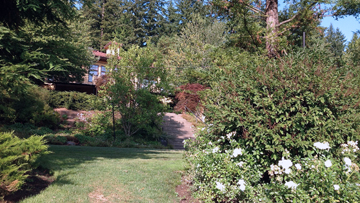 Both the white wine tasting and the red wine tasting was paired with foods. The Pinot Noir matched well with elk, an animal that special fencing was installed to keep out of the vineyards.
The visit was certainly fun and educational. We left Garden Vineyards with an understanding that a lot can be done with Pinot Noir. Another impression was that Pinot Gris, grown in Pinot Noir country is lively and complex, and anything but boring.
Garden Vineyards
12960 NW Dick Rd.
Hillsboro, Oregon 97124
---
Support the following Oregon Wineries.