Montinore Estate
by K. L. Sullivan

Summary: Located a short distance from Portland in the Willamette Valley, Montinore Vineyards is an ideal winery to visit. The large tasting room offers views of the vineyards, music every Sunday and more than 15 wines to choose between to taste. Rudy Marchesi, owner, focuses on sustainable harvesting and biodynamic farming.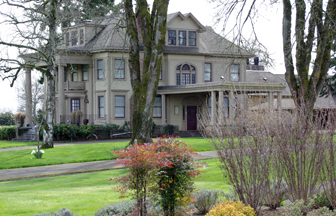 Approaching Montinore Vineyards, we noticed a large historic mansion near the winery and tasting room. Although not part of the winery today, it is a remarkable piece of architecture built in 1905. The winery tasting room is near by. Surrounded by landscaped areas and vineyards, there is a sense of anticipation upon entering the tasting room. Visitors are encouraged to bring a picnic lunch and enjoy the afternoon with a bottle of Montinore Estate wine.
The Forbis family from Montana purchased the farm property in 1905 and named it Montinore, a combination referring to Montana-in-Oregon. In 1982, the winery began and currently has 220 acres producing 40,000 cases. The five varieties on the property include Pinot Noir, Pinot Gris, Gewürztraminer, Riesling and Müller-Thurgau. All of the Montinore wines are estate wines.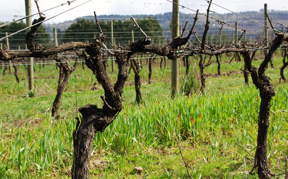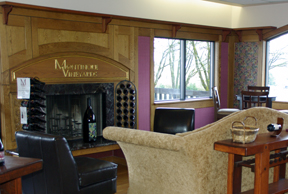 Today Rudy Marchesi, the owner of the winery and vineyards, practices sustainable agriculture with biodynamics. The focus is on high quality wines. The scaling back of winery events emphasizes the importance of biodynamics and sustainable farming at Montinore.
Together with light wood floors, high ceilings, large windows overlooking vineyards and a large fireplace with seating, the tasting room contributes to a delightful experience when visiting.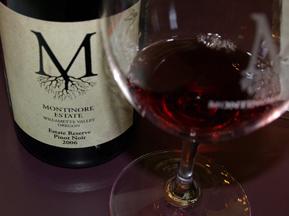 We met Jessica Brower who conducted our tasting. Jessica had a wealth of information about Montinore and was very energetic and excited about visitors tasting Montinore wines. Wines tasted included Müeller-Thurgau Sweet Reserve that had oranges on the nose and was very smooth, fruity and quite sweet. When paired with blue cheese, they complemented each other. The result was less sweetness of the wine and less sharpness of the cheese. Estate Reserve Gewürztraminer 2006 had a citrus and spice nose with a crisp grapefruit taste. The aftertaste was of spices then finished with grapefruit. Riesling 2006 Semi-dry had a mineral nose with a fruit salad taste. The mouth feel was smooth with a sweet fruit finish.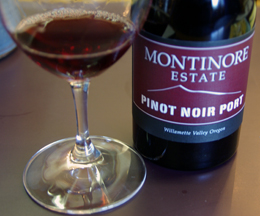 The Estate Pinot Noir 2006 offered a red cherry nose with a red fruit flavor. This wine was food friendly as cheese softens the wine. The finish was crisp. Estate Reserve Pinot Noir 2006 had a red cherry flavor with a bit of earthiness. It had a very fruity red cherry and spices taste with a bit of alcohol on a crisp finish. Parsons' Ridge Pinot Noir had a red cherry nose, red cherry taste and a crisp finish. This wine was very food friendly. Cheese softens the alcohol finish. Graham's Block 7 Pinot Noir 2006 had a dark red cherry nose with a soft velvet initial mouth feel. There was a cherry and plum taste and a bit of alcohol for a moment on the finish then followed by an intense fruit aftertaste. Pinot Noir Port had a cherry and alcohol nose with a smooth mouth feel. There were cherry flavors with just a bit of alcohol on the finish. This port paired well with Pinot Noir Chocolate Sauce. Both the aroma and taste were of chocolate cherries with a lingering taste of the chocolate and cherries.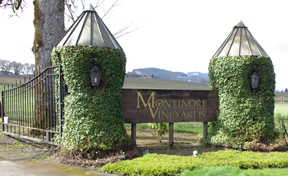 When visiting Montinore Vineyards, enjoy the views from the wine tasting room. You may want to plan your visit for a Sunday as the winery hosts light music every Sunday in a large room adjacent to the tasting room. Visit and plan to stay awhile. If you forget to pack foods for a picnic you can purchase chees, crackers and other foods in the tasting room.
Montinore Vineyards
3663 SW Dilley Road
Forest Grove, OR 97116
GPS N 45°49.316 W 123°13.262
---
Support the following Oregon Wineries.