Enso Winery
by Kathy Sullivan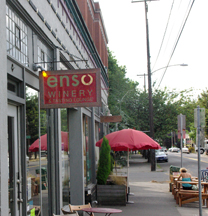 Summary: Enso Winery is a boutique urban winery in Portland, Oregon. All wines are sold directly to consumers. Visitors to Enso Winery will enjoy the wines and the neighborhood winery atmosphere. Casual seating with delicious wines provides a wonderful experience for this neighborhood winery.
On the last day of our visit to Portland, Oregon, we walked a few blocks to a small, boutique winery. The ambiance of the walk was delightful as old homes with character and a few small businesses lined the way. Small tables spill out to the sidewalk in front of the winery making a stop even more appealing. At the winery and online, Enso sells out of the wines it produces.
Enso Winery was the brainstorm of Ryan Sharp and Chris Wishart, who began making wine in a garage and stayed in the garage for three years. Ryan lived in San Francisco and went wine tasting. At small wineries Ryan talked with the winemakers. He also took winemaking courses in California. After moving to Portland, he continued taking classes and worked at a winery in Willamette Valley, Arcane Cellars.
Realizing the consumers were in Portland, Ryan decided to create a small urban winery where many people live. His reasoning was that most of the Oregon wineries are quite a distance away. The new location opened Memorial Day Weekend 2011 and is convenient for those living in Portland. Originally the building had been a grocery story and an auto shop.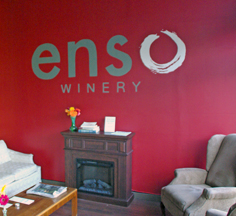 On a shelf, Zen Circles of Enlightenment by Audrey Yoshito Seo notes, "The enso is perhaps the most common subject of Zen calligraphy. It symbolizes enlightenment, power and the universe itself."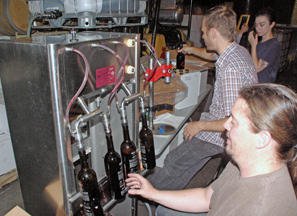 Enso is a small hands-on operation with a current production of 1,500 cases. Grapes are sourced from Washington and Oregon. Labels are silk screened on the wine bottles by a local business. The silk screened bottles must be approved a month prior to bottling so a careful analysis has to made for the number of bottles needed. Bottles are sealed with the relatively new Zork cork. At the time of our August visit, Ryan was busy bottling a 2011 Zinfandel. The wine was a dark ruby color with notes of dark fruit and mild tannins. The grapes were sourced from Horse Heaven Hills in Washington.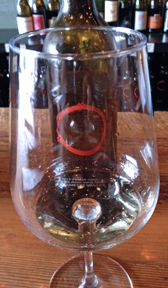 White Wines
Resonate White #4 2011 was a straw color. The Müller-Thurgau grapes were sourced from the Willamette Valley. The wine offered a floral aroma of roses and honeysuckle. The taste had notes of lemon, melon and peaches. The finish was crisp and refreshing and full of flavors and aromas. Riesling 2011 Willamette Valley had an aroma of citrus blossoms, with a taste of orange and lemon and a hint of peach. The finish was crisp and refreshing. Pinot Gris 2011 Willamette Valley offered notes of grapefruit and lemon and was accompanied by a crisp finish. Dry Rose 2011 was a light reddish orange. This wine was produced with Pinot Gris and Pinot Noir co-fermented. The aroma and taste were of yellow stone fruit and vanilla. The finish was crisp and fruity.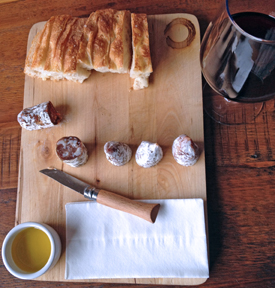 Red Wines
Resonate Red #5 2009 was a dark ruby color produced with grapes from Washington's Walla Walla region. The wine was a blend of Barbera and Sangiovese. The wine offered notes of raspberries and was very fruity with a touch of vanilla. The wine had chewy tannins. Resonate Red #6 2011 was produced with grapes from Oregon's Rogue Valley. This ruby wine was a blend of Grenache and Merlot. The wine had black pepper ad black fruit notes. The finish had tannins and was fruity. The 2010 Chateauneuf du Stark (the winery is located on Stark St.) was a dark ruby. The wine was a blend of Petite Sirah, Zinfandel, Cinsault, Mourvedre, Malbec and Counoise. The aroma and taste had notes of raspberries and cherries and the wine finished with tannins.
In addition to these well-made wines the Enso Winery offers a small selection of foods including bread, cheese and salami. Beer lovers will discover beer available. A small number of non-alcoholic beverages are on hand.
Whether you live in Portland or are visiting, if you would like a relaxing afternoon or evening stop by Enso Winery.
Enso Winery

1416 SE Stark St.

Portland, Oregon
---
Support the following Oregon Wineries.