Red Lily Vineyards
by
Kathy Sullivan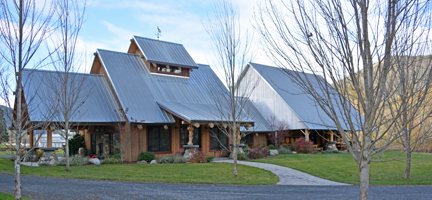 Summary: Red Lily Vineyards, a family-owned winery, is located in the Applegate Valley of Southern Oregon. The goal of Red Lily Vineyards is to provide a wine experience for visitors that is enjoyable and fun.
Red Lily Vineyards was named for the Bolander's Lily, a perennial lily that grows well in Southern Oregon, especially Applegate Valley where Red Lily Vineyards is located.
To reach Red Lily Vineyards, we drove along a winding road into the mountainous area of Southern Oregon, specifically Applegate Valley. Eventually we reached a sign that directed us to turn left onto a driveway surrounded by trees. Soon we reached the Applegate River with a small but substantial cement bridge crossing over the river. Large buildings with steep, metal roofs stood at attention with the nearby mountains hovering over the property. Close to the river, several picnic tables provided space for visitors to enjoy a glass of Red Lily Vineyards wine with a picnic lunch.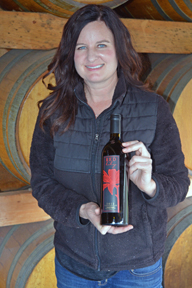 Approaching the tasting room, we were quickly met by enthusiastic Rachael Martin, who described herself as the owner, winemaker and bottle washer for the winery. Rachael is particularly interested in growing Spanish-style grapes. Rachael explained that her husband deals with the business aspect of the winery and vineyards. Her teenage son is interested in the business angle and her teenage daughter enjoys the wine analysis.
Rachael's Story
Rachael had grownup in the Applegate Valley region but eventually moved to Las Vegas. When she returned to visit Applegate Valley, she and her husband said they would love to live here. Rachael said, "Growing up here, my heart is here." Eventually they found a place far out in Applegate Valley that was more isolated. At the time, Rachael considered starting an organic basil farm. However, her father suggested that she should consider planting wine grapes.
When they discovered the current location was up for sale, they knew it was a good location to establish a vineyard and tasting room. It would be easy for wine enthusiasts to find their way to the winery tasting room. The property was a former cattle ranch with old barns. Today the tasting room has been added to an 80-year-old pole barn where cattle were once fed. The aged barn was renovated as an event room. The attached tasting room offers seating areas with an adjacent patio.
Rachael offers visitors a delightful tasting experience in the tasting room, event room and along the river bank. Visitors should ask about the test tube tasting. They are provided with a test tube rack with test tubes filled with wines, a wine glass and a description of the wines. The test tube racks can be easily carried and enjoyed at a picnic table by the river.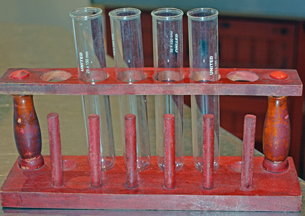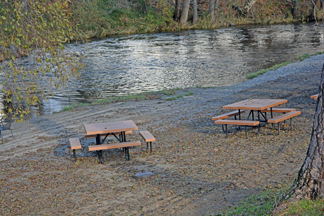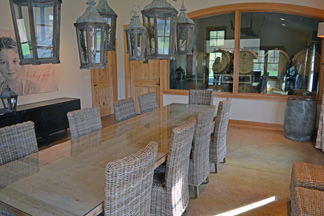 Winery
Across the expansive property from the tasting room, Rachael had a large winery built. it was constructed by Rachael's desire that it represent a personified grape as in "Where would I be after harvest." A conference room has a large window overlooking the production area.
Each year Rachael processes 65 tons of grapes and current production is 3,500 cases which is a production quantity that Rachael is happy with. She commented that she can follow the grapes from the vineyard through to the bottle. If she increased the size of production, she would need to increase staffing.
While producing wines, Rachael likes to keep the wines from each vineyard separate for one year. Once the wines are crafted, she ages the red wines for two years. She noted that the white wines and the rosés are a quick turn around.
Red Lily Vineyards
Red Lily has 20 acres of grapes onsite. Grape varieties include: Verdejo, Tempranillo, Graciano, and Grenache. Rachael also sources grapes from other vineyards in the Applegate and Rogue Valleys.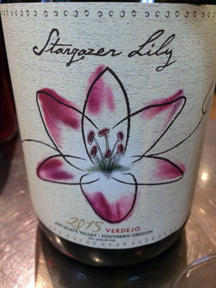 Red Lily Wines
The wine bottle labels are created by Rachael. Each label has a special meaning for her. They include references to family members and also incorporate the history of the land.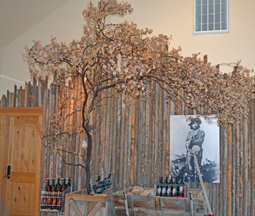 For the history, Rachael spent hours at the local history society. In the tasting room, Rachael created a wonderful display using the history of a local gold mine, miner, and old wagon and wood from the old pole barn.
Stargazer Lily Verdejo 2015 offered notes of peach and floral. This wine was lightly sweet with 5 grams of sugar per liter. This is a pleasant rocking chair wine. Lily Girl Rosé 2015 was a blend of Tempranillo and Grenache. The wine was a translucent red color with a pink hue. The aroma was of red berry fruits while the taste offered notes of red raspberries and strawberries. This medium-bodied wine had a crisp and fruity finish.
Red Blanket Tempranillo 2013 was produced with Tempranillo, Cabernet Sauvignon and Tinta Cão. The dark ruby wine offered an aroma of black fruits and flowers. The taste was of black raspberries and cherries. The wine had chewy tannins. This full-bodied wine had a crisp, fruity finish. This wine is the winery's largest production. It was named for the historic lost Red Blanket Mine.
The flagship wine is Red Lily Tempranillo 2012 that was produced with 100% Tempranillo. The wine was an opaque, dark ruby color with aroma notes of dark fruits. The taste reminded one of black cherries, black raspberries and a bit of licorice. The full-bodied wine had bold tannins. The finish was crisp and fruity. Life of Riley Tempranillo 2013 was produced with estate grown Tempranillo and Cabernet Sauvignon. The opaque, dark ruby colored wine offered an aroma of dark fruit notes. The full-bodied wine had notes of black cherries, blackberries and bold tannins. The finish was crisp and fruity with a spicy aftertaste.
Night School 2014 was a port-style wine made with Tinta Cão, Touriga Nacional and a splash of Tempranillo. The opaque dark ruby colored wine, with a purple hue, offered notes of jammy fruits. This wine was smooth with jammy red fruit notes. It was delicious with no heat even though the wine had 18.6% alcohol.
When planning a visit to wineries in Southern Oregon's Applegate Valley, travelers will want to be sure to stop at Red Lily Vineyards. Take the time to meander along the Applegate River and enjoy the wines.

Red Lily Vineyards
11777 Hwy. 238
Jacksonville, OR 97530
GPS: N42º 14.304' W123º 06.900'
Article written November 2016
---
Support the following Oregon Wineries.