Kramer Vineyards
by K. L. Sullivan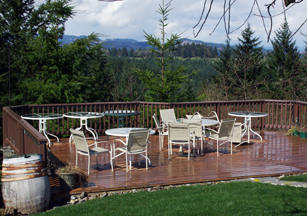 Summary: A visit to Kramer Vineyards in Gaston, Oregon allows you to taste handcrafted wines including sparkling wines, whites, reds and dessert. Plan on visiting on a warm weather day and enjoy the deck built overlooking a ravine. This is a winery where the owners "control every phase of production."
Outside of the tasting room are acres of vineyards to observe from the parking area or the tasting room. A large deck overlooks a deep green filled ravine. Take advantage of the tables and chairs; enjoy the peaceful views and a bottle of Kramer Vineyards wine. During warm weather, tastings are conducted on the deck in this beautiful setting. Enjoy learning about the winery from the tasting consultants and browse the many tempting wine accessories.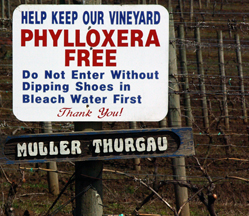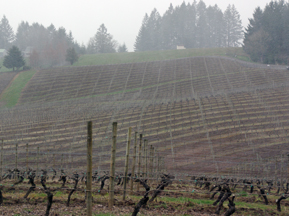 Kramer Vineyards was started in 1984 by Trudy and Keith Kramer who planted 2000 vines. Today they have 20 acres of vines including Pinot Noir, Pinot Gris, Carmine,Chardonnay, Muscat and Muller-Thurgau. They produce 2000 to 3000 cases of handcrafted wine a year. This year they will add six more acres of grapes on land cleared in 2007. On the right side of the parking lot, close to the vineyards is a large sign "Help Keep Our Vineyard Phylloxera Free." The sign is intended to keep people from entering the vineyard. As with older vineyards, the current vines are planted on original rootstock making them susceptible to phylloxera.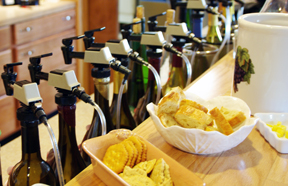 Our wine consultant and assistant winemaker, Marilyn Blen, offered us a sparkling wine upon entering the tasting room and we soon learned that this is their way of cleansing palates before continuing with a tasting. Kramer Vineyards has a unique way of tracking the order of wines visitors taste. Wine consultants place a small sticky dot on the foot of the wine glass indicating the wine in the glass - a very quick and easy way to know where a visitor is in the tasting order. Cheese, crackers and bread are available for tasting with the wines.
The wine tasting room uses a cuvenet system. This system allows nitrogen to be pumped into the bottle when wine is pumped out. This protects the surface of the wine from oxygen that causes wine to oxidize. This is an unusual system but one that seems to work well. We tasted several wines while visiting. In the tasting room was an unusual dry red wine, Carmine, that is a genetic cross between Merlot, Cabernet Sauvignon and Carignane.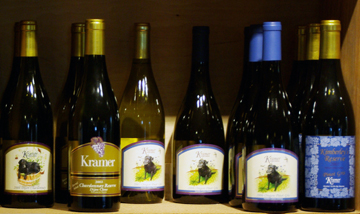 The Dijon clone Chardonnay 2004 was aged in French oak. There was oak on the nose accompanied by a smooth fruit taste with oak and butter on the finish. Chardonnay Barrel Select 2003 had fruit aroma and taste with oak on the finish and a lingering fruit. Pinot Gris 2003 with 14.7 alcohol had a citrus nose, with a smooth full bodied fruit taste and alcohol on the finish. Pinot Gris 2006 with 14.6 alcohol had a floral and fruit bouquet with a citrus (grapefruit) taste and a smooth finish.
Another unique aspect here is the opportunity to taste coffee. The coffee is from beans that are roasted on site. The coffee business is called Wine Country Coffee Roasters. This is a wonderful idea after tasting wines or for those who are designated drivers. Also available for those who enjoy browsing gift selections, are numerous colorful ceramic dishes, wine bottle carriers and more.
Events at the winery include two vertical pinot noir tastings, a barrel tasting, Mothers Day chocolate and reds tasting, weddings and receptions. Recently Trudy and Keith started a Wine School. Each year six winemaker dinners are scheduled. Check out the Under the Stars winemaker dinners in July and August.The location is lovely for events. When in Oregon, be sure to visit this winery with handcrafted wines.
Kramer Vineyards
26830 NW Olson Rd.
Gaston, OR 97119
GPS N 45°41.098 W 123°17.303
For more information about Kramer Vineyards
---
Support the following Oregon Wineries.