Coeur de Terre Vineyard
by Kathy. Sullivan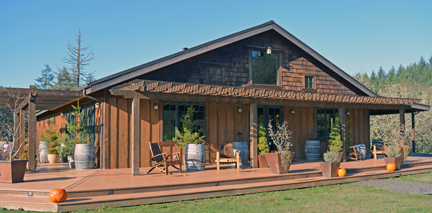 Summary: Coeur de Terre Vineyard's name translates to Heart of the Earth. It was named for a large heart-shaped rock found on the property. The property was once covered with wild blackberry bushes. Today the vineyard and winery is located off a gravel road leading to a driveway that curves through the vineyards.
Visitors to Coeur de Terre Vineyard will discover the winery and vineyard entrance after traveling along a paved road that leads to a gravel road. Travel about one mile on the gravel road before reaching the entrance to the property. You will ride past vineyards to the winery and tasting room, located in a redwood sided building. Solar panels cover a large portion of the roof providing much of the energy needs of the winery. At the front of the facility, comfortable, handcrafted chairs are available for enjoying a glass of Coeur de Terre wine paired with the countryside views. These chairs were crafted from used wine barrels.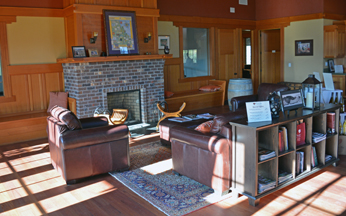 Inside the tasting room, visitors are likely to encounter the enthusiastic tasting room staff, Jacob, who provided us with details of the origins of Coeur de Terre winery. The owners are Scott and Lisa Neal. Scott and Lisa were originally from Boulder, Colorado. Lisa worked in the distribution industry and Scott had an electrical engineering background. While in Colorado, Scott became a self-taught winemaker who began brewing beer and then began fermenting wine.
While visiting the Willamette Valley area, Scott and Lisa began searching for a farm when they discovered this property a few miles outside McMinnville. Jacob noted that Scott is a "hands-on guy." Much of the hands on work continued with planting the vineyard and building the winery.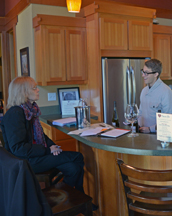 We discovered Jacob's wine journey which he described as falling into the wine industry. During college Jacob focused on politics. After college, his interest in politics faded and he needed to decide what to focus on. Jacob had always been interested in nature and considered wine and vineyards. Jacob applied to different wineries and discovered Coeur de Terre. He likes the wine industry because, "Making wine is a beverage you share with people."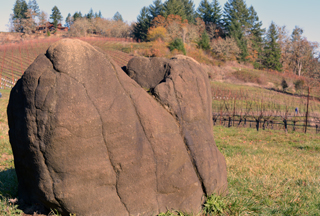 Vineyard at Coeur de Terre
Currently Coeur de Terry has 30 acres of planted vineyards on the property of 92 acres. Vineyards consist of Pinot Noir, Pinot Gris and Syrah. The first block of Pinot Noir vines were planted in 1999. Alongside one of the vineyard blocks a large stone, the winery's namesake stands like a guard over the vines.
Coeur de Terre Wines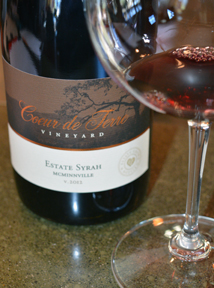 Dry Riesling 2013 was produced with grapes sourced from Highland vineyard's 34 year old vines. The wine, with 12.3% alcohol, was floral with notes of floral including honeysuckle and a hint of yellow stone fruit. The floral finish reminded one of honeysuckle and daisies. Pinot Gris 2014 was produced with locally sourced grapes. The yellow colored wine had 12.9% alcohol and notes of grapefruit. The finish was crisp.
Rustique Rosé 2014 was a blend of Syrah and Pinot Noir. The wine had 13.1% alcohol. The color was a translucent red with a pink hue. The aroma was of red berry fruit. The taste included notes of red raspberries, black raspberries and spices. The crispy finish was fruit forward. This wine would pair well with a rocking chair on a porch. This is also a wine that is suggested for Thanksgiving.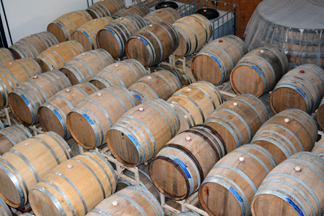 Estate Syrah McMinnville 2012 was a translucent ruby color with a dark pink hue. The 12.9% alcohol wine offered an aroma of black fruits and pepper. The taste was of blackberries, cedar and spice. The wine had a medium body and medium tannins. The finish was crisp with fruit and spice notes. Estate Heritage Reserve McMinnville 2013 was a translucent red color with a dark pink hue. The wine was 13.5% alcohol.The wine offered an aroma and taste of red raspberries and spice. The wine was medium-bodied with medium/bold tannins. The finish was of fruit yielding to spice.
Estate Heritage Reserve McMinnville 2012 was a translucent dark ruby color with a purple hue. The 14.5% alcohol wine offered aroma notes of black and red raspberries. The taste also had notes of black and red raspberries with some spice. The wine was medium/full-bodied and offered medium/bold tannins. The wine was fruity with a bit of spice. Sarah Jane's Block was named after Lisa's great grandmother.The wine with 14.4% alcohol was a dark ruby with purple hue. The wine offered notes of red raspberries. It was full-bodied with bold tannins. The finish was fruity.
This is a great winery to visit and spend a while relaxing with a glass of wine.
Coeur De Terre Vineyard
21000 Eagle Point Road
McMinnville, OR 97128-8555
GPS: N45º 10.861' W123º 19.879'
Article written December 2015
---
Support the following Oregon Wineries.