Rex Hill Vineyards
by
Kathy and Terry Sullivan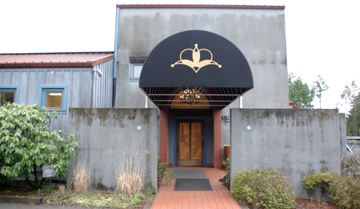 Summary: Rex Hill now owned by A to Z Wineworks focuses on producing quality Willamette Valley Pinot Noir. The winery building was once a fruit drying facility during the early 1900's. Vineyards are dry farmed and have LIVE certification. Seven vineyards are farmed biodynamicly.
Paul Hart and Jan Jacobsen started Rex Hill winery in 1982. Prior to 1982 the property had a long history as one of Oregon's many facilities for drying fruit and nuts from nearby orchards. As times changed, many of these drying facilities including Rex Hill closed their doors. Eventually the property became a pig farm and a commune. The building was abandoned until 1982.
Paul and Jan made changes to the building to accommodate a winery but today there are still remnants of the building as a fruit drying facility visible to visitors. Jan planted opulent gardens around the winery. When the owners retired, they sold Rex Hill to A to Z Wineworks, another local winery.
Vineyards
Rex Hill has 280 acres of vines including Pinot Noir, Chardonnay and Pinot Gris. The vineyards are farmed using biodynamic principles. They have LIVE (Low Input Viticulture & Enology) certification. Two of the six vineyards are Demeter certified. Vineyards are dry farmed. Nuisance problems in the vineyards include birds and deer with birds causing the greatest loss of grapes just before harvest.
Due to the vigor of the vines in the vineyard, the vines are pruned leaving three canes. Later in the spring, the vines will be pruned to two canes. Landscaping and sculptures provide a buffer between the vineyard and winery facility. The landscaping includes native varieties of Willamette Valley flora. The most recent visit was in early March. The vineyard was dormant and one can observe a vine's architecture. A previous trip was in an August showing vineyard in color.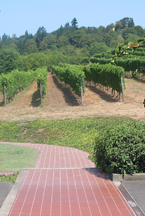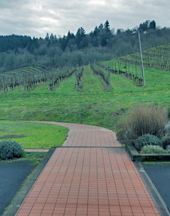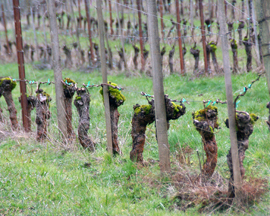 Winery
The winery is capable of producing 40,000 cases. However the A to Z owners decided to lower that number to 9,000 cases under the Rex Hill label in order to focus on wine quality. Some A to Z wines are also made at this facility. In addition to many oak barrels, Rex Hill has a large cement egg shaped aging container. The cement allows the wine to breathe but does not impart oak nuances. Rex Hill also obtained 75 stainless steel barrels from Coca Cola when the company decided to change to plastic. Oak barrels aging wine are vineyard select.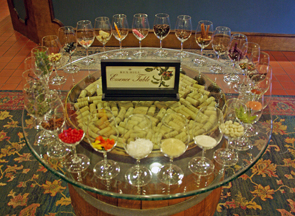 Tasting Room
Visitors enter the tasting room through beautiful carved wood doors. The carving shows a Willamette Valley vineyard and oak barrels. Upon entering the tasting room area, a circular table is set up with more than 25 wine glasses holding different objects that are associated with wine aromas. Some objects in the wine glasses include a pencil, a pencil eraser and cinnamon. This is a very attractive aroma wheel where visitors can easily identify different wine aromas. Close by is the L-shaped tasting counter. Interested wine enthusiasts can walk the few feet between the aroma wheel and tasting counter to help them determine aromas.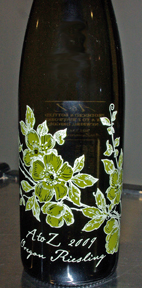 White Wines
A to Z Riesling 2009 was a light straw color with lime and tropical fruit notes. The finish was crisp and refreshing. A to Z Pinot Gris 2009, also a light straw color, offered citrus notes. The finish was crisp and citrusy. A to Z Chardonnay 2008 was citrusy yielding to green apple notes.
Red Wines
A to Z Pinot Noir 2009 was ruby with spice and red cherry notes. There were mild tannins. Rex Hill Willamette Valley Pinot Noir 2008 was a dark ruby. The aroma offered mushroom and spice notes while the taste had red fruit and spice notes. The finish was crisp and fruity with mild tannins. Jacob Hart Vineyard Willamette Valley Pinot Noir 2007 was dark ruby. There were notes of cherries and spice. The finish was crisp and fruity with tannins. A to Z Chemin de Terre 2006 was a blend of Merlot, Cabernet Sauvignon, Syrah, Cabernet Franc, Sangiovese, Grenache and Pinot Noir. The result was a wine with a dark purple color and ruby rim. The aroma and taste offered black fruit and pepper notes. The wine finish was crisp with tannins. A to Z Night & Day 2007 was a blend of Cabernet Sauvignon, Merlot, Syrah, Sangiovese, and Cabernet Franc. The aroma offered notes of black berry fruits. The taste also had black berry notes that yielded to spice. The finish was fruity with tannins.
Enjoy a visit to Rex Hill where you will discover a large early 1900's building that has been developed into a winery.Note that the owners of the winery promote sustainability and biodynamic uses in their vineyards.
Rex Hill Vineyards
30835 N Highway 99W
Newberg, Oregon 97132
GPS: N45º 18.882' W122º 55.220'
---
Support the following Oregon Wineries.