Vista Hills Vineyard and Winery
by
Kathy Sullivan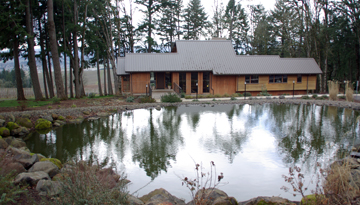 Summary: Enjoy a visit to Vista Hills Vineyard & Winery overlooking acres of vineyards in the Dundee Hills AVA.
The unusual tasting room, like a large treehouse, is perfect for those who remember their childhood days of treehouse building as well as those who never had the opportunity to enjoy the idyllic treehouse. However, Vista Hills is an enormous upscale version of a 10 year old's treehouse with sparkling glass windows, a large deck overlooking vineyards and a traditional wine tasting counter. All of this is amidst Douglas Fir and White Oak.
Vista Hills Vineyard & Winery owners, John and Nancy McClintock, moved to Oregon in 1995. Originally from Florida, they had dreamed about owning a vineyard and winery. After settling in Oregon, they began to plant acres of grapes beginning in 1997 with Pinot Gris. In 1999, they planted Pinot Noir. Vista Hills' first harvest was 2000. They opened the tasting room in 2007.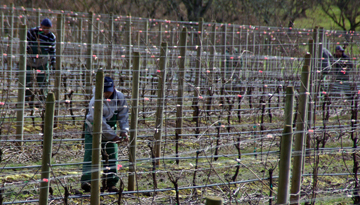 Currently, Vista Hills has 42 acres of grapevines with 36 acres of Pinot Noir and 6 acres of Pinot Gris. Total case production is 3,500 cases per year. At the time of an early March visit, workers were prunning vineyard vines. The wine is produced offsite at Panther Creek Cellars. Dave Paterson is the general manager and winemaker for Vista Hills.
Kona Plantation
In addition to the Oregon property, the McClintocks farm five acres of land in Hawaii. This small farm in Kona is in a renowned area for growing coffee beans. For those who enjoy chocolate, the farm has 100 cacao plants. The seeds are harvested and processed on the farm. Visitors to the Treehouse tasting room will discover Kona coffee and chocolate available for purchase.
Clint Foundation
The McClintocks are pro philanthropy. In their desire to help others, they established the Clint Foundation during the 1990's. This organization assists students with financial needs in higher education. Students selected for this program must be working and contribute to their education. In addition the students must be willing to help others in the future.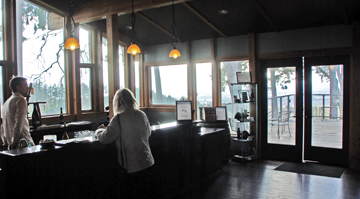 Treehouse Wines
Light floods the tasting room and visitors have excellent views of the vineyards while tasting wines. Adjacent to the tasting room is a deck that makes a perfect spot to enjoy a glass of Vista Hills wine. Treehouse Pinot Gris 2009 was a light straw color. The aroma and taste offered notes of lemon and green apple. The finish was crisp with lemon nuances yielding to green apple. Treehouse Rosé of Pinot Gris was a light orange with hints of strawberries. The wine was smooth. The finish offered strawberry nuances yielding to grapefruit. Treehouse Pinot Noir was ruby with plum and hints of pepper. There were mild tannins on the finish.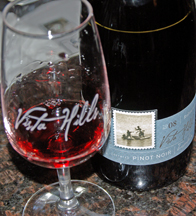 Wines with School Names
Several wines are named after schools that the family know of or attended. Students at these schools have benefited from the Clint Foundation. Maryhurst Pinot Noir 2008 was ruby with an aroma that was earthy and smoky. The taste was of cherry and smoke. Mild tannins were on the crisp finish. Tusculum Pinot Noir 2008 offered notes of cherries and spices. The crisp finish was fruity with tannins. Piedmont Pinot Noir 2009, to be released in 2011, offered red fruit notes with a hint of cedar and pepper. The finish is crisp with some tannins. Red fruit notes yielded to black fruit berries.
Experience a friendly wine tasting at Vista Hills Vineyard & Winery in the Dundee Hills AVA.
Vista Hills Vineyard & Winery
6475 Hilltop Lane
Dayton, Oregon 97114
GPS 45º 15.951' W123º 04.225'
---
Support the following Oregon Wineries.