Erath Winery
by K. L. Sullivan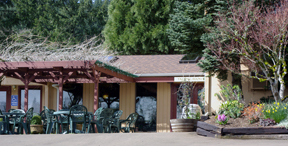 Summary: Erath is a delightful winery to visit. The drive along a winding, graveled road between acres and acres of vineyards adds to a great experience, even before one reaches the tasting room where seating is available. Inside the tasting room, the wine attendants obviously enjoy conversing with visitors. When you visit, be sure to ask about the Oregon Pinot Noir glass by Riedel.
Dick Erath is a pioneer in producing Pinot Noir in Oregon. He planted his first vines in 1969. Out of 23 varietals, he discovered that Pinot Noir grew the best. By 1972, Dick had produced his first vintage of 216 cases. In 1976, the winery was the first constructed in Dundee. Today Erath Winery sources from wide variety of vineyards, each unique in
climate, elevation and soil structure, and produces 125,000 cases.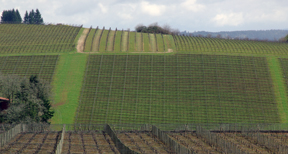 Erath is a wonderful winery to visit. Located among rolling hills outside of Dundee, the view is spectacular. Add to the experience the quality of their wines and you will be sure to enjoy visiting Erath. Outside of the tasting room is a small covered area with tables and chairs available. Acres and acres of vineyard-covered hills will delight you. It is reminiscent of the Tuscan countryside in Italy. Consider bringing a picnic lunch and enjoying a glass of wine with your lunch.
If you have not heard of the Oregon Pinot Noir glass by Riedel, the famed Riedel glass company was asked by the Oregon wine industry to create a wine glass that would enhance the nuances of Oregon's famous Pinot Noir. Riedel developed several prototypes and one was selected by Oregon winemakers to be the Oregon Pinot Noir wine glass. While we visited the winery, we noticed that this stemware was "flying off the shelves."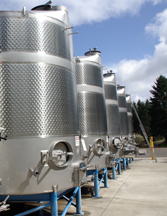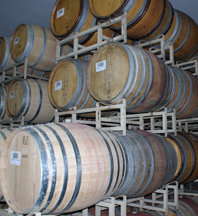 David Foulke gave us a tour of the winery and conducted our wine tasting. The winery is located in buildings adjacent to the tasting room building. Stainless steel tanks gleamed brightly in the late March sunshine. Barrels stacked in one of the rooms quietly aged the wine. Exiting the barrel room we were immersed in a sudden snowstorm, a stark contrast to the sunshine observed just moments before. Perhaps this was a foreshadowing of the contrast in Erath's several Pinot Noirs.
Winemaker since 2003, Gary Horner now produces several fine wines. Take time to explore the various nuances of the different wines available for tasting. Visitors can choose between two flights. The complimentary flight features three white wines and a Pinot Noir. The red flight costs $10. You'll taste three different Pinot Noirs and a Syrah.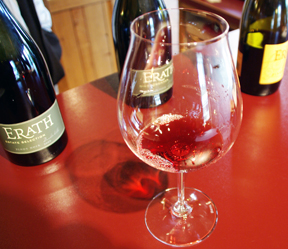 Pinot Blanc 2006 had a citrus nose, apple on the taste and a crisp finish. Gewürztraminer had a wonderful nose with spices and fruit on the taste. Pinot Noir La Nuit Magicque (The Magic Night) 2005 can be aged. Horner produced the wine from the eight different Pinot Noir barrels. This wine had fruit and earthiness on the nose and red berries and mushrooms on the taste. It was crisp with tannins on the finish. Pinot Noir Niederberger Vineyard had more tannins and acid. This wine was a bit bolder with a red berry nose and taste. Consider pairing it with red meats. Pinot Noir Oregon 2006 offers a red cherry fruit nose with raspberry on the taste and a crisp finish. Pinot Noir Estate Selection was produced with 100% Dundee Hill fruit from five vineyards. It had a red fruit nose and red cherry and blackberry taste with a perceived sweetness. There was a long fruit aftertaste. Pinot Noir Prince Hill had black berry on the nose, red fruit taste and a very soft and luxurious velvet mouth-feel with a sense of sweetness.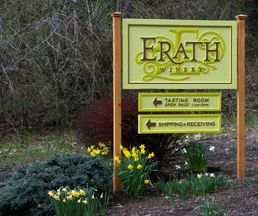 Take plenty of time to enjoy the total experience of Erath Winery. Here you will find beautiful views, good wines and a friendly, knowledgeable staff. This is a winery you can visit every season. While we were there, we enjoyed the views in all weather from sunshine to a sudden and short whiteout. The snow masked the view of the surrounding vineyards, but only for a moment.
Erath Winery
9409 NE Worden Hill Road
Dundee, OR 97115
GPS N 45°28.086' W 123°06.385'
---
Support the following Oregon Wineries.