Bushwhacker Cider
by
Kathy and Terry Sullivan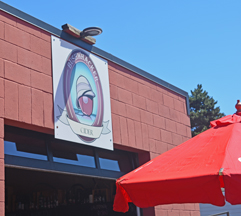 Summary: Bushwhacker Cider has two cider tasting rooms in Portland. Both tasting rooms have an array of ciders produced by Bushwhacker and other ciders from around the world.
We discovered that Bushwhacker Cider has two locations in Portland. We stopped by Bushwhacker Cider located in Southeast Portland, Oregon to learn what this boutique cidery had to offer cider enthusiasts.
Jeff and Erin Smith founded and own the cidery. In 2010 they opened their first location in Southeast Portland.
The Southeast location offers visitors an opportunity to enjoy ciders just outside the tasting room where numerous wrought iron tables and chairs are setup some under an umbrella. Inside, the cider bar, a tasting counter has five bar stools for customers and nearby are several tables with additional seating. A long wall has a large detailed painting depicting large trees sprawling against the sky, and two girls walking along a winding path through the woods. Take time to talk about the meaning behind the painting.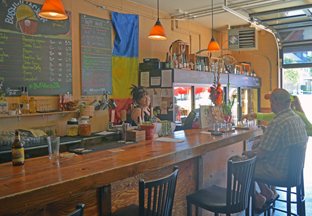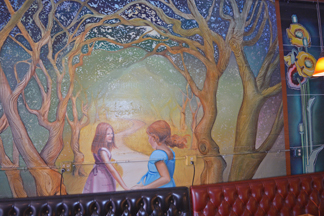 People are encouraged to stay awhile and play available board games while enjoying cider. Available board games include: Sorry, Monopoly, Risk and Parcheesi. The room even includes an arcade game.
Behind the tasting room and bar is a small work room where some of the Bushwhacker ciders are produced. The back wall has several colorful international flags.
We met Emily who provided ciders and information for our perusal. We discovered that when Bushwhacker opened in this Southeast location in 2010, it made small batches of cider at this location. The Southeast Portland location is known as "The first cider bar in the United States."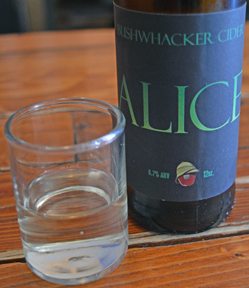 Ciders
The Forgotten Trail Cider is a popular cider. This on tap cider is produced with a blend of estate grown apples from Eastern Oregon. This cider is the flagship cider for Bushwhacker. The cider was a light straw color with 6.7% alcohol. The taste was very appley and crisp with a slight fizz. Forgotten Trail cider is more of a traditional cider. It is also available in 12 oz bottles. The second cider available was the Alice cider produced with Granny Smith estate apples. The cider was a yellow color and the taste had an apple taste. It was very dry with a hint of mineral.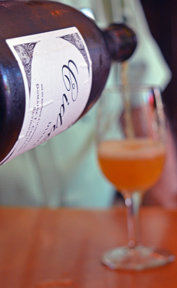 Unfortunately at the time of our visit, in late July, Bushwhacker only had two of their own ciders available to taste. However, on the plus side of things, Bushwhacker offers huge amount of ciders from around the world. We ordered a cider from the Normandy region of France. The Domaine Johnna Cecillon Cidre Divona, cider was a dark gold color. The name Divona refers to a Celtic goddess of the sacred springs. The aroma was of apple. The taste was also of apple and was smooth and sightly sweet. The aftertaste had a hint of barnyard taste but one had to search for it. There were also hints of vanilla. This cider was delicious.
Visitors to Bushwhacker can order ciders from the tap list. Bottle pours are also available. During the summer of 2016, Bushwhacker is planning to release a draft named Woodbox: Summer Cydie with 7.9% alcohol.
Bushwhacker Cider
locations:
901 NE Oneonta St.
Portland, Oregon 97211
and
1212-D SE Powell Blvd.
Portland, Oregon 97202
Article written August 2016
---
Support the following Oregon Wineries.