Cooper Mountain Vineyards
by K. L. Sullivan

Summary: Cooper Mountain Vineyards is home to wines made with organic and biodynamic grapes. The winery produces one organic wine, LIFE 2006. The winery vineyard is surrounded by a housing development. A winery bordering you backyard has its advantages.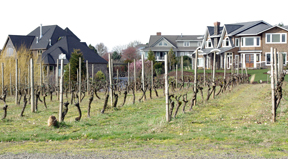 Arriving at Cooper Mountain Vineyards, we quickly noticed that the vineyards are enclosed by housing developments. One of our dreams is to one day live in a house with a vineyard bordering our backyard. However housing developments adjacent to vineyards may offer challenges to organic and biodynamic vineyards. Spray from homeowners may drift over to the vineyards and fertilizers may have run-off going into the vineyard. On the other hand, Cooper Mountain Vineyards is on very friendly terms with their neighbors who see the advantages of a winery and vineyard in their backyards.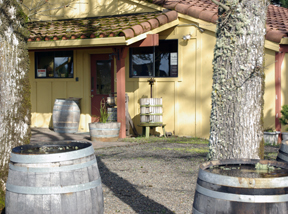 Old oak barrels line the graveled parking lot. The warm, yellow tasting room with a tiled terracotta roof shows green moss clinging to it. Tall trees outside of the front door add a nice touch. A vortex flow form cascade is a tall sculpture in front of the tasting room. It reminds visitors that this is an example of "Art in the Service of Nature."
Dr. Bob Gross and his wife, Corrine, started Cooper Mountain Vineyards in 1978 with the planting of Pinot Noir and Chardonnay grapevines. Several years later, they began selling their grapes to other wineries. By 1987, the winery had become bonded. The site is located on the side of an old volcano. The terroir of the area gives unique nuances to the wines produced.
Today the vineyards consist of 123 acres, within five miles of the winery and tasting room, planted with Pinot Noir, Pinot Gris, Chardonnay and Pinot Blanc. The winemaker, Gilles De Domingo, is from France and uses the traditional winemaking methods.
The emphasis at Cooper Mountain Vineyards is on biodynamic farming. With the current interest in environmental concerns, biodynamic farming is important to current farming practices. More and more wineries are beginning to embrace some if not all of the biodynamic philosophy.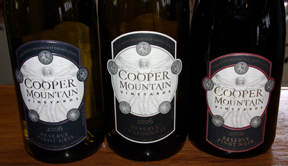 The winery labels bottles with a graphic of the five elements. This graphic was decided upon and used before The DaVinci Code became a national phenomenon. For Cooper Mountain Vineyards the five elements are the roots, flowers, leaves, buds and grapes relating to the five vineyard seasons of Winter, Summer, Spring, Fall and Harvest.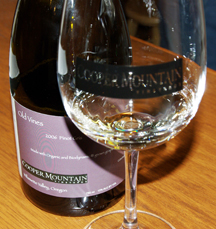 We tasted several wines with lovely Stölzle stemware beginning with whites. Harmony was a blend of 70% Pinot Blanc and 30% Chardonnay. It was fruit forward. Pinot Gris was produced from grapes on the onsite vineyard. It had a citrus nose and grapefruit taste. The oaked Chardonnay had a smooth fruit forward taste. There was some oak on the taste and aftertaste. Pinot Noir Reserve had a red fruit nose and taste. It was crisp on the aftertaste. Pinot Noir Old Vines had a red fruit nose and taste. It was crisp and clean with an earthiness on the aftertaste.
Today the winery produces 15,000 cases and as of 2005, the wines are biodynamic. While the tasting room is not large, it is comfortable and we believe you will enjoy stopping by and tasting an organic wine as well as wines made from biodynamic grapes.
Cooper Mountain Vineyards
9480 SW Grabhorn Rd
Beaverton, OR 97007
GPS N 45°41.393' W 122°86.593'
---
Support the following Oregon Wineries.