Belle Fiore Winery, Estate & Vineyard
by
Kathy Sullivan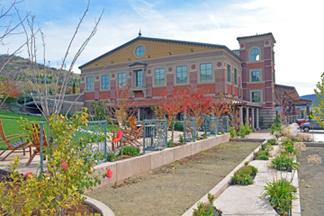 Summary: Belle Fiore Winery, located in Southern Oregon's Rogue Valley offers visitors a luxurious and lush atmosphere beginning with the extended patio and garden to the interior of the tasting room. The winery also has an upper level area that includes works of art and a dining area for club members.
We discovered the Italian-style Belle Fiore Winery and tasting room after passing through a large gate and traveling up a long curved road. As we were a bit early for our appointment, we walked through the delightful patio filled with numerous plantings and many adirondack-style chairs. A large fire pit was also available on the patio. A glass of wine on the patio with scenic views of the area would be a time to remember.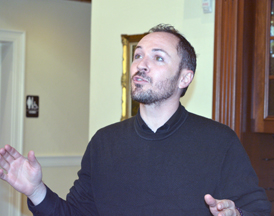 Soon after entering the large and elegant Belle Fiore tasting room, we were greeted and entertained during our wine tasting by Michael Attanucci, an enthusiastic staff member. He also provided us with the details of Belle Fiore. We learned that his first winery experience was in Chateauneuf-du-Pape. This peaked his interest in wine. Eventually he came to the Rogue Valley for an acting career. He joined a ballet company which performed at Belle Fiore. The winery staff recognized his ability to take charge and offered him a position. During our visit, other visitors came by and asked Michael to sing a song from an opera. With little encouragement, he delighted everyone with his enthusiastic and musical rendition. It added so much to our wine tasting.
On warm weather days, visitors to the Belle Fiore Winery tasting room can ask for wines to be enjoyed on the patio while relaxing with the weather and scenic views. The wines are served in wine glasses on a wrought iron-style spindle, making it so easy to carry the wines to the outdoor seating area.
The Owners' Wine Journey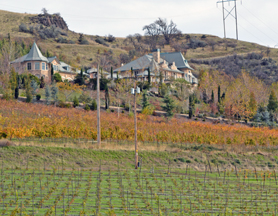 The owners of Belle Fiore Winery are Dr. Ed Kerwin and his wife Karen Kerwin. Dr. Kerwin wanted a winery ever since he was 20. Prior to starting the winery, Dr. Kerwin studied physics, art history and much more. He was hired by NASA where he worked on Solar Power Satellite research. Two years later he earned his masters in the history of science. Later he studied internal medicine and has had a very busy and intriguing life. Karen Kerwin is a biochemist and genetic counselor. In 2001 Dr. Kerwin and Karen established Belle Fiore Estate. Between 2003 and 2007 they built the large chateau, with 19,000 square feet, which can be seen from the winery. The chateau was built similar to a French chateau and the winery facility has an Italian-style structure including a tower.
It was in 2006-2007 that the Kerwins started the vineyard. Today the Belle Fiore vineyard has 33 acres of grapevines. The vineyards are planted with Cabernet Sauvignon, Merlot, Syrah, Cabernet Franc, Petit Verdot, Malbec, Sauvignon Blanc, Pinot Noir, Montepulciano, Muscat Canelli, Caprettone, Barbera, Teroldego and Verdejo. The winery also sources grapes from vineyards within Rogue Valley.
The first vintage was 2012 and the winery tasting room opened to the public in 2013. The winery's energy source is with geothermal technology. The winery has five miles of underground pipes heating and cooling the building and the stainless steel tanks. Current wine production is 7,000 to 8,000 cases.
Belle Fiore Wines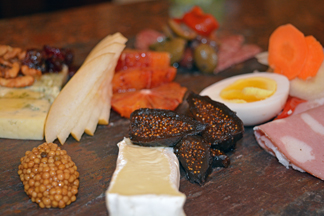 Belle Fiore has three wine labels. The Belle Esprit labeled wines are wines to drink now. The Belle Fiore label classic wines can be aged. The Belle Arte label is focused on an art composition. Each year one winner is chosen to have their art on the bottle. Each back wine label offers a different quote. Our wine tasting was accompanied by a tray of finger foods to pair with the wines.
Belle Arte Wines
Belle Arte 2013 Souspire was an opaque ruby color. The wine was a blend of Syrah, Barbera and Teroldego. The wine offered notes of dark fruits including plums and black cherries as well as pepper. The wine was full-bodied with bold tannins. The finish was spicy and included pepper notes. An example of a back label quote: "Go, eat your food with gladness, and drink your wine with a joyful heart." - Ecclesiastes 9:7.
Belle Fiore Wines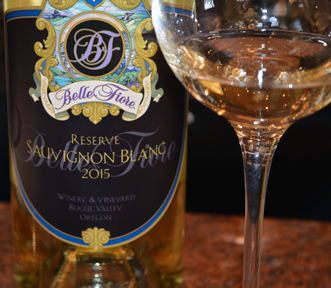 Belle Fiore Sauvignon Blanc 2015, Rogue Valley AVA was a yellow color. The aroma was of citrus and tropical fruits. The taste offered citrus, yellow stone fruit, mango and kiwi notes. The finish was crisp and fruity. Belle Fiore Pinot Noir 2014 was a ruby color. The wine offered aroma and taste notes of raspberries with medium tannins. The finish was very fruity with some oak integrated with the fruit. Belle Fiore Numinos 2013, Rogue Valley AVA was a blend of Cabernet Franc, Cabernet Sauvignon, Merlot, Petit Verdot and Malbec. The ruby colored wine offered notes of blackberries, cassis, black cherries and leather. The wine was full-bodied with bold tannins. The finish had leather and fruit notes.
Belle Espirit Wines
Belle Espirit Caprettone 2015, Rogue Valley AVA was a dark yellow color. The Caprettone grape originates from the Campania region of Italy. The aroma was of floral, citrus and tropical notes. The taste included citrus, pineapple, melon and yellow stone fruit. The finish was crisp, fruity and slightly sweet. Pair this wine with a rocking chair on the porch. Belle Esprit Malbec 2013, Rogue Valley AVA was an opaque purple with a ruby hue. The wine offered notes of black cherries, blackberries and leather. This full-bodied wine had bold tannins. The fruity finish ended with leather replacing fruit nuances.
Facility Tour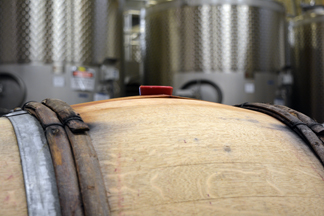 After our wine tasting experience, we were offered a tour by the assistant winemaker, William Hoftiezer who explained his wine journey while providing us with views of the second floor and the dining area reserved for wine club members. A large balcony with scenic views was adjacent to the dining area. We then toured the winemaking facility. The enthusiastic assistant winemaker studied pre-med in school. While at UC Davis he decided to take a fun class, "Intro to Winemaking." He became hooked on the idea of producing wine and changed his major. He worked at Schramsberg Vineyard and Winery in Napa and other California wineries before moving to Medford, Oregon. He started working at Belle Fiore in early 2014.
For wine enthusiasts and travelers to Southern Oregon, Belle Fiore Winery offers delicious wines and an awe-inspiring experience.

Belle Fiore Winery, Estate & Vineyard
100 Belle Fiore Lane (Formerly 955 Dead Indian Memorial Road)
Ashland, Oregon 97520
GPS: N42º 11.760' W122º 38.489'
Article written December 2016
---
Support the following Oregon Wineries.