Duck Pond Cellars
by Kathy and Terry Sullivan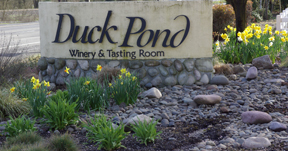 Summary: Duck Pond Cellars is a family owned and operated winery. The second generation is very involved in the operation of the winery. The goal is to produce "quality wines at an affordable price."
Today Duck Pond Cellars owns a total of 800 acres of grapes, with 300 acres in Oregon of which 280 are in Salem and another 500 acres in Washington. Duck Pond grows all of the grapes for their wines. The winery grows twenty-one varietals with Sauvignon Blanc available for the first time this summer. Most of the grapes are handpicked. Duck Pond Winery along with their sister winery Desert Wind in Washington produce 130,000 cases of wine.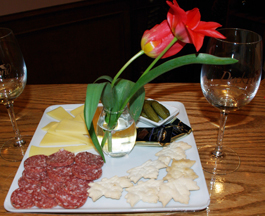 We met Amanda Johnson who conducted our tasting and gave us a tour of the winery. Inside the tasting room, two counters are available for tastings. An additional tasting area is set up in the adjacent winery. Labels on the bottles feature different ducks on each label. Tastings at the winery are with Riedel stemware. Complimentary tastings include five wines. Premium wines are also available for a nominal fee. A light appetizer platter was prepared for our tasting. This is a great addition to a tasting since wine interacts with food. The platter included cheese, meat, pickles, cookies and chocolate. Freshly baked items were also available. Tasting wine with food presents one with a unique experience and allows one to experiment with pairing wines with different foods.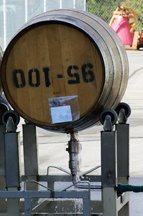 During a tour of the winery, we observed workers washing oak barrels. There seems to be an unlimited number of tasks when operating a winery. Hundreds of barrels were stacked five high in several rows. We tasted wine from some of the barrels. If you have the opportunity, taste wine from a barrel. It is interesting to note where the wine is as it ages over the months and years. We tasted a Merlot that had a blackberry nose and fruit taste. There were hints of chocolate on the aftertaste.
On the day of our visit we tasted several wines. Bare Naked Semillon had a fruit nose and taste. Pinot Gris 2006 offered a fruit nose and citrus taste. It was light and crisp on the finish. Ruah, a Bordeaux blend, was created with 45% Merlot, 40% Cabernet Sauvignon and 15% Cabernet Franc. The result was red fruit flavors and nose with a smooth fruit finish. Ruah is an ancient word meaning wind, breath and spirit. Pinot Noir 2006 had a red cherry nose and taste. It was smooth and lightly crisp on the aftertaste. Jory Cuvee 2005 was very smooth with a red cherry nose and taste.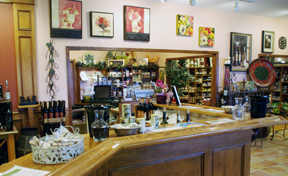 While you taste wines, be sure to enjoy the fine selection of wine accessories and gift items available. The large selection includes gourmet products such as toppings, dips, mustard, wine vinegar, bread dippers, olive and grape seed oils. Browse the gift items that include coaster sets, glassware, jackets and candles.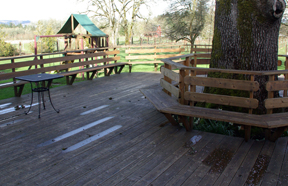 Outside the tasting room, a wood deck offers a quiet area for visitors to relax and drink a glass of Duck Pond wine. A small pond with waterfalls adds to the peaceful seating area. A children's play area is set up next to the deck. The play area includes swings, a slide and climbing bars. Duck Pond offers an environment where the children can play rather than show boredom by pulling on their parents to leave. Parents who enjoy wines but are apprehensive about taking their children to a tasting room may like to consider this alternative.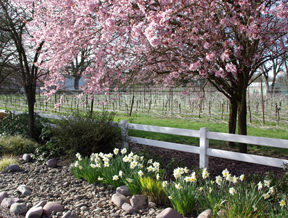 The land surrounding the tasting room is beautifully landscaped. Bulbs, flowering trees and dormant vines greet visitors in early spring. This is a good time of year to observe yellows and pinks while seeing the architecture of the recently pruned vines. Occasionally you will observe buds beginning to swell or perhaps even bud break.
Duck Pond Cellars
23145 Hwy 99W
Dundee, Oregon 97115
GPS N 45°28.986' W 122°99.917
---
Support the following Oregon Wineries.