Redhawk Winery
by K. L. Sullivan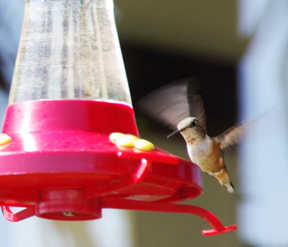 Summary: Redhawk Winery is a friendly winery with delightful views of the Cascade Ridge. Be sure to notice the hummingbirds close to the tasting room. Small production wine is sold only from the tasting room.
Hummingbirds in a perpetual twirl greeted us as we walked to Redhawk Winery's entrance. Standing at the tasting counter, we could continually watch through large windows as the birds continued retrieving the sweet nectar from a hummingbird feeder. The tasting room is bright and welcoming. Notice the furniture made from old oak barrels.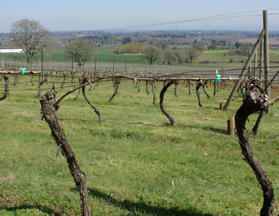 At Redhawk Winery, the original five acres were plant in 1978. Pinot Noir was planted in 1997. Today the owners grow Pinot Noir, Pinot Gris, Dolcetto and Riesling. Although Chardonnay is currently growing in the vineyard, this area will be replanted with Pinot Noir. John Pataccoli, owner and winemaker, creates his own blends.
Before purchasing Redhawk, John and Betty Pataccoli were wine collectors. They noticed that they began collecting more Burgundies than other wines. When purchasing a winery and vineyard in the Williamette Valley became possible they seized the opportunity. They purchased Redhawk Winery and Vineyard in July 2005. Since that time they have enlarged and brightened the tasting room and added to the vineyards. Today they produce 4200 cases, up from 1700 cases in 2005. The Pataccolis hope to grow to 7,000 cases.
Small production wines are sold from the tasting room. Free tastings are available for visitors who may taste as many as eight or nine wines. We began tasting with the Red Cuvee 2005 (Columbia Valley). This is a blend of 65% Cabernet Sauvignon, 25% Merlot and 10% Syrah. This wine had a peppery nose, red fruit taste with pepper, a soft mouth feel and crisp finish. Pinot Gris 2006 had a citrus nose and taste. It was crisp with a bit of sweetness on the aftertaste.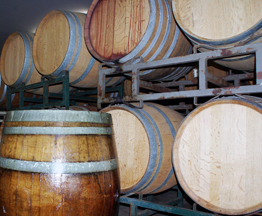 We were fortunate to be able to taste from barrels and tanks. The Pinot Gris 2007 had a grapefruit citrus nose with a grapefruit aftertaste and was dry. A Riesling from a stainless steel barrel had a floral nose and fruit taste. It was very acidic and John will bring up the sugar level slightly before bottling. There was a slight effervescence on the finish.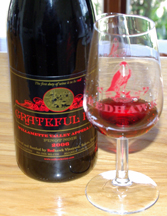 There is a unique label on the Grateful Red an entry level Pinot Noir. We tried several Pinot Noirs from different blocks in the vineyard and discovered that each had a different nose, taste and finish. The wine from the 30-year-old block was smooth and the most complex. It will make an excellent wine and demonstrates how mature vines produce great grapes. Pinot Noir Reserve had a red cherry nose and taste. It was smooth on the mouth feel with a crisp finish and lingering fruit aftertaste. The Redhawk 2004 table wine was 56% Merlot, 33% Cabernet Sauvignon and 11% Syrah. This had a peppery nose while the taste was smooth, with a crisp finish.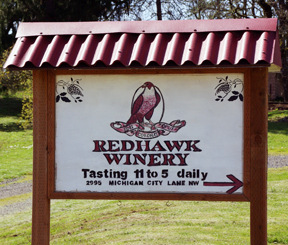 When you visit Redhawk Winery, be sure to look for the colorful hummingbirds flitting around the nectar feeder. You will enjoy talking with John and Betty. One of the owners is usually pouring wines in the tasting room. Beautiful views of the countryside and a walk along the vineyard offer a memorable experience.
Redhawk Winery
2995 Michigan City Ave NW
Salem, OR 97304
GPS N 44°98.786 W 123°09.146
For more information about Redhawk Winery
---
Support the following Oregon Wineries.