R. Stuart & Co.
by
Kathy and Terry Sullivan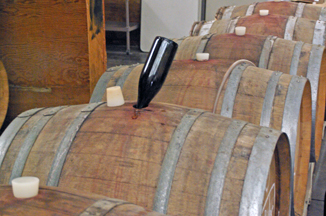 Summary: R. Stuart & Co. produces wine in McMinnville about an hour outside of Portland, Oregon. While there was not enough time to visit the R. Stuart & Co. Wine Bar also in McMinnville, we enjoyed wine including a sparkling wine, appetizers, a special wine blending event and hospitality at the winery location.
On Sunday afternoon, after the Wine Bloggers Conference about 20 of us boarded a bus to visit R. Stuart & Co. We eagerly looked forward to the promise of blending our own bottle of wine. R. Stuart & Co. is located about an hour outside of Portland. We traveled through Oregon's countryside to arrive at the winery located in McMinnville.
The winery is located within a large, tall building that was once a granary. The metal-sided building contained many oak barrels and stainless steel tanks as well as a few plastic formulated tanks. Upon entering the winery, we were handed a glass of sparkling wine. The tasting of the Brut Rosé was palate cleansing. This sparkling wine was a light orange with light berry fruit notes.
Rob Stuart is the winemaker; Rob and his wife Maria own the winery. Their hospitality was wonderful. We were excited about the opportunity to blend our own bottle of Pinot Noir from six different Pinot Noir vineyards. While the Stuart's do not own their own vineyards they control the vineyards with the cooperation of about 20 winegrowers.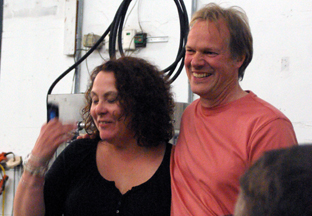 History
Rob Stuart has been making wine for 30 years. In 2012, the R. Stuart & Co. winery is celebrating its 10th Anniversary. It was only ten years ago that Rob decided to start his own winery. Today Rob sources all fruit from about 20 vineyards.
Currently R. Stuart produces 18,000 to 20,000 cases. Rob concentrates on Pinot Noir and Pinot Gris. Rob recalled his beginning interest in wine. In 1971, he had a 1961 Bollinger. He met Jezda Miljkovic one of the few Master Sommeliers in the world at that time. In 1976 Rob went to England and helped plant grapevines that had to be hand watered because of a drought. Jezda taught Rob about wine.
Eventually Rob became a skilled winemaker and was winemaker at Erath Vineyards in Dundee, Oregon. After 20 years as a winemaker for other wineries, Rob felt drawn to owning his own winery and producing wines that he enjoys including Pinot Noir, Pinot Gris and sparkling wines.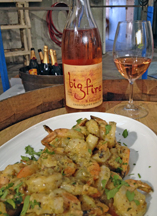 Wines
Prior to our wine blending experience, we enjoyed tasty appetizers paired with R. Stuart wines. The Rosé d'Or, Brut NV was a light orange color and offered light berry fruit on the aroma and taste. It was palate cleansing. The 2011 Big Fire Dry Rosé was also a light orange color. This blend of Pinot Noir, Syrah and Pinot Gris was reminiscent of a berry fruit salad and was refreshing. The wine was paired with citrus marinated prawns with a grilled peach and jalapeno jam. Vignette's label featured poetry. This was a Pinot Noir blend of Pinot Noir from different vineyards. This wine dances with grilled lamb.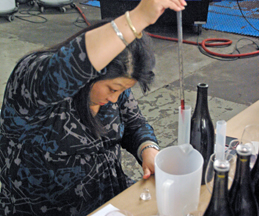 Blending Session
After enjoying this delicious start to the visit, we tasted Pinot Noirs from six different oak barrels. Each barrel contained Pinot from a different vineyard. The Weber Vineyard wine had spice and mild tannins accompanying the cherry aroma and taste. Hirschy Vineyard Pinot Noir offered floral and red juicy, fruity notes with no tannins. Courting Hill Vineyard had notes of herbs, spice and plum with no tannins. Elkhorn Ridge Vineyard Pinot Noir offered spice on the aroma with a taste of plum and tannins. Temperance Hill Vineyard had aroma notes of raspberries and a taste of berries. Daffodil Hill Vineyard was fruity, notably black cherry, with mild tannins.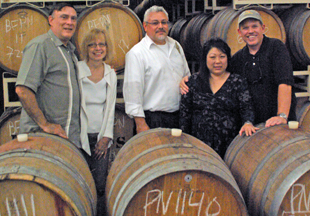 Our next task was to begin the blending session with these six wines. Each table had five or six participants. One of the participants was chosen to be the leader and another the "lab technician" who carefully measured the wines in a graduated cylinder and poured into a beaker. Our group took time to make several blends. Since the majority of the group liked the Pinot Noir from the Weber Vineyards and Daffodil Hill Vineyard we made a 50/50 blend from these two vineyards. Our group liked the blend, but it was missing something in the middle. We tried several other combinations and settled on a blend of 60% Weber Vineyard, 30% Daffodil Hill Vineyard, 5% Courting Hill Vineyard and 5% Hirschy Vineyard. After an hour we had achieved our preferred blend and named it Reverence. For out tasting notes we wrote a simple haiku: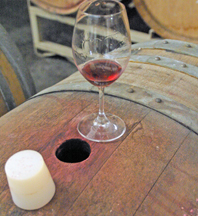 Reverence Pinot
Darker color, aroma
Tannins dance with food
R. Stuart & Co will bottle our wine in the fall and send us a bottle. Our blogger group decided that we will taste our wines next year on the same day and tweet about the wines. The use of Twitter, for a wine tasting, affords our group, with people from Brazil and across the United States, the opportunity to taste and discuss the wines in a reunion atmosphere.
We had a wonderful time together with other wine bloggers enjoying wine and appetizers while talking with the owners, Rob and Maria Stuart. We look forward to watching this winery continue to grow.
R. Stuart & Co.
Wine Bar
528 NE 3rd St.
McMinnville, Oregon 97128

Winery
845 NE 5th St.
McMinnville, Oregon 97128
---
Support the following Oregon Wineries.