Ponzi Vineyards
by K. L. Sullivan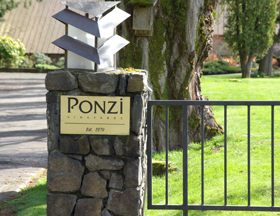 Summary: Located in the Willamette Valley, Ponzi Vineyards was one of the first three vineyards in Oregon. Dick Ponzi was one of the first American winemakers to be awarded American Vintner of the Year. Currently the Ponzi family is building a new winery building a few miles from the existing building. This winery building will enable Ponzi Vineyards to produce more wines. It will have gravity flow capabilities and provide storage for 1000 oak barrel storage. The new building will be ready for the 2008 vintage production. Be sure to ask about Arneis, a little known grape from Italy.
Established in 1970, Ponzi Vineyards is located on the outskirts of Beaverton, Oregon close to Portland. Dick and Nancy Ponzi started Ponzi Vineyards and today Luisa Ponzi has followed in her father's footsteps as Ponzi's winemaker. Ponzi's first vintage was in 1974. Luisa is one of the first women in the United States trained as a winemaker in Burgundy. Today she uses a combination of science and art to produce the Ponzi wines. Not only does she know her fruits, she also knows what she will be getting from each block of vineyard grapes.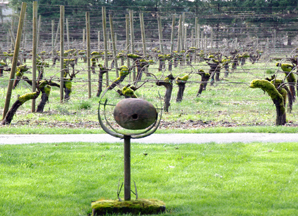 Arriving at Ponzi Vineyards, we quickly noticed vineyards filled with short vines covered with a bright green moss. Later we discovered that this is a typical phenomenon in this area of the country. Outside of the tasting room, the grass is a lovely shade of green and daffodils brightly bobbed their yellow heads in the wind. Decorative sculptures are scattered outside the tasting room.
Upon entering Ponzi Vineyards, Jeff Mathews, the tasting sales associate, greeted us as he continued interacting with other visitors. Jeff has a wonderful friendly and engaging manner of talking with visitors about the wines they taste. In an attempt to make those feel comfortable who may have been new to wine tasting, he said, "There is no right or wrong way." While Jeff attended to the visitors, he quickly poured us some Pinot Gris.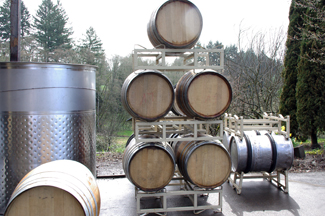 Jeff gave us a tour of the winery and vineyards explaining that Dick Ponzi promoted sustainability in the wine industry. Dick believes that "The more you put into the soil the more you'll get in the grape." Chemicals and fertilizers can affect the grape tastes. Jeff pointed out that one of the sustainable methods Ponzi Vineyards employs, is to use a cover crop between the rows of vines thus eliminating the need for fertilizers.
Dick Ponzi was a mechanical engineer and used his background to change the mechanical process of de-stemming and crushing the grapes. Due to this change, the wines produced by Ponzi Vineyards are more fruit forward.
Today Ponzi Vineyards produces Pinot Noir, Pinot Gris, Pinot Blanc, Chardonnay, Arneis, Dolcetto, Pinot Noir Rosé and White Riesling.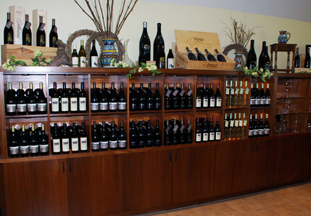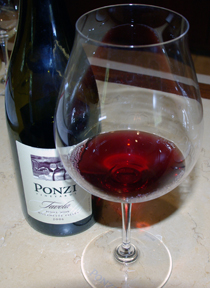 When we returned to the tasting room, we tasted several white and red wines. At Ponzi the stemware used for tasting is the elegant Riedel glassware. We knew of the special stemware Riedel produced especially for Oregon's Pinot Noir but this was our first tasting with this stemware. The glass has a large bowl with a tulip shape at the top to guide the aroma up. Although it is a large stemware piece, it was not unwieldy and was easy to hold.
We tasted the Pinot Blanc that had a floral nose and fruit taste. Riesling also had a floral nose with a slight mineral taste and fruit aftertaste. This was a complex wine as the nose was completely different from the taste and aftertaste. Pinot Gris had a pineapple nose and was very fruit forward with a fruit aftertaste. Chardonnay 2007 was a wine everyone should try. This Chardonnay had a spectacular nose of banana and melon. It had a fruit taste of pineapple and was crisp and clean finish with a long aftertaste. Arneis was another must try wine. It was made from the Arneis grape, an ancient variety native to Italy's Piedmont region. It had a wonderful nose with a grapefruit taste and aftertaste with a crisp finish.
The Pinot Noir Tavola 2006 had a red berry nose and flavor. It was light and fruity with some earthiness. The tannins were soft and there was a long aftertaste. The 2005 Pinot Noir Reserve has a stronger red fruit and spice nose, a red raspberry taste and aftertaste.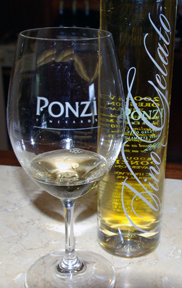 A special treat for dessert would be the Vino Gelato, a very sweet wine. For those with a sweet tooth this was like liquid candy. The Vino Gelato was a blend of Riesling and Muscat. It had a citrus nose and taste. Although sweet it had a balance of acidity.
When you visit Ponzi's tasting room take time to learn about what Ponzi Vineyards is doing in the vineyards for environmental concerns while tasting their fine wines. Also be sure to observe the numerous wall displays.
GPS N 45° 41.393' W122° 86.524
Ponzi Vineyards
14665 SW Winery Lane
Beaverton, OR 97007
Ponzi Vineyards
---
Support the following Oregon Wineries.