Eastside Distilling
by
Terry Sullivan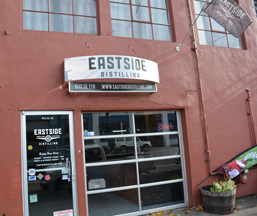 Summary: In an earthy reddish orange building on 7th St in South East Portland, Eastside Distilling has a tasting room, event space and retail shop. Spirits enthusiasts can taste a portfolio of spirits made by the company.
While in the South East Portland business district we visited Eastside Distilling to sample some of their portfolio of distilled products. The site has several tasting areas, the old distilling space now used for events and a retail shop. Distilling takes place in a different building under the direction of master distiller Mel Heim, one of the few female master distillers in the United States.
The company was founded in 2008 and since has introduced Portland to several lines of spirits. In 2009 Eastside Distilling began to craft flavored rums to add to their portfolio of vodka, bourbon and whiskey. The four-year old bourbon is among the most popular spirits in the portfolio. The distillery also crafts small batches of holiday spirits such as Peppermint Bark.
Spirits Tasting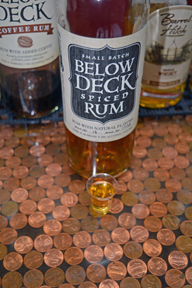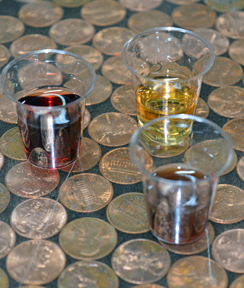 The main tasting counter is made of glass covered pennies. Spirits tastings are poured into individual tiny small plastic cups. The Spiced Rum was a gold color and 40% alcohol (80 proof). The sweet and spicy aroma had a smooth mouthfeel. The rum was spicy with cloves, cinnamon and nutmeg. There was a long spicy aftertaste. The rum reminded me of the sweet rolls that my wife, Kathy makes. The rum could be a wonderful pairing. The Barrel Aged Bourbon was a light gold color and 48% alcohol (96 proof). The aroma and taste was sweet with the predominant corn taste of bourbons. The smooth mouthfeel yielded to some heat on the finish followed by corn and then sweetness on the aftertaste.
Marionberry Whiskey was crafted with whiskey and Oregon marionberries. The whiskey was a dark burnt orange color and had 30% alcohol (60 proof). The aroma was sweet and offered black fruits. The taste was smooth and the marionberries came through as the dominant fruit. There was a bit of heat on the finish and a long marionberry aftertaste. Cherry Bomb Whiskey was made with whiskey and Oregon cherries. The red color whiskey was 30% alcohol (60 proof). There were cherry nuances in the whiskey.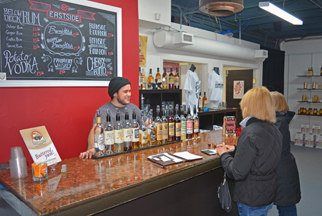 The Holiday Eggnog Advocaat Liqueur was a cream color and had 15% alcohol (30 proof). The spirit tasted like eggnog. A good sipping spirit for the holidays. Holiday Peppermint Bark Liqueur was an infusion of rum with dark chocolate and peppermint oil. The 30% alcohol (60 proof) liqueur had a chocolate aroma. The taste was reminiscent of peppermint bark candy.
Eastside Distilling is part of Portland's Distillery Row. Those who enjoy tasting different distilled spirits should stop by for a tasting.
Eastside Distilling – Tasting Room, Retail Store
1512 SE 7th Avenue
Portland, Oregon 97214
Article written December 2015
---
Support the following Oregon Wineries.