Weisinger Family Winery
by
Kathy Sullivan


Summary: Weisinger Family Winery is one of the oldest wineries and vineyards in the Rogue Valley in Southern Oregon. Eric Weisinger, winemaker, is the second generation at the family winery. In addition to producing their own signature wines, they are a custom crush facility. The Weisinger Family Winery helps to support others including local organizations, artists and wine growers.
Wine Journeys
The Weisinger Family Winery is a second generation winery. John Weisinger grew up in Texas. John became a minister and traveled during his ministry. In the 1970s, John purchased this property in Southern Oregon and in 1978 planted Gewürztraminer vines. Today John has returned to Texas while his son Eric is the winemaker at Weisinger. Eric grew up on this property in Southern Oregon. When he was nine years old, he helped his father plant the grapevines. In 1995, Eric became the winemaker at Weisinger. Part of Eric's wine journey was to travel to several countries to experience winemaking and then he returned to Weisinger Family Winery.
Tasting Room
While visiting Weisinger Family Winery, Ariel Sherman, a congenial staff member, provided us with a delightful wine tasting while answering our many questions about the Weisinger winery. The tasting room with large windows provides views of the valley and the Siskiyou Mountains. Walls were decorated with a colorful array of locally, hand woven scarves and shawls. Ariel noted that in the wine industry there is "more camaraderie than competition." She also noted that the location of Ashland, Oregon is at the southern end of the Rogue Valley.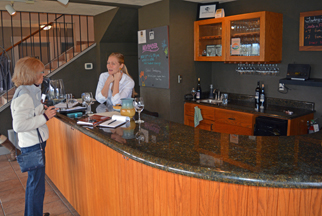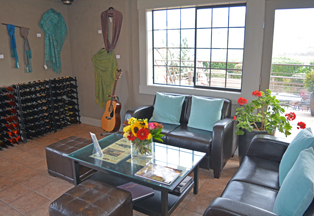 The outside of the winery and tasting room building reminds one of a home where one might find a living room, bedrooms and an extended garage. However, in reality this is the winery with a tasting room that overlooks a photographic view of Rogue Valley and the Siskiyou Mountain range. On warm weather days, visitors will want to purchase a glass of wine to enjoy on the multi-level deck . The deck offers black wrought iron tables and a very unusual oak wine barrel fitted with a pump.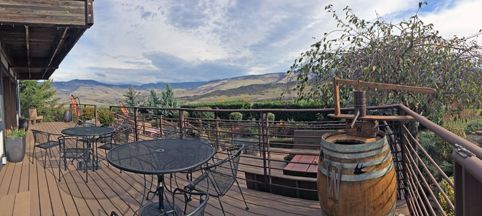 Weisinger Wines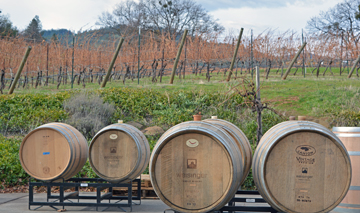 In 2016, the winery produces 2,000 cases of wine with 90% from their own fruit. Their first commercial harvest was in 1988. Currently Weisinger Family Winery has 18 acres of vineyards in the area; four acres of vineyards are onsite and are used to craft the estate wines. The onsite vineyards include Tempranillo, Gewürztraminer and Pinot Noir.
The 2014 Viognier, Meadow Park Vineyard, Rogue Valley AVA , was a yellow color. The aroma was of bright citrusy fruits. The wine offered notes of lemon and grapefruit. The finish was very crisp and fruity with a long aftertaste. The 2015 Sauvignon, White Oak Vineyard, Rogue Valley AVA was a light yellow color. The aroma and taste offered notes of citrus and peach. The finish was crisp and fruity. Chardonnay 2015, Gold Vineyard Rogue Valley AVA was a dark yellow color. The aroma had notes of apple. The taste offered apple and citrus notes. The finish was crisp and fruity. This wine was fermented in neutral French oak. Gewürztraminer Estate 2014 was a pale yellow color. Aroma notes included fruit and spice. The mouthfeel was very smooth and the taste was of spice and light hints of peach. The finish was dry with spice hints.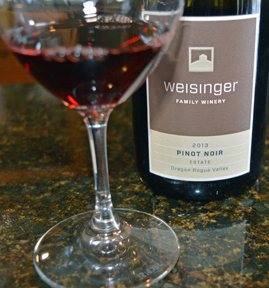 Estate Pinot Noir 2013, Rogue Valley AVA was produced with Pinot Noir grapes planted in 2005. The wine was a translucent red color. There was an aroma of raspberries. The taste offered notes of raspberries and a bit of leather. The wine was medium-bodied with mild tannins. The finish was crisp with fruit yielding to oak influences. The 2013 Malbec, Gold Vineyard Rogue Valley AVA was an opaque, dark ruby color with a purple hue. The aroma offered notes of flowers and dark fruits. The taste had black cherry, black raspberry, leather and violet notes. The wine was medium/full-bodied with bold tannins. The finish was fruity yielding to leather and spice.
Events
Weisinger Family Winery is a member of the Bear Creek Wine Trail which has a Passport program for the wineries on the trail. The trail is Oregon's southern most wine trail and includes 12 wineries. Weisinger offers small group events. For example, when we visited, a sign was posted for "Words & Wine." This is a frequent event where local authors can participate and guests learn about the local book and enjoy wine.
When traveling through Oregon's Rogue Valley, be sure to stop by Weisinger Family Winery for a friendly welcome and plan to spend time in the tasting room or on the deck with a glass of Weisinger wine.
Weisinger Family Winery
3150 Siskiyou Blvd
Ashland, OR 97520
GPS: N42º 10.056' W122º 39.516'
Article written December 2016
---
Support the following Oregon Wineries.