Pheasant Valley Winery
by K. L. Sullivan

Summary: When visiting Pheasant Valley Vineyard and Winery, visitors will discover a large tasting room, friendly staff and good wines. If you want an organic wine, try the Organic Pear Wine. Two more certified organic wines will soon be available. Be sure to ask about the wood crafted counter and the unique backbar formerly a soda fountain from 1908.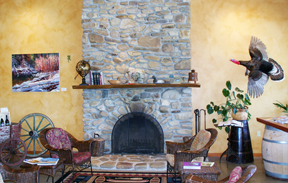 Just outside the large tasting room, two large marble lions "guard" the doors. High above fans are available to circulate the air on those hot 100-degree summer days. The tasting room is a renovated packinghouse for fruit and a large adjacent room is for cooling. At one end of the large tasting room is a stone fireplace with chairs nearby, a perfect place for relaxing and enjoying a glass of Pheasant Valley wine.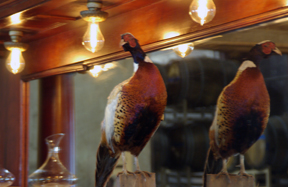 The tasting room has two long tasting counters. Behind the main tasting counter is a large historic backbar from 1908. Be sure to enjoy browsing the assortment of gifts available for purchase. Items include jewelry, wine accessories, aprons and other clothing.
Scott Hagee met us and gave us a tour of the winery and the vineyard. The winery began growing grapes after the market for apples and pears became very soft. After successfully growing 100 grapevines, Scott and Gail pulled out 15 acres of pears and planted grapevines. Currently the winery grows Pinot Noir, Pinot Gris, Tempranillo, Gewürztraminer and some Syrah.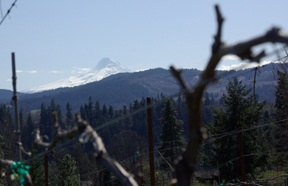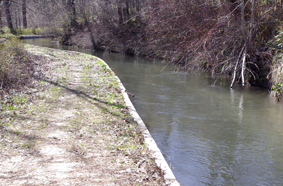 According to Scott, the soil on the property is too good for grapes. Therefore, he needs to stress the grapevines. One of the ways he does this is to closely monitor the amount of water the grapes need and limit the water. Scott uses a neutron probe service that determines the amount of water a grapevine has access to and indicates how much water the vine needs. A source of water is the Columbia River but the most interesting source is from the glacier on Mount Hood. About 100 years ago, workers dug a four-foot deep canal to the east and west to bring water to the area. This water goes through a filter before reaching the vineyard.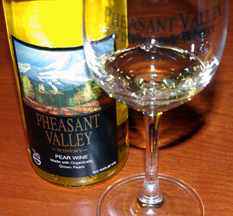 We met Adrian Cornejo who was born and raised on the estate. Adrian was our wine consultant and quickly informed us about the beginnings of the winery. He is friendly and eager to learn winemaking skills. Adrian explained that the name Pheasant Valley came from the pheasants that were frequently seen in the area.
The top selling wine is the Organic Pear Wine. This wine had a pear nose and taste with a slight sweetness then finished dry with a pear aftertaste. Pinot Gris and Riesling also sell well. Pinot Gris had a grapefruit nose and citrus taste with grapefruit on the aftertaste.
Zinfandel 2006 was a purple color with pepper and red fruit on the nose and fruit on the taste. It was crisp on the finish. Tempranillo 2006 was a dark purple and offered a red berry nose and taste with a crisp finish. Cabernet Sauvignon had a dark purple color with a peppery nose and red cherry and spice on the taste. It had a crisp finish with some tannin.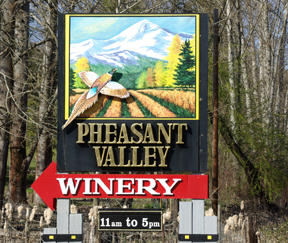 After our visit we had the opportunity to drink the Pheasant Valley 2007 Estate Organic Pinot Noir. It had a berry nose and an explosion of fruit taste. It was smooth and finished with a bit of earthiness and a cherry aftertaste. We enjoyed this wine with our dinner of salmon on a bed of sautéd arugula and a side of brown rice. It paired quite well and was simply delicious. If you live near Pheasant Valley you may want to stock up on this Pinot Noir.
On your way to visit Pheasant Valley Vineyard and Winery, enjoy your travel past acres and acres of orchards. A visit to Pheasant Valley gives you the opportunity to focus on the organic possibilities for wine.
Pheasant Valley Winery
3890 Acree Drive
Hood River, OR 97031

GPS N 45°65.732 W 121°55.178
---
Support the following Oregon Wineries.