Sweet Cheeks Winery & Vineyard
by
Kathy and Terry Sullivan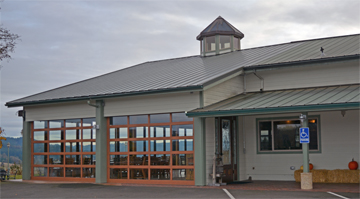 Summary: Sweet Cheeks Winery & Vineyard in the Willamette Valley AVA, is in a community known as Crow and named after James Andrew Jackson Crow. A tasting room is also located in Eugene. Sweet Cheeks Winery offers red and white wines produced with estate and Oregon sourced grapes. The winery offers a large event room and patio surrounded by pink roses.
During our mid-November visit, the front of the tasting room was decorated with pumpkins, bales of straw and chrysanthemums. Located in the rolling hills of Southern Willamette Valley, Sweet Cheeks Winery offers a select tasting of Pinot Noir, Pinot Gris, Chardonnay, Riesling, Merlot and Syrah wines. We quickly learned that the winery has a picture of a crow bird on its label in reference to the local community.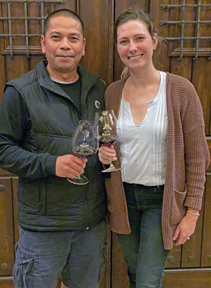 Upon arriving at Sweet Cheeks Winery tasting room, we met Katie Brown and Leo Gabica (pictured left). Katie spoke of her late stepfather, Dan Smith, who lived across the small valley from where the winery and vineyards are located. She referred to Dan as a visionary. The winery and vineyard ideas began years ago when Dan commented that the land was ideal for a vineyard. Dan's passion was to make people feel comfortable when they walked in the door. Dan envisioned the property as a place for people to escape to. During 2012, Katie came to work at the winery in marketing and is now the Marketing & Wine Club Director.
Leo who is from the Philippines, started working at a neighboring winery when he became a cellar master. He came to Sweet Cheeks in 2005 when Sweet Cheeks started. Leo became an assistant winemaker and then in 2013 he became the winemaker. Leo commented, "We may have a funny name; however, we make serious wines."
Winery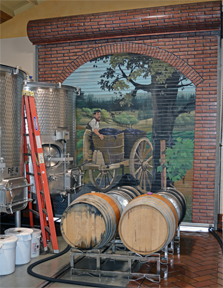 Katie and Leo gave us a tour of the winery production area. The large roll-up doors are works of art. They were painted with wine growing and winemaking scenes: harvesting grapes, preparing to transport the grapes to the winery and a barrel room including a cooper making a barrel. These paintings help to remind workers and visitors that wine is made in the vineyard and many people are involved in the process.
Tasting Room
In the tasting room we saw a large ornately carved door and frame from Guatemala. The large tasting counter is curved and made of honey-colored wood. A fireplace adds a touch of ambiance to the room. Visitors can purchase a glass of wine and enjoy it at the counter or in the adjacent event room. The Sweet Cheeks large event room with a wall of windows overlooks a large patio and the countryside providing a panoramic view of the countryside including vineyards. Even in November colorful pink rose blossoms accented the patio.
The primary focus at Sweet Cheeks Winery is on hospitality. Katie meets and greets people, welcoming them with a warm smile. She discovers people's wine experiences and enjoys helping them on their wine journey.
Vineyards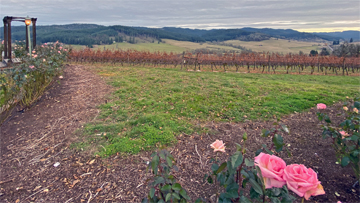 The winery has over 45 acres undervine. They have no plans to expand the vineyards. Today the vineyard is comprised of Pinot Noir, Pinot Gris, Riesling with a little Chardonnay. The vineyard planting began in 1978 and subsequent plantings occurred over the years. After the vineyard was planted, Dan had commented that the vineyard looked like sweet cheeks. According to a back wine label, "We nicknamed our vineyard Sweet Cheeks for a curious swell in the hillside that became evident after the vines were planted. The name stuck, and has been a tongue in cheek favorite ever since."
In the beginning the vineyard grapes were sold to other wineries. Eventually, in 2004, the winery was built and opened in 2005. Today, the winery produces 15,000 cases. Sweet Cheeks no longer sells their grapes, keeping their harvest for their own wine production. Grapes are also sourced from throughout Oregon and make up half of the winery's wine production.
Sweet Cheeks Wines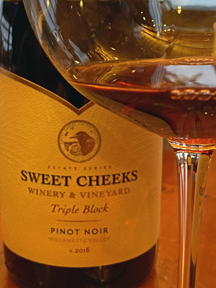 Pinot Blanc Willamette Valley AVA had 12.5% alcohol. The grapes were sourced from Arcane Vineyard located in Salem, Oregon. The aroma was of tropical fruits. The taste included notes of pineapple, kiwi and grapefruit. The finish was crisp and refreshing.
The Sauvignon Blanc 2018 Umpqua Valley AVA offered an aroma of tropical fruit. The taste included notes of pineapple, lemon grass and papaya. The mouthfeel was very silky. The finish was crisp and very fruity. This wine would be good as a 3P wine - enjoy on the patio, porch or pool.
The Triple Block Pinot Noir 2016 Willamette Valley AVA had 13.9% alcohol. The wine was a translucent ruby color. The aroma and taste were of raspberries. The taste also included baking spices such as cinnamon and cloves. The mouthfeel was smooth and accompanied by a medium/full body and medium tannins. Fruit yielded to spices on the finish.
Kody's Block 2015 Pinott Noir Willamette Valley AVA had 13.2% alcohol. The wine was a dark ruby color. The aroma was of red and black raspberries. The taste included notes of red and black raspberries, cinnamon and cloves. The wine had a medium to full body and medium tannins. The finish had fruit yielding to spices.
Events
Sweet Cheeks Winery offers public and private events. Public events include Mimosa Sundays and Twilight Tastings with live music. The winery supports local artists by hosting a plein air art event. Art by local artists is displayed in the winery. The tasting room in Eugene also offers Fridays on the 5th with live music. In 2019, Sweet Cheeks is offering their first New Year's Eve Party.

Wine Clubs
Sweet Cheeks Winery offers three types of wine clubs. The Vintage Club is a mix of dry red, rosé, and white wines. The Barrel Select Red Club features Barrel Select releases and the Sweet Club wines are semi-sweet wines.
Wine enthusiasts will experience a warm greeting and a wine tasting that extends their wine journey whether just beginning or seasoned. The sight offers stunning views of the vineyards and countryside in all seasons.

Sweet Cheeks Winery & Vineyard
27007 Briggs Hill Rd
Eugene, Oregon 97405
GPS: N43º 57.4150' W123º 16.7662'
Tasting Room in Eugene
Sweet Cheeks on 5th
248 East 5th Street, Suite 25
Eugene, Oregon 97401
For tourist and more information about Sweet Cheeks Winery & Vineyards visit their advertising page.
Article written November 2019
---
Support the following Oregon Wineries.