TeSóAria
by
Kathy Sullivan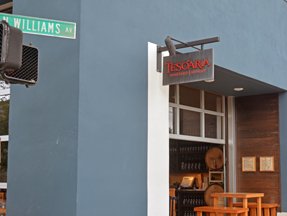 Summary: TeSóAria, an Oregon vineyard, winery and tasting room are located in Roseburg, Oregon in Umpqua Valley about three hours from Portland. Portlanders will discover easy access to a local TeSóAria tasting room in Portland's NE region where delicious tapas are also available.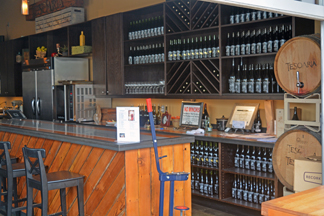 We arrived at TeSóAria's tasting room in Portland, Oregon to discover several special wines with equally impressive foods prepared onsite. We met John Olson, owner, and Carl Giavanti, Winery Publicist, awaiting us with a great wine experience. We learned about John Olson's wine journey that led them from California to Oregon.
TeSóAria is a combination of words. Terra refers to the importance of terroir. Sol is sun and Aria is the combination of the air and music that "unites and inspires." In winemaking, music is part of John's winemaking technique. Music is played while the TeSóAria wines are aging. John notes that the sound waves of the music provide a subtle movement to the wines.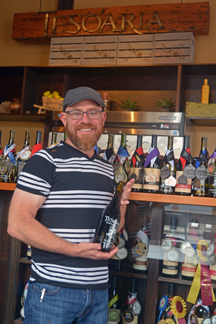 Prior to becoming involved in winemaking, John was living and working in California in real estate development. One day John and a partner received a call from a winery and vineyard owner in Oregon. The Hungarian owner had decided to sell his vineyard and winery. John and his partner drove to Roseburg, Oregon to view the property. Upon discovering a beautiful site, John and his partner enjoyed wines and ultimately decided to buy the winery and vineyard.
The vineyards are located in Roseburg, Oregon which is about three hours from Portland. The vineyards are located on a river bottom that consists of a mixture of sand and clay. John estimates that 50 to 60 percent of the TeSóAria wines are produced with estate grown fruit.
John's first decision was to change the winemaking techniques at the winery. In addition to playing music in the winery, John also cold ferments his red wines. In general, John ages the Cabernet wines for three years but noted that it depends on the vintage. For white wines, John wants the essence of the white grapes to show through his white wines. To achieve this affect he has his white wines finished and bottled by January 1. He commented that he "tries to express what Mother Nature offers." He also believes that a "winemaker can only deduct from a potential 100 point wine."
TeSóAria Wines
In 2008 the wine production was about 800 cases. In 2016 wine production is about 10,000 cases. All wines are sold by the winery through the tasting rooms or the online store.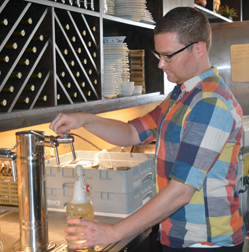 Our TeSóAria wine tasting began with a sparkling wine. The Sparkling Muscato was inspired by a trip to Northern Italy. After enjoying this style of wine in Italy, John knew he was going to craft a sparkling Muscato at his winery, although he wanted to bottle it in growlers. This delicious wine was produced with estate grown and sourced grapes. This wine offered intense notes of orange blossoms. The wine had 7% alcohol and 7% residual sugar. The wine offered notes of mineral. It had a good acidity with orange notes.
Our second wine to taste was the Sparkling Vermentino. This sparkling wine was slightly sweet with notes of mineral and citrus. The wine was crisp. This wine was packaged in growlers. Customers can bring an empty growler and have it refilled.
Riesling 2015 was a light yellow color. The wine offered floral and tropical notes with hints of honeysuckle. Vermentino 2015 was a light yellow color. The wine offered notes of citrus on the aroma and taste. The finish was crisp with fruit yielding to chalk.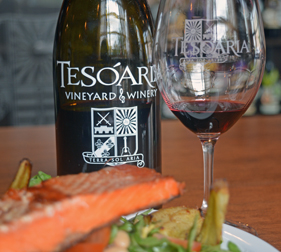 Bulls Blood 2014 was a dark ruby/purple color. It was a proprietary blend made with Kadarka, a Hungarian native grape variety. The wine offered notes of cherry and leather. Bulls Blood 2013 was produced with extra aging. While we enjoyed the Bull Blood wines, it was the story of the name that caught our attention. John may have the only vineyard in the United States with this grape. While we enjoyed the Bulls Blood wine, John explained how his vineyard came to have Kadarka grapevines. The previous owner returned to Hungary and made a Christmas wreath using the Kadarka vines. Upon returning to the the US, he brought the wreath with him.
For those intrigued with the name of Bulls Blood, the story dates back many years to the time of the Ottoman Empire. According to the legendary tale, Hungary was invaded by the Ottoman Empire. The Hungarian soldiers were about to be overcome. Locking themselves in the castle, they managed to break into the wine cellar. Realizing they were about to be killed by the Ottomans, they began drinking. Soon they began fighting among themselves. Eventually they were covered with red wine. When the Ottomans discovered the Hungarians soaked in red wine and fighting among themselves, they incorrectly assumed that the Hungarians had killed their bulls and then consumed the blood. The Ottomans believed they were now demigods. Frightened the Ottomans quickly left the Hungarians alone and safe. According to John, the story of Bulls Blood has several variations. Upon visiting the TeSóAria tasting rooms, be sure to ask the staff for a retelling of the story.
Vindetta was a blend of Cabernet Sauvignon, Merlot, Malbec, Petit Verdot, and Cabernet Franc. This opaque ruby colored wine offered a very fruity aroma. The wine offered notes of cherries, black fruits and some leather. The wine was full-bodied with a long finish.
TeSóAria Culinary Tapas
The tapas and finger foods served with TeSóAria wines are delightful. The creator of these yummy foods is Executive Chef Max Germano. The various types of food included vegan food with wine pairings. Among the many tapas available we enjoyed Olive Tapenade with Toast, Som Tam Salad Rolls, Samosas and Porchetta. Ninety-nine percent of the food is handmade in the tasting room. Our food and wine tasting ended with a delicious sweet taste. Chef Max offered us a caramel made with rosemary and sea salt. Yum!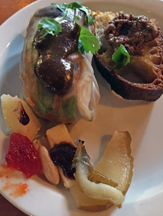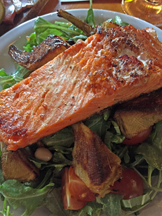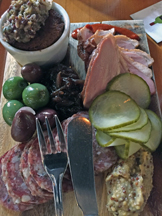 TeSóAria Events
John and Team have created special events for the Portland tasting room. After noticing that Tuesday nights were relatively slow nights, they began offering a slice of pizza with a glass of wine purchase. The result is that Tuesdays nights have become very busy. It's all about wine, food and friends. Wednesdays at the tasting room are known as "Hangry Hump Day." Is there a better day to relax after work and halfway through the work week?

Whether visiting Portland or if you are fortunate enough to live near the city, be sure to stop by TeSóAria tasting room to discover their delicious wines and their yummy tapas.
TeSóAria Vineyard and Winery Portland Tasting Room
4003 N Williams Ave
Portland, Oregon 97227
Article written August 2016
---
Support the following Oregon Wineries.