Argyle Winery
by K. L. Sullivan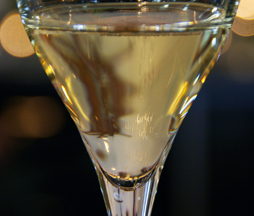 Summary: Argyle Winery's claim to fame is being one of the first and few Oregon wineries to produce sparkling wine. When visiting wineries in Oregon be sure to make this one of your stops. Argyle's focus is on their wines. Ask about the rumored ghosts. Argyle wines are distributed nationally.
The Argyle name for the winery is from three separate components. A diamond shape was already a part of their logo and argyle means diamond pattern. The first people to settle in Dundee were from the Argyle area of Scotland. Argyle is the name of a diamond mine in Western Australia that tied in with a wine investment partnership with Argyle Winery.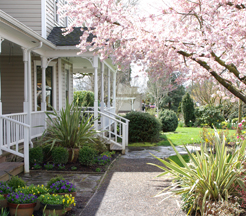 Argyle Winery's tasting room is located in an old house located on Highway 99. It is easy to find and has a good size parking area. A large L-shaped porch with tables provides an excellent place to enjoy a glass of wine. Flowering trees and shrubs enhance the property.
The staff of the tasting room is intent on customer service. As soon as visitors entered the tasting room a wine attendant immediately was at the tasting counter greeting them.
Argyle was one of the first Oregon wineries to produce sparkling wines and began in 1987. Today they own 116 acres of vineyards and manage 200 acres, producing 45,000 to 50,000 cases. The winery is located on Highway 99 and the vineyards are just a few miles away located off a winding road leading through low lying hills. We observed the Knudsen vineyard along a curving road. It was reminiscent of some Tuscan vineyards.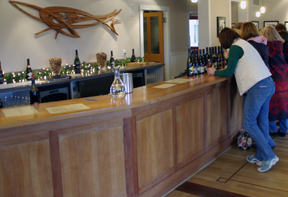 The tasting counter is a unique construction of reclaimed wine fermentation barrel tanks. The staves were planed and attached to form the bar. Sparkling wines are served in flutes allowing one to observe the bubbles rising to the top.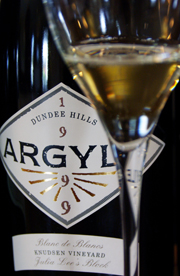 Visitors choose between two flights a Red, White & Brut Flight which includes four wines and one sparkling wine or a Bubbly fight of five sparkling wines. The Brut 2002 is their flagship wine and distributed nationally. It is a blend of 75% Chardonnay and 25% Pinot Noir. This sparkling wine has been on yeast for three years. Notice the dry fruit aftertaste. Blanc de Blanc 1999 is 100% Chardonnay and has been on yeast for five years. It has a Chardonnay nose and is crisp and clean.
The Knudsen Vineyard Brut 1999 is 80% Pinot Noir and 20% Chardonnay. Many will enjoy the clean, refreshing slight fruit nose, fruity taste and aftertaste. The Brut Rosé 2005 is 100% Pinot Noir and only in contact with the skins for three hours. This wine has a red raspberries taste and is crisp and cleansing on the finish. Black Brut 2005 is 100% Pinot Noir with a dark red color, black cherry and pepper on the taste.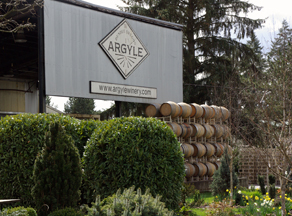 When you visit Argyle Winery you will enjoy the friendly, knowledgeable staff. Take a walk to the side of the tasting room to observe barrels. If you are hungry, there is a bistro across the street.
Argyle Winery
691 Highway 99W
Dundee, Oregon 97115
GPS N 45°41.393' W 122°85.063'
---
Support the following Oregon Wineries.