The Four Graces
by K. L. Sullivan

Summary: The Four Graces Winery was named after the owner's four daughters. Steve and Paula Black have named their son, "Keeper of the Four Graces." The emphasis at Four Graces Winery is on quality wines from their own estate grown vineyards.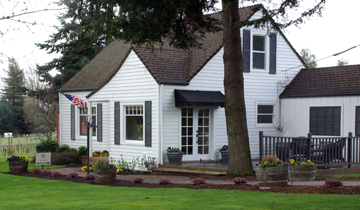 Located just off busy Route 99, the outside of the Four Graces tasting room is a delightful sight. A white picket fence separates the road from the tasting room and vineyard, giving a sense of entering a quiet and peaceful experience. Tall trees shade the white cottage converted into a tasting room. Barrels filled with pansies and heather grace the brick pathway to the tasting room with splashes of spring color. Take note of the half-barrel cut vertically rather than the traditional horizontal cut and filled with flowers.
To the side of the tasting room is a small wood deck where one can share a bottle of wine with friends. The vineyards are located to the left of the tasting room and back behind a small red barn. Although there are homes nearby, they are set back far enough to not distract from this idyllic vineyard and tasting room setting.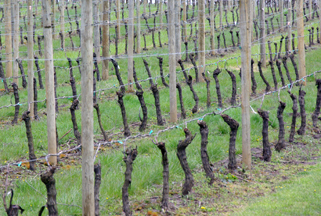 Steve and Paula Black purchased this 110-acre vineyard in 2003, formerly known as Dundee Springs. Steve and Paula wanted to create a legacy for their family. The Four Graces are their daughters Alexis, Vanessa, Christiana and Jillian. Their son, Nicholas, is The Keeper of the Four Graces. The property was originally a plum orchard and today the house has been converted into a tasting room. One of The Four Graces designed the tasting room and included a wood tasting counter with stools. It is obvious that the family wants visitors to spend time here and enjoy tasting the quality of wines they produce.
Presently Pinot Blanc, Pinot Gris and Pinot Noir are grown on the site. With an eye to the environment, the vineyard is certified for sustainability. The winemaker is Laurent Montalieu.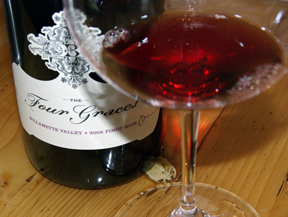 We tasted several wines using Riedel stemware. Pinot Blanc had a fruit taste with a crisp finish. Pinot Noir 2006 had red cherry and earthiness on the nose, with a red cherry taste and a crisp finish. The Reserve Pinot Noir 2005 had an earthiness and red fruit on the nose, a red fruit taste and a long fruit aftertaste. The Black Family Estate 2004 Pinot Noir was aged 80% of the time in new French oak and cellared for two years. It had red cherries on the nose, and taste, crisp finish and a long fruit aftertaste.
When you visit The Four Graces Winery, take some time to hear firsthand about the origins of the winery and how the owners are intent upon creating a legacy for their family.
The Four Graces
9605 NE Fox Farm Road
Dundee, Oregon 97115
GPS N 45°41.393' W 122°85.063'
---
Support the following Oregon Wineries.