Quady North
by
Terry Sullivan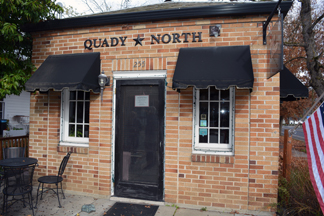 Summary: A delightful, quaint tasting room for Quady North winery is in the historic town Jacksonville. Here, visitors can taste some of the Quady North portfolio of wines. A bottle may also be opened to taste from Quady Winery in Madera, California. The Quady family has a large selection of wines.
Quady North specializes in Rhone varietal grapes as well as Cabernet Franc. Herb Quady sees the big picture. In addition to Quady North, he established a custom crush facility, Barrel 42 Custom Crush Winery in Medford, Oregon. This custom crush facility was once a pear warehouse. Now, three sections of the building, with temperature control, are barrel aging rooms. One barrel room has tables set up in between stacks of barrels. This area offers a romantic setting for wine events such as winemakers' dinners. The winemaking facility is in a building a few steps away from the old pear warehouse. Stainless steel tanks, of various sizes, line the length of this building.
Part of the big picture is a sister company, Applegate Vineyard Management, that custom farms several hundred acres of vines in the Applegate Valley and the Rogue Valley. Herb started the vineyard management company in part to have optimal control of the vines from winter pruning to harvest. The company manages several vineyards; they can have the workers necessary to harvest grapes at the variety's ideal harvest time.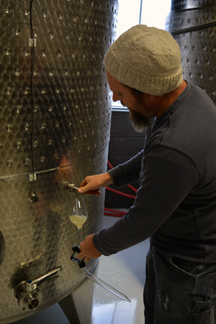 Wine Journey
Herb Quady's wine journey began the year he was born. In 1975 his parents, Andrew and Laurel Quady founded Quady Winery in Madera, California. As Herb grew up, he wanted to work in the winery. He spent time working at Quady Winery and many other wineries including Bonny Doon in California and Troon Vineyard in Southern Oregon. While at Bonny Doon, Randall Graham introduced Herb to the Rhone varieties. A few years later in 2006, Herb and his wife Meloney founded Quady North in 2006.
Associate winemaker and partner Brian Grubber and his wife liked wine and started a vineyard in the Richmond area of Virginia. Eventually they moved to Southern Oregon where Brian worked in vineyard management, wine production and general management at Troon Vineyard.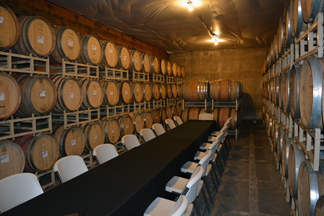 Winery
Quady North winery produces 6,500 cases of wine. They are influenced by the Rhone region of France and follow some of the same protocols that winemakers use in that famous wine region. Although they like to use French oak barrels to age red wines for 16 to 23 months, they are using acacia barrels to age some of the Viognier. Another Rhone practice followed is to co-harvest and co-ferment Syrah and Viognier. Quady North Winery is a member of the Rhone Rangers, a non-profit organization that promotes Rhone varieties in the United States.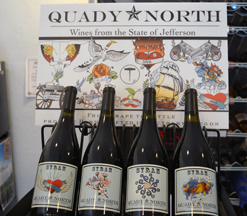 Tasting Room
The tasting room is located in the historic town of Jacksonville in a small corner building that once served as the town's telephone exchange building. A seating area is located near the entrance. The tasting counter is further back in the room. Herb explained the displayed portfolio that included Quady North wines and wines from Quady Winery. A sign that caught our attention had the phrase "Quady North Wines from the State of Jefferson." We learned that the state of Jefferson was a proposed state that would make up rural Southern Oregon and Northern California.
Wines
We tasted several Quady North wines and a Quady Winery wine. The 2015 Viognier Applegate Valley AVA was made with grapes harvested from the Ox block of the Mae's Vineyard. The light yellow colored wine offered flowers and yellow stone fruits. The wine was a blend of Viognier fermented in stainless steel and some aged in acacia wood barrels. The finish was crisp with citrus and peach notes.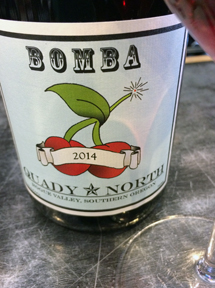 The 2015 Rosé was a blend of Grenache, Syrah and Mourvedre. The light orange with pink hue colored wine offered a red berry fruit aroma. There were strawberry and red raspberry notes on the taste, while the finish was crisp and fruity with an earthy hint.
The 2014 Bomba Rogue Valley AVA was a blend of mostly Grenache with a splash of Syrah. The wine had a translucent red color with a pink hue. The wine was reminiscent of raspberries and cherries with a medium body and mild tannins. The finish was crisp and there was a long fruity aftertaste. Pair the wine with a rocking chair on a porch or in front of a blazing fire. The 2014 GSM Rogue Valley AVA was a blend of almost equal amounts of Grenache, Syrah and Mourvedre. The translucent red colored wine had an aroma and taste of raspberries and blackberries. The medium to full-bodied wine had chewy tannins. The finish was crisp and there was a long aftertaste. The 2011 Arsenal Applegate Valley AVA was made of 100 percent Cabernet Franc. The ruby colored wine offered dark fruits and spices on the aroma. The taste included blackberries and black pepper. The wine was full-bodied and had bold tannins. The finish was crisp.
We sampled one wine from Quady Winery in California. The Orange Muscat had an amber color. The aroma had floral notes. The taste was reminiscent of orange blossoms. The crisp finish was floral with a hint of earthiness.
Jacksonville is a delightful town to visit and Quady North's tasting room is a must stop.
Quady North Tasting Room
255 E California St
Jacksonville, Oregon 97530
GPS: N42º 18.885' W122º 51.809'
Article written November 2016
---
Support the following Oregon Wineries.