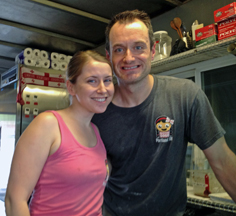 Kargi GoGo is a food cart in the popular Washington St. food court in Portland Oregon. Owners Sean Fredericks and McKinze Cook spent two years in the country Georgia in the Peace Corps, immersed in the food culture.
We decided to have a Georgian meal for dinner and ordered khinkali, khachapuri and badrijani. My son also made fish, for our dinner, a Georgian staple that also accompanied most lunches and dinners we had while in Georgia. Kathy decided to make a cucumber and tomato salad. We picked up a few items at the local Whole Foods including a Rkatsiteli from a winery in Kakheti in Eastern Georgia.
Kargi Gogo food cart is opened daily from 11:00 am until 4:00 pm. At the time of our noon visit, there were a steady stream of customers. A tour guide stopped by the cart and ordered khinkali for the walking tour group he was leading. He pointed out the Portland food cart scene as well as traditional Georgian food. Our order arrived and we headed to our son's house. The 10,000 kilometer distance between us and Sakartvelo was lessened as we ate dinner reminding us of our two trips to the country, the food and the wines.
If you are interested in viewing photos of these food that we took while in Georgia follow the links:
Khachapuri
Khinkali
Sides
Cheers,
Terry