Bernhardt Winery
by
Kathy Sullivan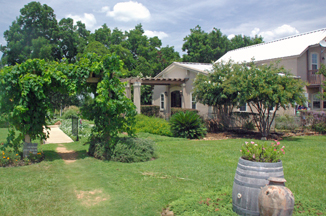 Summary: Bernhardt Winery, a small boutique winery, in Texas is on the Texas Bluebonnet Wine Trail. With several wine varieties to taste, numerous events and a friendly ambiance, wine lovers will want to stop by the Bernhardt tasting room.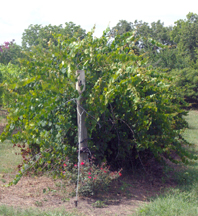 Visitors to Bernhardt Winery will view a vineyard with several rows of grapes situated in front of the winery and tasting room. The vineyard was planted in 2001 with the majority of Blanc du Bois and some Black Spanish varieties. Bernhardt Winery also sources grapes from California, New Mexico, Arkansas and Texas. Jerry Bernhardt, owner and winemaker, produces 16 different wines.
On the way to the tasting room door a delightful arbor with a mulched walkway leading off towards the vineyard offers a wonderful promise of more to come. Eventually visitors reach the Tuscan-style tasting room.
Jerry Bernhardt built the winery facility in 2005. He expanded the winery with an event room replacing the original wine room. A range of events takes place at Bernhardt Winery. Private and public events include weddings, dinners, and music. Concerts are offered on Sundays from April through November. People can purchase season tickets for table seating for the season.
Not far from the tasting room, in a small cove of shade trees, Jerry built a bandstand large enough for seven to nine piece bands. The concerts attract large numbers of visitors.
Jerry started off as an engineer and teacher teaching drafting to high school students. His wife was also a teacher. Jerry recalled helping his mother make jam and this fueled his desire to make wine.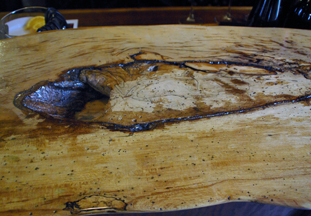 Tasting Room
The Bernhardt tasting room with a Tuscan style décor is inviting to visitors. The Tuscan yellow walls, lights, windows and views of the countryside provide a wonderful opportunity for wine enthusiasts to relax and taste Bernhardt wines. The one-of-a-kind tasting room counter was created by Bernhardt from a large piece of salvaged beach wood covered with barnacles. Today the wood, dried, smoothed and finished, highlights the stress the wood has seen over the years.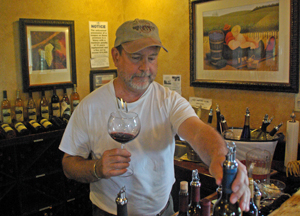 Wines
We tasted several wines with Jerry. The Estate Blanc du Bois was a light yellow. The aroma offered notes of floral and tropical fruits. The taste had many nuances including acacia, honeysuckle, rose, pineapple, melon and citrus. The finish was crisp with layers of flavors. Pinot Grigio 2012 was a light yellow. The aroma and taste had citrus notes. The finish was crisp and refreshing.
Cabernet Sauvignon was a ruby color. The aroma offered dark fruit notes. Specific taste nuances included plum, blackberries and cassis. The finish was crisp with tannins and dark fruits. Merlot was a dark ruby. The aroma had a touch of earthiness and the taste offered cherry notes. Bold tannins were on the finish.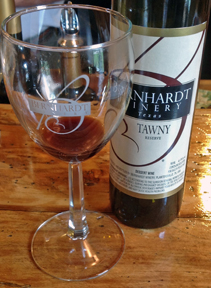 Pinnelli 2012, a blend of Pinot Grigio and Muscat Cannelli, was a pale color. The aroma was aromatic and the taste was sweet with summer fruit notes. The finish was sweet and crisp with fruit notes including lemon. Aggie Blush, especially popular with Texas A&M fans, was a rosé table wine. The color was a dark pink to light red. The aroma was very aromatic with raspberry and strawberry scents. The dry taste offered red berry notes. The finish was dry with red berry notes lingering.
Schrock (Jerry's wife's maiden name) was produced with Niagara grapes with a touch of Muscat. While displaying many Niagara grape nuances the presentation was memorable. Jerry suggested eating Reese's Pieces with Shrock. The result was a peanut butter and jelly taste. Yum!
The Port was a ruby color produced with Cabernet Sauvignon grapes and fortified with 20-year old brandy. The wine was a dark ruby to black color. The taste had dried fruit, prunes and raisin notes. Dried fruit, earthiness and mushrooms were on the taste. The crisp finish was of jammy fruit with tannins.
Take time to enjoy the delightful ambiance at Bernhardt Winery and consider planning to attend one of their events.
Bernhardt Winery
9043 County Road 204

Plantersville, Texas
GPS: N30º 21.487' W95º 49.889'
Article written July 2013
---
Visit these Texas wineries that partner with Wine Trail Traveler.