Salt Lick Cellars
by
Kathy Sullivan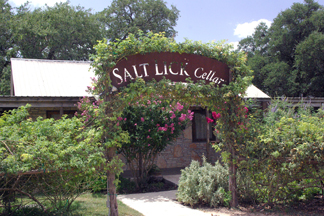 Summary: Salt Lick Cellars is located in Driftwood a short distance from Austin, Texas. Salt Lick is the story of a generational family and hard work. Travelers can visit the tasting room to purchase wine or beer. These can be taken to the Salt Lick BBQ where visitors can bring in wine.
Salt Lick Cellars, a boutique tasting room, is located next to the Salt Lick BBQ, the renowned barbecue restaurant that has thousands of visitors each week. The tasting room has a large, shaded deck that is covered with tables and chairs. Nearby a double brick pizza oven is available for outdoor events. Plans are in the works to add another pizza oven. From the deck, visitors can see vineyards and old-time wood fences touch back to the past.
While we visited Salt Lick Cellars, Scott Roberts, owner, talked about his concept of Salt Lick Cellars, which is to serve Texas wines and beers in a local farm to table setting. He proudly noted that restaurant seating is 30 percent indoors and 70 percent outdoors.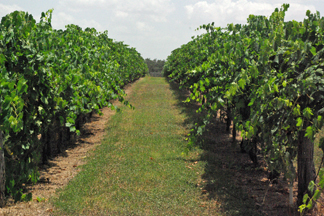 Vineyards
The Salt Lick Cellars vineyards were first planted in 2006. The rock filled soil was cleared of rocks and the rocks were used to create fences throughout the property. Today the total acreage is 37 acres and more are scheduled to be planted. Scott expects that by 2015 he will have 50 acres of vineyards.
Jay Knepp is the vineyard manager. The vineyards are devoted to red grape varieties including Tempranillo, Sangiovese, Syrah, Mourvedre and Grenache. Scott noted that he had the alluvial soil tested and it was highly rated for growing wine grapes. The soil is several feet deep. The climate makes it a difficult area for growing white grapes. They also source grapes from the High Plains AVA. Fall Creek Vineyards sources grapes from Salt Lick Cellars.
History
The 600-acre property has been in Scott's family since the 1800s. Scott's great-great-grandfather arrived in the 1830s with Steven Austin. His great-great grandfather was Freeman George. Between 1867 and 1880 more relatives came to settle in Texas known as the new frontier in the late 1800s.
Scott noted that the idea of growing grapes came from the history of crops on the property since 1902. "Grapes have been the last crop planted."
Driftwood Area
Scott emphasized that there is no town of Driftwood. The area is named Driftwood because of all the massive amounts of driftwood along the Onion Creek. Several switchbacks are located in the area that causes driftwood to accumulate when there are heavy downpours.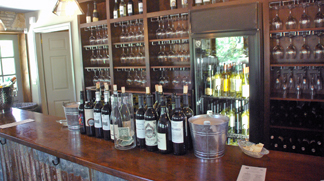 Tasting Room
The Salt Lick Cellars tasting room is in a building near the restaurant. A dark wood tasting counter and shelves give the room an elegant feel. The front of the tasting counter is made from corrugated tin. As you taste wines, amble through the room to browse the assortment of gift items including glasses, cups, coasters, a recipe book and many others.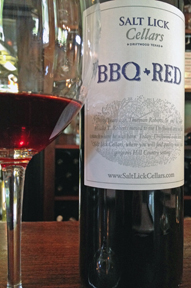 Wines
BBQ White NV was a blend of Pinot Gris, Vermentino, Trebbiano and a touch of Muscat. This light yellow wine offered floral and tropical fruits. The wine was medium-bodied with medium acid and was slightly sweet. The finish was fruity. The wine had 13.5% alcohol and retails for $20. The wine would be a good aperitif especially during the summer.
BBQ Red, a blend of Sangiovese and Dolchetto was a ruby translucent color. The wine had notes of red berry fruit including raspberries, black raspberries and black cherries. The dry wine with medium tannins was medium-bodied with high acid. The 13.5% alcohol wine retails for $20. Hill Country Blend 2012 was produced with Sangiovese from the estate vineyard,and Merlot and Cabernet Sauvignon. This translucent ruby wine offered notes of cinnamon/nutmeg and cherry with medium tannins. This medium-body and high acid wine had 13.5% alcohol and was dry and retails for $29.
We tasted two wines from Fall Creek Vineyard that used Salt Lick Vineyard fruit. GSM 2012 was a blend of Grenache, Syrah and Mourvedre. The opaque dark ruby wine had notes of dark fruits and leather. The full-bodied wine had bold tannins and medium to high acidity. The wine, with a fruity finish, was 14.9% alcohol and retails for $48. Fall Creek 2011 Tempranillo Salt Lick Vineyard was a dark ruby, opaque color. The wine offered notes of dark fruits especially notes of blackberries, plums and leather. The wine had bold tannins and was full-bodied. The wine with 14.8% alcohol was dry and retails for $42.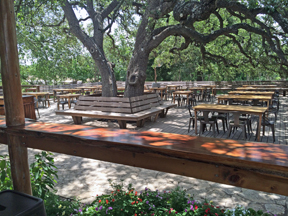 When planning a visit to Salt Lick BBQ be sure to stop by the Salt Lick Cellars to experience the wines. Spend some time on the vast deck area enjoying the setting.
Salt Lick Cellars
18300-C FM 1826
Driftwood, Texas 78619
GPS: N30º 07.905' W98º 00.753'
Article written August 2014
---
Visit these Texas wineries that partner with Wine Trail Traveler.