La Buena Vida Vineyards
by
Kathy Sullivan
Summary: "Enjoy the good life." La Buena Vida Vineyards focuses on great customer service including learning people's names. According to Haley Puente, Director of Sales and Operations/buyer, they want to make sure visitors leave feeling "thrilled." The staff is trained as wineologists and can answer visitors' wine-related questions. Check out the live music on Thursdays and Saturdays.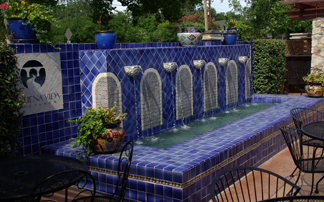 La Buena Vida Vineyards is located a short walk from Main Street in the historic area of Grapevine, Texas. It is a pleasant oasis to visit with a large patio area, blue and white tile fountains, and a friendly staff.
Haley Puente, is the Director of Sales and Operations/buyer at La Buena Vida Vineyards. In January 2006, the current owner took over ownership of the winery. Haley noted that changes may be made to the inside of the building without approval. However, the historic house must have approval to make any changes to the outside of the building. Located near the building is a demonstration vineyard. Several varieties of grapes are planted.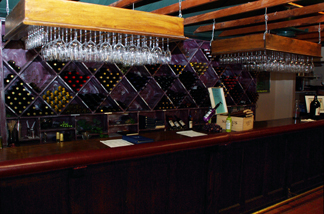 The tasting room is bright and cheerful. Small tables covered with golden tablecloths add a comfortable feel to the room. Surrounding shelves display numerous wine-related items. Notice the leather covered wine tasting notebooks. The tasting room features a "Build Your Own Flight." Visitors can choose between the two types of flights. One flight features Texas wines and the second flight focuses on wines outside of Texas. Three wines may be chosen from the several wines listed.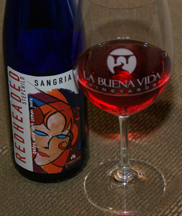 Red Wines
Wines are served in large stemware so visitors have the room to swirl the wine if they wish. If you are looking for a "party in a glass", consider Red Headed Stepchild Sangria. The wine was a dark red/pink translucent color with a sweet aroma of red fruit notably raspberries. The taste reminded one of strawberries. The finish was crisp and fruity.
La Bodega Merlot 2006 was a ruby color with an aroma of dark and red fruit. The taste was very fruity with red raspberries and blackberries. The finish was fruity with mild tannins.
Events
La Buena Vida Vineyards is an ideal location for events any season of the year. The large patio with tiled fountains, air misters and shaded areas are very inviting. Live events are on Thursdays and Saturdays. Other events held at the winery include weddings, corporate events, baby showers, and educational classes. An onsite chef is available. An outdoor all-weather structure has been added and events are available rain or shine.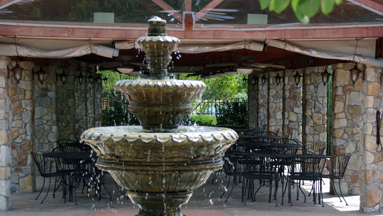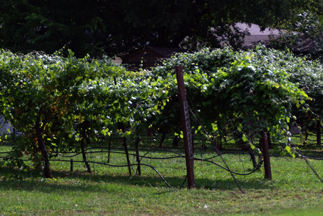 A Sister Winery
La Buena Vida Vineyards has a sister winery, La Bodega, located in terminals A and D at the DFW International Airport. Check them out when you travel by air.
La Buena Vida Vineyards
416 E College St.
Grapevine, Texas 76051
GPS: N32º 56.206' W97º 04.653'
Note: this GPS is for a public parking area. The winery is within one to two blocks from this parking area.
---
Visit these Texas wineries that partner with Wine Trail Traveler.