Messina Hof
Fredericksburg Tasting Room and Lodging
by
Kathy Sullivan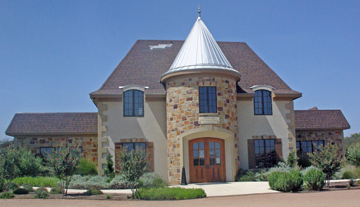 Summary: In 2011 Paul and Merrill Bonarrigo opened their second tasting room facility in what was once an old shop used to build flatbed trailers in the Fredericksburg area. Behind the tasting room four cabins are available for lodging. Renovations on the building dramatically changed what was considered an eyesore into a stunning Tuscan-style wine tasting facility.
Travelers to Fredericksburg will easily discover the Messina Hof tasting room located on Rt 290 Wine Road not far from the center of Fredericksburg.
The Messina Hof Hill Country facility has a different style than the winery and tasting room in Bryan. According to Dena Kasberg, general manager, this building was formerly an old shop used to build flatbed trailers that was less than appealing. Today after Paul and Merrill's renovation of the building the facility is a delight to visit and taste wines. One of the most unusual aspects of this tasting room is a large marble gazebo they purchased at an auction. Dena noted that it took several days for workmen to set up the gazebo. With the exception of the large ornate gazebo, the tasting room has a modern-style. Two tasting counters are available. While tasting wines, visitors may want to take time to wander past the displays of wine related items available for sale.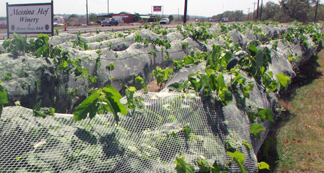 Vineyard
Four rows of Lenoir (Black Spanish) will be harvested in mid August. These grapes will be used for producing Port. The stainless steel tank in the back of the tasting room will hold the Port while it ages.
Messina Hof Hill Country Wines
The wine tasting facility located in Fredericksburg offers most of the wines that Messina Hof produces. Since the winery makes so many styles and varieties, we focused on the wines produced for this tasting room. Wine enthusiasts are able to identify the Hill Country wines by the label. All the wines we tasted we made with grapes grown in Texas.
Pinot Grigio was a light straw color. The aroma offered tropical notes while the taste was of grapefruit with a hint of melon and banana. The finish was very crisp. Chenin Blanc was a light straw color. With two percent residual sugar, the wine was sweet with notes of apples, pineapple and fruit salad. This is a good 3P (pool, porch and patio) wine for hot summer days. Moscato produced with Muscat Cannelli was a light straw color. The wine aroma had an emphasis of floral especially orange blossoms. The taste was sweet with orange and honeysuckle notes.
Sweet Sangria was produced with estate grown Lenoir grapes and fruit juice. The red wine offered an aroma of red berry fruit. The taste was of sweet red berry fruit with some orange and fruit cocktail nuances. The wine dried on the finish. Beau was produced with Syrah and Moscato. The color was red with a dark pink hue. The dark fruits of this wine are attacked by a splash of citrus creating a refreshing wine. Consider enjoying it chilled while rocking on a porch.
Merlot was a dark ruby. The aroma reminds one of a perfume and cherry notes. The taste had cherry notes and a slight leather taste. The finish with tannins offered cherry notes.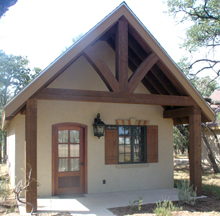 Guest Cottages in Texas Hill Country
The four guest cottages at Messina Hof Hill Country are set perhaps 100 feet back from the tasting room. They became available in November 2011 a month after the tasting room opened. The cottages remind one of the Seven Dwarfs cottages' cute and small with an A-shaped roof. Each cottage has plenty of space with two main rooms. A small refrigerator and microwave are also available. For travelers to the Fredericksburg region these cottages are a great place to stay with several winery tasting rooms within walking and biking distance.
If you are traveling on Texas Rt 290, consider a stop at Messina Hof's newest location in Fredericksburg.
Messina Hof
9996 US Hwy 290 East
Fredericksburg, Texas 78624
GPS: N30º 13 439' W98º 43.939'
Article written August 2013
---
Visit these Texas wineries that partner with Wine Trail Traveler.