Texas Legato
by
Kathy Sullivan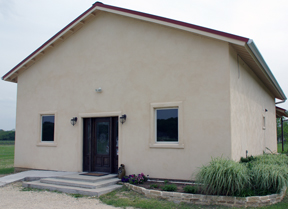 Summary: When visiting Texas Legato, visitors have the opportunity to talk with the winemaker and owners, Bill and Sulynn Bledsoe. Texas Legato is currently open part-time however the owners are looking forward to making it full-time. They believe that Texas can make world-class wines.
Legato is from Italian indicating legacy. Legato means more of a gathering of friends and family and that is what we discovered at Texas Legato, friends. The owners of Texas Legato, Sulynn and Bill Bledsoe, are striving to turn Texas Legato into a full-time winery business for themselves.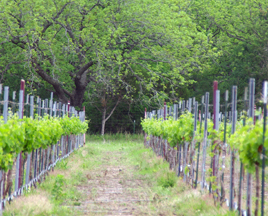 The Bledsoes planted three acres of vineyards in 2002. Grape varietals include Petit Verdot, Malbec, Petite Syrah and Merlot. Their first harvest was 2005 and they were able to open the tasting room in February 2007. Today, they produce 1,000 cases and hope to reach 3,000 cases.
In the tasting room, we had the chance to sit down and talk with Bill and Sulynn, as we tasted wines with cheese and nuts. It was a relaxing and delightful experience. The chairs had a back and were cushioned, a perfect match for a wine tasting counter. There is a homey feel in this tasting room. Conversation, wine and food provide the perfect setting for a delightful afternoon.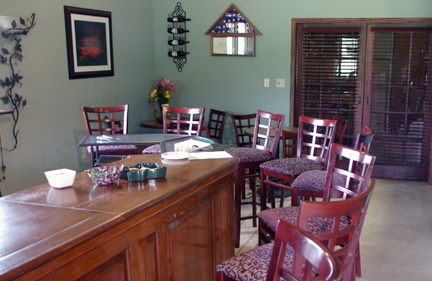 Wines
We tasted several wines with Bill and Sulynn.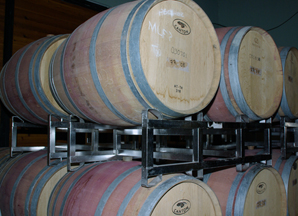 Red Wines
Family Reunion 2007 was a blend of Cabernet Sauvignon, Merlot, Petite Syrah and Malbec. There was earthiness and blackberries on the aroma and taste. The finish was crisp and fruity with mild tannins. Malbec 2007, with an aroma of raspberries, offered a taste of strawberries and raspberries. The finish was crisp and fruity with very mild tannins. Bill gave us the opportunity to have a barrel tasting of the Petite Syrah. This wine had a spicy, dark fruit aroma with a spicy, fruity taste. The finish was crisp with fruit and spice notes.
Sweet Wines
Sweet Peggy-Sue 2008 was made from Chenin Blanc. The aroma was floral and fruity with a velvety taste. The finish was sweet with a grapefruit finish.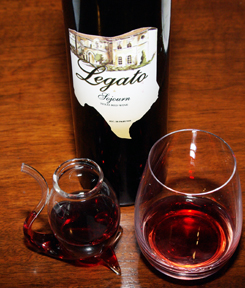 Port
Our discussion led to the differences that glassware can make on the nuances of a wine. Sojourn was named because of its meaning. Sojourn refers to a trip or "break at the end of the day" so it seems very appropriate with this wine. With a regular wineglass we tasted the port. Sojourn with 20½ percent alcohol offered a brandy aroma and taste of dried fruit. The finish was smooth with dried fruit on the aftertaste. Next, we tried the Sojourn in a Riedel glass, we noted that the aroma was still like brandy and the taste was fruity. The finish was also smooth and the body seemed to be lighter. Then Sulynn and Bill introduced us to port sippers. These are delightful small glass sippers. Port sippers date back to 17th century Europe. At that time, they were made of ceramic material and known as Schnapps Pfeiffe. The theory behind them is that the port will not have been exposed to surface air. We discovered that the aroma had less brandy on it and the taste was much fruitier. The body was lighter and the finish was smooth and fruity.
Near the end of our visit, the Bledsoes commented, "We fell in love with the business because we like the people on this side and that (of the tasting counter)." When you visit Texas Legato, be sure to ask about the stories behind the wines especially the Sweet Peggy-Sue wine.
Texas Legato
2935 FM 1478
Lampasas, Texas 76550

GPS: N31º 01.785' W98º 13.896'
---
Visit these Texas wineries that partner with Wine Trail Traveler.