Inwood Estates Vineyards
by
Kathy Sullivan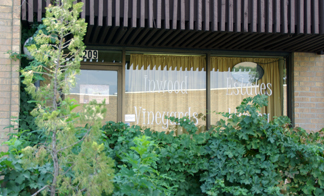 Summary: Inwood Estates Vineyards is the result of a life-long commitment to the wine industry. The winery is located in a business area of Dallas, Texas. In the center of the room, the owner, Dan Gatlin has installed a granite counter topped tasting counter with several chairs. Oak barrels are in the area. Enjoy a visit with Dan and discover his passion for great Texas wines. Inwood Estates Vineyards won an award for the favorite dry red wine, Tempranillo-Cabernet 2005, at the Drink Local Wine Conference during the Texas Twitter Taste-off in August 2009.
Inwood Estates Vineyards is open every Saturday from one to six and by appointment. A visit to Inwood Estates Vineyards will take you to an urban winery where wines are produced from Texas grapes. The tasting area is alongside barrels aging wine. The winery produces 1,000 cases of wine each year. Members of the Wine Club can choose to have shipments sent every two months or every three months.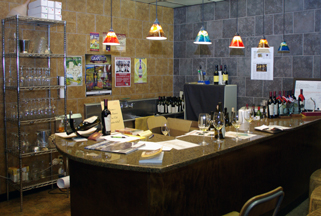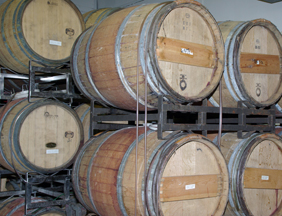 We met Dan Gatlin, owner and winemaker of Inwood Estates Vineyards. Dan was first involved in the wine industry as a wine buyer. In 1981 he established an experimental vineyard with 22 vinifera varieties. Today he grows 14 acres of grapevines. The Tempranillo and Cabernet Sauvignon are grown in Yoakum County while the Palomino and Chardonnay are grown in Hunt County. For Dan his first vineyard verified that Texas grapes were very affected by terroir. Dan believes in the terroir of Texas and focused our discussion on the large amount of limestone/calcium in Texas soil.
For 25 years while Dan was growing grapes, he was making experimental batches of wine and throwing much of it out. He was determined that he would not release a wine until he was producing topnotch wines.
Significant among the varieties that Dan uses is the Palomino grape variety. Palomino is frequently found in Spain. It produces a delightful wine and is also used for producing Sherry. However, Dan has found that it only produces about one ton per acre and is not economically feasible.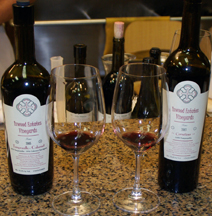 We tasted Palomino-Chardonnay 2007. This wine was a blend of 53% Palomino and 47% Chardonnay. The wine offered an aroma and taste of apple with mineral nuances. The finish was crisp with a hint of citrus. Palomino-Chardonnay 2008 was a blend of 75% Palomino and 25% Chardonnay. This vintage had a mineral aroma with a mineral and apple taste. The crisp finish had mineral notes with hints of apple. Tempranillo-Cabernet Sauvignon 2005, Inwood's flagship wine, was produced from grapes in Yoakum County. The blend was 65% Tempranillo and 35% Cabernet Sauvignon. The color was a deep purple with a ruby rim. The aroma was of black fruit while the taste was of black fruit with notes of black raspberries. The finish offered bold tannins with fruit.
Enjoy a visit and tasting at Inwood Estates Vineyards. Dan wants people to know, "that Inwood is the only Texas winery served in the top restaurants in the state (about 150)."
Inwood Estates Estates Vineyards
1350 Manufacturing St. #209
Dallas, Texas75207-6591
GPS: N32º 47.862' W96º 49.678'
---
Visit these Texas wineries that partner with Wine Trail Traveler.