Texas Hills Vineyard
by
K. L. Sullivan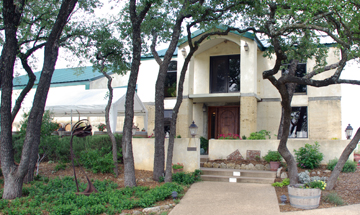 Summary: Texas Hills Vineyard is the result of changing careers and the owner discovering his passion for winemaking. After years involved with the pharmaceutical industry and software, Gary Gilstrap discovered and followed his dream in successfully creating Texas Hills Vineyard. Their motto is "Wine to share with friends." Gary believes that food friendly wines are important and encourages wine and food pairings. Texas Hills Vineyard has an environmentally friendly winery.
After passing the wrought iron gate with the red star, we arrived at the yellow adobe winery. Inside we met Gary and discovered that after a career as a pharmacist and working for IBM, he started a software company for creating software for pharmacists. During this time, he travel to European wine regions and met with winemakers. It was here that he discovered his interest in wine, eventually putting all of his effort into creating and building Texas Hills Vineyard.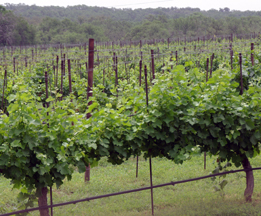 Gary purchased the land in 1994. A year later he planted 10 acres of grapes and his first harvest was in 1997. The Texas Hills Vineyard tasting room opened in 1999. By 2009, his vineyards have increased to 25 acres that mainly consist of Chardonnay, Cabernet Sauvignon, Merlot, Pinot Grigio, Syrah, Sangiovese and Orange Muscat. Any grapes he needs to source are from Texas. The winery currently produces 10,000 to 12,000 cases of wine each year.
Sustainability is important. In the vineyards, care is taken to use the least amount of chemicals possible. Fertilizers are natural compost and no chemical fertilizers are used. Texas Hills Vineyard is unique as the winery and cellar buildings were built using sustainable methods. The cellar was created of two-foot thick adobe walls. The thick walls help to insulate the cellar and are energy efficient. The tasting room facility is also created of adobe with 18-inch thick walls.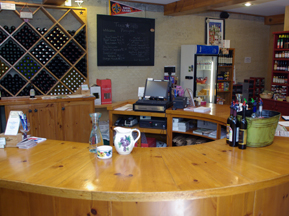 Inside the tasting room, the ceiling was created with pine beams. They designed the tasting counter in a semi-circle with pinewood. The use of the light pinewood creates a warm feeling. The tasting room offers giftware including logo shorts and hats, wine accessories, Riedel stemware and ceramics with grape designs. Outside the tasting room a covered area with picnic tables is available for enjoying a glass of wine and the vineyard views.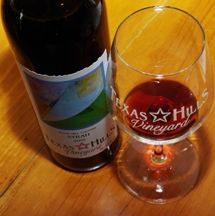 We tasted several wines. Pinot Grigio 2007 offered an aroma and taste of tropical fruit with the taste having notes of melon. The finish was crisp, fruity and refreshing. Syrah 2005 had an aroma of blackberries and pepper. The taste had blackberry nuances and a fruity finish. Syrah 2007 offered a spice aroma and taste of dark berries. The finish was fruity with mild tannins. Cabernet Sauvignon 2004 offered a dark fruit aroma while the taste had nuances of blackberry, cherry and spice. The aftertaste was of dark fruit and the finish had mild tannins.
Kick Butt Cab is one of the most popular wines. Kick Butt Cab had blackberries and cherry notes on the aroma and taste. The taste also had blackberry nuances. The taste was smooth and the finish was fruity with tannins. Kick Butt Cab 2007 was produced from old vine grapes (22 years old). The results were aromas and taste of black fruit. The finish was crisp and fruity with tannins.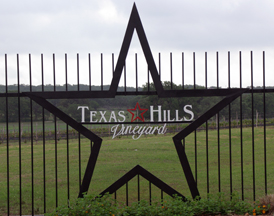 Gary believes that Texas Hills Vineyard is successful because they are a hands-on winery. Gary understands the importance that wine trails have in supporting the growing wineries. He successfuly started the Texas Hill Wine Trail.
When you have the opportunity to visit Texas Hills Vineyard, ask for details about the sustainability of their building structure. You may just want to purchase a glass of wine and sit outside under the tent that is set up over several picnic tables.
Texas Hills Vineyards
878 Ranch Road 2766
Johnson City, Texas 78636
GPS: N30º 16.263' W98º 22.978'
---
Visit these Texas wineries that partner with Wine Trail Traveler.