Texas Keeper Cider
by
Terry Sullivan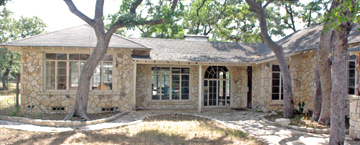 Summary: The owners of Texas Keeper Cider are interested in introducing people to craft ciders especially those made from heirloom and traditional cider apples.
We have met many owners who decided to own wineries because they like wine. In the case of Brandon Wilde, Nick Doughty and Lindsey Peebles, they began a cidery because they like ciders. Nick offered another reason, he wants to expose people to ciders, a drink that many may not have had. The group is at the beginning stages of the business. They have some ciders made and are bottling others. Some of the ciders are offered in Austin restaurants.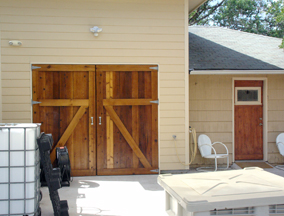 We met Brandon and Nick on a hot summer day in Texas. They have a property that is technically in Austin, but seems like it is a world away. The beautiful property borders Onion Creek. The owners are in the process of crafting ciders while they look at existing buildings and do not see them for what they are, but see them and dream of what they might become. What might become is a temperature controlled barrel room (pictured to the left), a tasting room (pictured above) and a new production building. Nick and Brandon admitted that those dreams are a few years away. However, what is possible in the near future is some picnics and tastings during the autumn months of 2014.
All apples are sourced and the owners are considering planting apples onsite and sourcing from Texas growers. At the moment, some apples are sourced from growers in New York. When asked where did the name originate, it was mentioned that there was an apple named Hicks Texas Keeper. At the beginning of the 20th century, this apple was cultivated in Texas, now it is extinct. The owners have a dream of bringing back apple cultivars used in cider making that may now be almost extinct. A similar dream became successful by wine growers in Italy and the country Georgia who had an interest in bringing back many ancient wine varieties.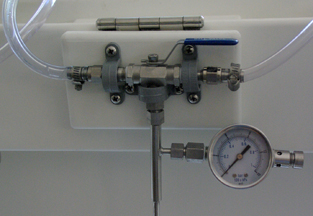 Ciders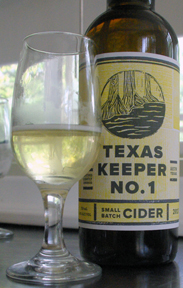 The team has a small bottling line where each perform their tasks. Some of the bottling line was hand built. The four-bottle filler is a counter pressure filler. They carbonate the cider either through bottle conditioning or by Brite tank, similar to craft beers.
We sampled one of the ciders. Texas Keeper 1 is a blend of Northern Spy, Ben Daves, Idared, Golden Russet and Golden Delicious. The 6.8% alcohol cider was a yellow color with a strong apple aroma and taste. The cider was crisp and refreshing. The effervescence lasted for awhile. We also tasted two still ciders that may be carbonated at bottling. The Goldrush was a straw colored 7.7% alcohol cider. It had a slight apple and citrus aroma and taste. The Golden Russet was a yellow color with 8.7% alcohol. The apple aroma and taste reminds you of apple aromas and tastes at your grandmother's house.
Watch for Texas Keeper Cider in Austin restaurants and for picnics on their property in the near future.
Texas Keeper Cider
12521 Twin Creeks Rd
Austin, Texas 78652
GPS: N30º 07.587' W97º 49.145'
Article written August 2014
---
Visit these Texas wineries that partner with Wine Trail Traveler.