Wimberly Valley Winery
by
Kathy Sullivan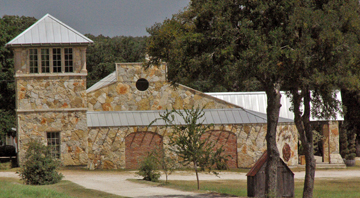 Summary: Wimberly Valley Winery was started by Dean Valentine who has 30 years of experience in making wine. The property, where the winery is located, was originally in a "dry" county.
Wimberly Valley Winery's tasting room at the winery was opened in 2011, three years after the county changed its "dry" status and became "wet." Owner Dean Valentine is the winemaker.
With regards to winemaking, Dean finds the traditional wines boring and seeks to expand his winemaking to fruits sourced from throughout the country. He sources the fruit for his wines from New York, California and Texas.
History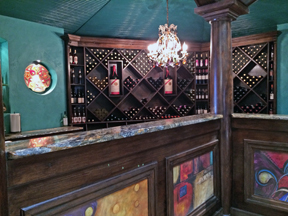 Dean takes people back in history to his childhood. He remembers times when he was a first grader and he and his cousins would taste wine from the barrels at his grandfather's winery in Indiana. Dean noted that sometimes it was vinegar.
In 1972 Dean bought his current property with the idea of doing something with it. He was already a home winemaker and in 1976 started Guadalupe Winery. In 1982 he built a facility that eventually became Wimberly Valley Winery with the first crush taking place in 1983.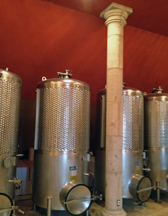 Wimberly Valley currently produces 18,000 cases a year. Dean produces traditional wines and fruit wines. Wines are sold at the tasting room, to distributors and in a Houston tasting room. The current winery and tasting room in Driftwood, Texas started as a winery only building. When the county turned "wet" from "dry" part of the winery was renovated into the current beautiful tasting room.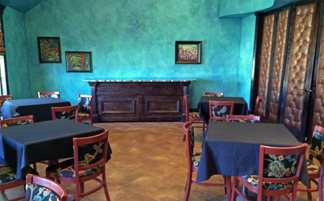 The facility is warm and friendly with many details and artistic touches that offer an air of sophistication. We were quite surprised when Dean mentioned that the facility had additions. A small adjacent room is available for private wine tastings.
Events at Wimberly Valley Winery include private events such as retirements and anniversaries. Private events such as weddings can be booked at the winery.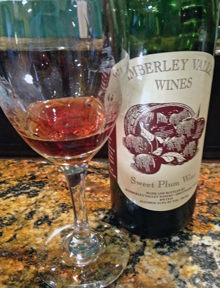 Wimberly Valley Wines
We tasted several wines including Cellar Select White, a yellow color wine with 12% alcohol. The wine offered grapefruit and mineral notes with a crisp finish. The wine had medium-body with medium acidity and was slightly sweet. The wine retails for $11.
Moscato 2012 was a light yellow color and was both sweet and fruity. This delicious sweet wine had a medium body with 13% alcohol and retails for $20. Cellar Select Red, with 12% alcohol, was a translucent red with a pink tint. The wine offered an aroma and taste of cranberry, plum and baking spices. The wine was medium-bodied with medium acid and was sweet. The wine retails for $11.
Sangria Texas County Cellars was a bright red/purple color. The wine offered notes of citrus, orange peel, cinnamon and cloves. The 12.9% alcohol wine can be served at room temperature, chilled or over ice. The wine retails for $8.99. The Cherry Wine was 12% alcohol and was a translucent red-orange color. The wine offered both sweet and tart cherry aroma and taste. It was light-bodied and can be served at room temperature or chilled. The wine retails for $15. Plum Select, produced with 100 percent plums, was a translucent orange-red color. The wine was medium bodied with medium acid. The sweetness was cut by the tartness. The wine retails for $15.

Outside the winery there are stacks of barrels for sale. The used barrels are bought from California wineries. They are not used in production of any Wimberly Valley wines. If you enjoy sweeter wines, stop by Wimberly Valley and sample several wines.
Wimberly Valley Winery
2825 Lone Man Mountain Rd. (County Rd. 183)
Driftwood, Texas 78619

GPS: N30º 03.631' W98º 03.340'
Article written August 2014
---
Visit these Texas wineries that partner with Wine Trail Traveler.