Grape Creek Vineyards
by
K. L. Sullivan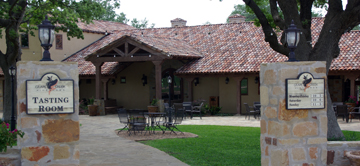 Summary: At Grape Creek Vineyards the motto is "Tuscany in Texas." With a lovely panorama and a detailed old world style tasting room, Grape Creek Vineyards offers a delightful stop for visitors. Grape Creek Vineyards produces two lines of wine – a White label and a premium Black label. A tasting counter features the premium Black label wines and a second counter features White label wines. According to Brian Heath, owner, this is a business that melds together agriculture, manufacturing and retail "wrapped up in romance."
Grape Creek Vineyards, located in Fredericksburg, Texas started a vineyard planted with Cabernet Sauvignon and Chardonnay 20 years ago. The vines did not survive most likely as a result of Pierce's disease. The previous owners began searching for grapes that would grow well in this area. Ten years ago, they added a winery to the vineyards.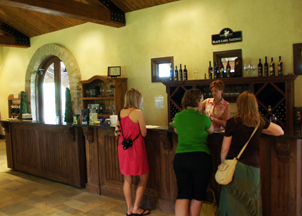 Brian Heath, currrent owner, approached the family owned winery in 2006 and purchased it. Today Brian is happy to own a winery. Brian built an old style tasting room featuring two tasting counters for their two lines of wine. Upon entering the tasting room, visitors will notice the old world atmosphere. High ceilings with beams, two fireplaces, arched windows and outdoor patios all add to the experience. Browse the many items available including wine bottle-cheese trays, Riedel stemware, jar candles and wine related books. Gourmet foods are available. The specialty foods include grape seed oil, balsamic vinegar, dipping oils, Moppin' Sauce, salsas and pizzelle waffle cookies.
The winery currently produces 9,000 cases under Jason Englert, winemaker. Jason's interest in wine led to doing lab analysis at Llano Estacada Winery in Lubbock, Texas. Eventually he became a cellar master and then winemaker. He came to Grape Creek Vineyards 4 ½ years ago.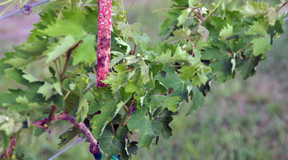 After Brian purchased the winery, he planted eight acres of new vines and currently sources grapes from other grape growers. By 2010, he expects the wines to be produced from 80 to 90 percent Texas grapes. The onsite vineyard includes Aglianico, Montepulciano, Petit Verdot and Chenin Blanc.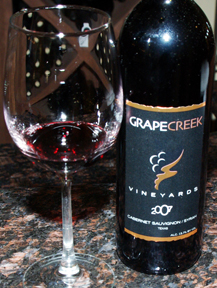 We tasted several wines at both tasting counters. The 2007 Viognier offered a floral aroma with a peach and honey taste. The finish was crisp with a long fruit aftertaste. Cuvée Blanc 2008 was a blend of Viognier, Muscat and Sauvignon Blanc. The aroma had floral and peach nuances. The taste was smooth with peach notes. The finish was crisp and dry. Merlot 2007 offered vanilla and dark fruit aromas. The taste was smooth with dark fruit. The finish was crisp and fruity with mild tannins. Bellessimo 2006 was a blend of Sangiovese, Merlot and Cabernet Sauvignon. Both the aroma and taste had red cherry nuances. The wine had a balanced finish, was crisp and had mild tannins. The 2007 Cabernet/Syrah had an aroma of blackberries with a smooth blackberry taste. The finish was fruity with tannins. Mosaic 2006 was a blend of Cabernet Sauvignon, Cabernet Franc and Merlot. The aroma and taste had nuances of blackberries and vanilla. The finish was crisp and fruity with tannins.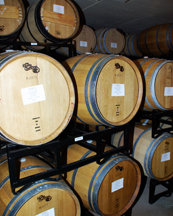 Special tours are available. Visitors who take part in the tour can compare three wines from three different barrels. When you visit, ask about the winery tours. The winery is located in another building on the property. The underground barrel room was one of the first barrel rooms built underground in the area.
Grape Creek Vineyards is located on 290 just outside of Fredericksburg, Texas. It is convenient to reach and also located near other wineries. So consider making your visit to Grape Creek Vineyards part of a two or three day stay. Enjoy visiting other wineries and check out the area German restaurants.
Grape Creek Vineyards
10587 East Hwy 290
Fredericksburg, Texas 78624
---
Visit these Texas wineries that partner with Wine Trail Traveler.