Cross Timbers Winery
by
K. L. Sullivan
Summary: Enjoy tasting wine in a renovated and cozy 1875 farmhouse. Wines produced by Cross Timber Winery are 100 percent grown and produced in Texas. Cross Timbers Winery is one of the few wineries in Grapevine, Texas that is open all year round, seven days a week. Here you will discover wines from Cross Timbers Winery, other Texas wineries and a winery in Mexico. Located midway between Dallas and Fort Worth, and only 15 minutes from the DFW airport, Cross Timbers Winery is easy to discover. Take a picnic lunch and enjoy it on the shaded patio or under a tree. Every fall the winery hosts an auction for an orphanage in Mexico. They auction the art work created by the children of the orphanage.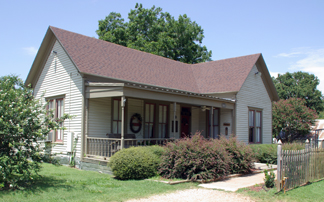 Among the currently eight wineries in Grapevine, Texas Cross Timbers Winery is the oldest. Don Bigbie who had established an experimental vineyard in Grapevine created the winery. Eventually, the time arrived when he wanted to create his own wines.
Cross Timbers Winery offers a friendly wine experience. The tasting room is cozy with a number of wine related accessories. Stools at the counter and tables offer visitors a comfortable place to stop and enjoy wines.
History
The tasting room is located in an 1875 farmhouse in Grapevine, Texas. It is believed to be the 5th oldest building in Grapevine. The story of the house is as interesting as the experience at the winery. Dr. Dorris, a family physician, lived and practiced in the small farmhouse for one year. After he left for larger housing, another family with 12 children moved into the small two bedroom house. In the 1930's an addition was added due to the availability of indoor plumbing.
When Don Bigbie purchased the property it was very run down. Don purchased the property unbeknownst to his wife and one day after church took her past it where it stood in a ramshackle condition announcing that they were the owners of it. As the old saying goes, "Alls well that ends well." Today the house has been restored and hosts a comfortable tasting room with assorted antique furniture. The dark oak wine tasting counter was donated by someone in Grapevine for the enjoyment of the customers.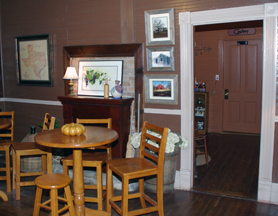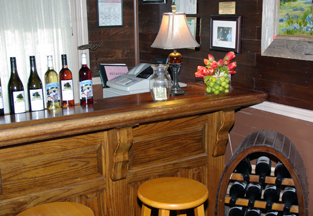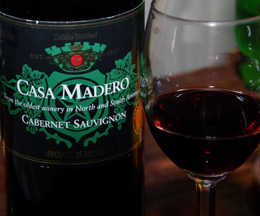 Sister Cities
Cross Timbers Winery participates and has formed relationships with wineries in Austria and Mexico. Grapevine's sister city of Parras De La Fuente, Mexico has the oldest winery in North and South America dating back to 1597. Casa Madero wine is also sold at Cross Timbers Winery.
In addition, the winery supports other Texas wineries by offering some of their wines.

We tasted several Cross Timbers wines. White and blush wines are bottled with screw caps while cork is used for the red wines.
White Wines

The Chardonnay 2008 was a golden yellow with an aroma of apples. This wine was aged in American oak for 8 months. The taste had apple and caramel nuances and was very smooth. The finish was crisp. Viognier 2007 was a straw color with a residual sugar of 2.1 percent. There were floral and orange blossom nuances on the aroma. The sweet taste offered notes of rose and pear. The finish was crisp and fruity. Grapevine White NV was a blend of Chenin Blanc and Chardonnay. The result was a wine with a residual sugar of 1.9 percent and had some grass and citrus nuances. The taste was smooth with citrus on the crisp finish. This wine can pair with spicy foods.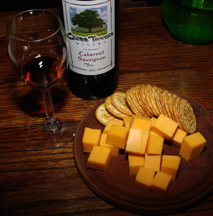 Red Wines
Sangiovese 2007 was a ruby red color. The aroma and taste offered cherry notes while the taste was smooth. The finish was crisp with mild tannins. There was cherry on the aftertaste. Merlot 2006 was aged in American oak for nine months. The aroma was earthy and the taste of plums. The wine finished crisp with mild tannins and plum nuances. Cabernet Sauvignon 2006 was reddish purple with an aroma and taste reminiscent of blackberries. The fruity finish was crisp with tannins.
We also tasted a wine from their sister winery in Mexico. Casa Madero 2007, Cabernet Sauvignon, was aged in German oak for 11 months. The aroma offered notes of blackberries while the taste had nuances of smoke and blackberries. The finish had tannins with smoke notes while the aftertaste offered fruit.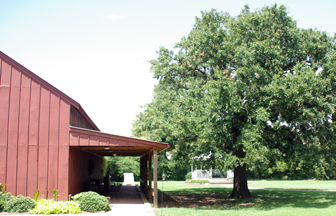 Visitors are encouraged to pack a picnic, purchase wine at Cross Timbers and enjoy it on the property. A re-built barn on the property offers event space for indoor celebrations including weddings, corporate events and birthdays. A large gazebo provides a great setting for concerts or weddings. If you are planning an event, you will want to check out this location.
Cross Timbers Winery
805 N Main St.
Grapevine, Texas 76051-6265
GPS: N32º 56.811' W97º 04.687'
---
Visit these Texas wineries that partner with Wine Trail Traveler.