Haak Vineyards & Winery
by
K. L. Sullivan
Summary: Haak Vineyards & Winery was the first winery in Galveston County and today it is the only winery in the county. County residents are fortunate to have this delightful winery in their own backyard. Haak produces several excellent wines made from the Blanc du Bois grape and other grapes.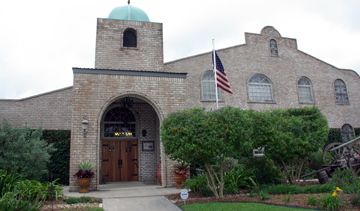 The goal of Raymond and Gladys Haak, owners and winemaker, at Haak Winery is to provide a "Taste of the Old World in Galveston County." The front of the winery has a Mediterranean façade that is emphasized by contrasting green foliage. Beautiful landscaping leads one to the front door of the tasting room. We discovered that Haak Vineyards & Winery is a family winery with two of the Haak daughters very involved in the business.
At Haak Winery, we met Bridget Haak, accountant, and Nadia Hetzel, assistant winemaker. Bridget Haak is the daughter of Raymond and Gladys Haak. Nadia provided us with a tour of the winery and her enthusiasm for the winery and wine carried over to us. Nadia learned about winemaking while in Germany.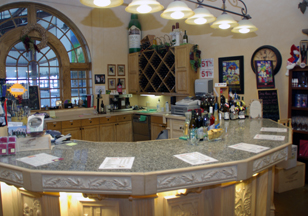 The large tasting room has an ornate tasting bar with sculptured wood panels. The top of the curved tasting counter is of granite. A large curved window with panes of glass allows light into the tasting room. There are many different wine accessories and gifts available for purchase.
Behind the winery, a large covered space and lawn area is available for events. A painted mural on the side of the building adds atmosphere to the area. Located a short distance beyond the building is a tall white sculptured chapel that provides a lovely site for a vineyard wedding. Nearby, a fairytale type clock ticks away the moments. Both the clock and chapel are near the vineyard. Roses at the end of the rows add an old world charm to the area. The setting is quite romantic and perfect for weddings and anniversary dinners. It would also make a intimate spot for proposals.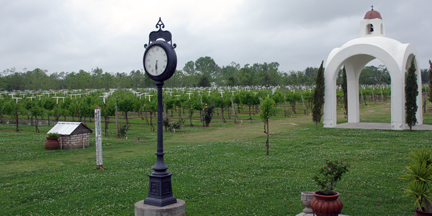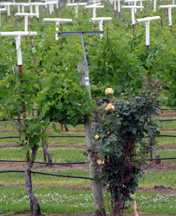 Haak Vineyards & Winery grew from a gift of two grapevines to Raymond from his wife, Gladys. First, there were two vines and then more and more until a decision was made to open a commercial winery. Raymond planted his first vines in 1969. They built and opened the winery in 2000. Three acres are located onsite and they have contracts with other growers throughout Texas. The on-site vineyard has plantings of Blanc du Bois. This grape has some resistance to Pierce's disease. Currently, the winery produces 6,000 cases and they would like to increase production although they are dependent upon what the growers can provide.
Nadia took us through the winemaking facility with its stainless steel tanks and bottling line. After a delightful tour of the winery, we were very fortunate to have lunch with Bridget and Nadia in the underground wine cellar. Oak barrels line the walls and help create an Old World cellar atmosphere. During lunch, Nadia introduced several wines with a brief description.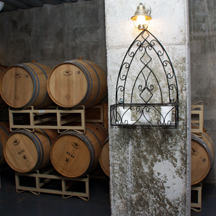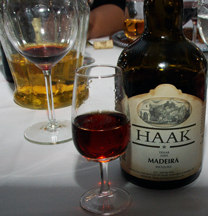 Blanc du Bois, a dry wine, offered a citrus aroma and taste. The finish was crisp with bold citrus notes – a light and refreshing wine. This wine was similar to a Sauvignon Blanc and paired well with the lunch salad. Blanc du Bois Reserve sur lee provided a citrus aroma with a bit of caramel. The taste and finish were of citrus and finished with a hint of butter. The 2004 Cabernet Sauvignon Reserve had an aroma of blackberries. The taste was smooth and fruity while the finish was crisp and fruity. The 2003 Cabernet Sauvignon Reddy Vineyards offered blackberry aromas, taste and finish. This wine finished with mild tannins and a red raspberry layer. Both red wines paired well with the pepper steak entrée.
Haak Vineyards & Winery also produces Port and Madeira. The Blanc du Bois Port with an alcohol level of 18 percent offered vanilla on the aroma, taste and finish. This white Port taste was also smooth. The 2004 Madeira had an alcohol level of 20 percent. The aroma, taste and finish were of dried fruit: peaches and apricots. The taste was also very smooth. Both wines were paired with dessert.
The winery has numerous events. Frequently, concerts are held on the grounds. The wine cellar offers a wonderful old style, gathering place for small group events. Many public and private events take place at the winery. Frequently Friday nights are for dinners with reservations. Weddings take place on Saturdays. In addition concerts are scheduled. Haak Vineyards & Winery has full service catering available for special events. In addition, they offer very special filled picnic baskets and dinners for couples in the vineyards.
Enjoy a visit to Haak Vineyards & Winery. Try the different wines especially those made from the versatile Blanc du Bois grapes.
Haak Vineyards and Winery
6310 Ave. T
Santa Fe, Texas   
GPS: N29º 21.097' W95º 06.393'
---
Visit these Texas wineries that partner with Wine Trail Traveler.