Homestead Winery Tasting Room in Grapevine
by
Kathy Sullivan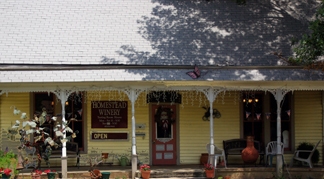 Summary: Enjoy a quiet walk along shaded Worth Street in Grapevine, Texas. Enter the Victorian home and you will be quickly greeted and invited to try some wines. Be sure to ask about the Sherry.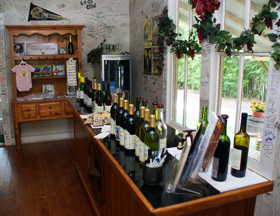 The Homestead Winery tasting room is a pleasant two-block walk from the historic South Main Street in Grapevine, Texas. The site of the tasting room was originally an 1890's Victorian house. Three rooms on the first floor provide space for tasting wines, events and boutique wine-related items. The walls in the room with the tasting counter and the adjacent retail room area have autographed walls. Visitors from around the world signed the walls, some celebrating an anniversary or birthday others just that they were there.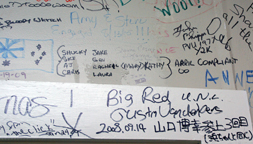 As soon as we entered, we met John Hatcher who gave us insight into the history of the winery. Located in North Texas, the winery lays claim to being "the oldest continually operating winery in the Red River Valley." Gabe and Barb Parker with careers as a C.P.A. and nurse wanted to pursue the farming tradition that Gabe's grandfather had begun a century earlier. The Parkers decided to replace the fields of wheat and corn with grape varieties. In 1979, they planted Chardonnay and Cabernet Sauvignon. Today the vineyard has 20 acres of Cabernet Sauvignon, Muscat and Ruby Cabernet. Grapes are also purchased from other vineyards.
Located in Ivanhoe, Texas, the Homestead Winery in the Red Rivery Valley is one of the oldest commercial wineries in that area. Currently Homestead Winery produces 12,000 to 13,000 cases. The Dennison location bottles red wine, Sherry and Port. There is also a tasting room onsite. The Homestead tasting room in Grapevine, Texas offers numerous wine-related accessories. Take time to enjoy a glass of wine in the 1890's home with its air of authenticity. Small tables are set up in another room. Framed posters decorate the walls. This makes a nice place to stop and enjoy a bottle of wine with friends.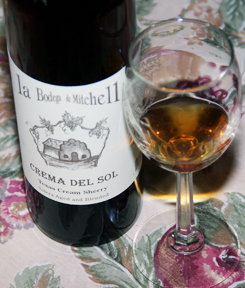 We tasted several wines with John who took his time and did not rush the tasting.
Syrah 2007 offered a dark fruit and spice aroma and taste. The crisp fruity finish had mild tannins. Desert Rose produced from the Muscat Canelli grape had a floral aroma especially of orange blossoms. The taste had notes of orange and honeysuckle. This crisp wine had an orange and honeysuckle finish. La Bodega de Mitchell Crema Del was produced with a Sherry Solera system. It had a burnt orange color. The aroma was of dried fruits. The taste was velvety with dried fruit and caramel. The finish had caramel notes. This wine had 17% alcohol with no heat on the finish. The blend for this Sherry began in 1972.
When you visit Grapevine, Texas stop at Homestead Winery tasting room to enjoy tasting wine and Sherry.
Homestead Winery
211 E Worth St.
Grapevine, Texas 76051
GPS: N32º 56.206' W97º 04.653'
Note: this GPS is for a public parking area. The winery is within one to two blocks from this parking area.
---
Visit these Texas wineries that partner with Wine Trail Traveler.