Solaro Estate Winery
by
Kathy Sullivan

Summary: Solaro Estate Winery offers an interesting historical look at the property it is situated on as well as a history of winemaking in Europe for two centuries. The focus of the owners is to grow quality grapes and produce quality wines.
The first thing Robert Fritz, winery operations, wanted us to know was that the Solaro family has been making wine in Italy for 200 plus years. Fritz also put an emphasis on what the Solaro Estate Winery is doing to produce quality wines. He noted, "Solaro makes wine the way it should be made."
History
The Solaro property in Texas where the winery and vineyards are located was organized as a single self-sufficient farm and ranch from 1909 until 1950. After the Depression of the 1930s and World War II, family members began to move away to other parts of Texas.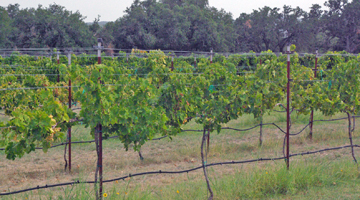 Eventually the estate was lost to the family, but in 2000 there was an opportunity to obtain most of the original acreage with additional land. Then came the question, "What are we going to do with it?" In 2002 there was the idea of planting grapevines. The property sits on an ancient fossil bed, so the owners worked with UC Davis to develop a rootstock that was resistant to Pierce's Disease and drought. In 2004/2005 a nursery grafted Barbera, and from 2006 to 2008 vineyard blocks were planted with Barbera. To plant the individual grapevines, workers had to drill through the limestone.
Solaro places an emphasis on growing small lots of special grapes in vineyard-designated blocks. They wanted to harvest the grapes in small lots and make wines with each individual lot. According to Fritz, to do this they needed equipment that was unique to Texas wine and vineyards. Solaro commissioned a manufacturer that could build equipment that could match their single vineyard lots.
In order to create high quality grapes, no grapes were harvested for the first three years. The first vintage was 2010. A full harvest took place in 2011. Today Solaro is producing 6,000 cases of estate wines.
Solaro wants the public to know that there are four aspects of winemaking they focus on: careful management of grapes, temperature control during wine production, cleanliness and planting the correct grape varieties for a particular region.
Today Solaro has 11 acres of Barbera and Montepulciano grape varieties onsite and they manage/lease 25 acres in the High Plains of Texas.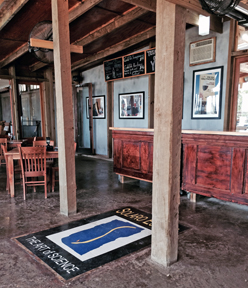 Solaro White Wines
We tasted several wines noting the label design. At first we thought the design was an "S" for Solaro. However, the design represents the Barton Creek that runs along side the property. Chenin Blanc 2013 was a light yellow color. The aroma and taste offered tropical and citrus notes. The finish was crisp. The wine was medium-bodied with high acidity. This 13.2% wine retails for $31. Mescela Bianco (White Blend) was produced with Viognier and Orange Muscat. This yellow color wine had floral (orange blossom and honeysuckle) with some citrus aromas and flavors. The wine was full-bodied with high acidity. This 13.6% wine retails for $31.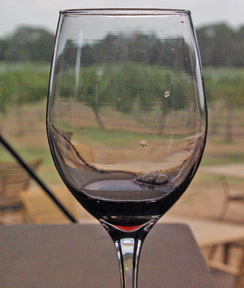 Solaro Red Wines
Montepulciano 2012 Texas Hill Country Estate was a translucent ruby color with a dark pink hue that offered floral, cherry and raspberry notes. The wine had medium tannins and medium-body with high acidity. The wine was 12% alcohol and retails for $44. Sangiovese 2012 was a translucent red color produced with free-run wine. The wine offered notes of cherry and minerality. This full-bodied wine had medium tannins and high acidity. The wine was 14.6% alcohol and retails for $44. Cabernet Sauvignon 2011 Texas High Plains AVA was a translucent ruby color with 12.2% alcohol. The wine offered notes of blackberries, cassis and leather. The characteristics of the wine included medium-high tannins with a medium full-body and high acidity. The wine retails for $48. Barbera 2012 Texas Hill Country Estate was a translucent ruby color with a pink hue. The wine had notes of spice, floral and black raspberries. With medium tannins, the wine was medium-full bodied with a high acidity. The wine with 11.5% alcohol retails for $50.
We tasted two special wines. Rousanne 2012 was produced with 100 percent Rousanne. The wine was a dark yellow/gold color with floral and apricot aromas and flavors. The medium-bodied dry wine was medium-bodied and had high acidity.
Port with 20% alcohol was an opaque dark ruby color. The primary grapes in this wine were Merlot and Tempranillo. To produce this Port-style wine, old brandy was added to increase the alcohol. Alicante juice was added increase the sugar. The Port was barrel-aged for six years and had 3% residual sugar. This port-style wine offered notes of dried fruit with a silky mouth feel and very little heat. It was full-bodied with medium tannins and high acidity.

While visiting and tasting wines at Solaro Estate Winery in Dripping Springs, Texas, be sure to ask about the history of the land prior to the establishment of the Solaro winery and vineyards.
Solaro Estate Winery
13111 Silver Creek Rd.
Dripping Springs, Texas 78620
GPS: N30º 14.122' W98º 02.995'
Solaro Urban Winery
330 T.C. Jester Blvd.
Houston, TX 77007
Article written in September 2014
---
Visit these Texas wineries that partner with Wine Trail Traveler.